New design: Fulham's second riverside project
source: StadiumDB.com; author: michał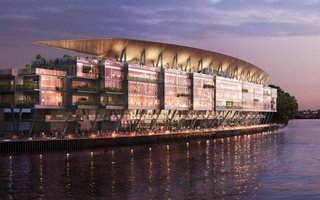 It's exciting, worth knowing more about. But it's also not a perfect design by any means. Here's what we took away from what Fulham FC submitted in their latest planning application.
Exactly on December 1 Fulham FC filed their new planning application for Craven Cottage's Riverside Stand. The documents are now available for everyone to view and that's precisely what we did. While it has to be rather brief, here's our summary of what we found.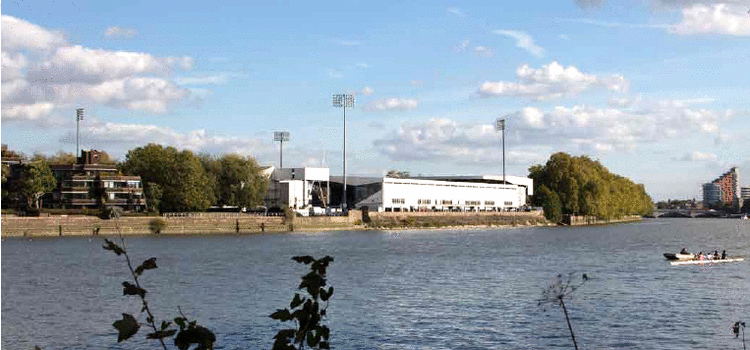 First, you're looking at renders and sections of just one stand, but the truth is the project spans further. It covers structural changes to the north and south zones, largely focused on their infrastructure for fans. Most crucially, the south end will be partly demolished and get a new hospitality pavilion. Also, all four floodlight masts will be dismantled, two of them replaced by roof lighting and two by similar masts, just with LED lights rather than traditional ones. The extent of changes can be seen below (red):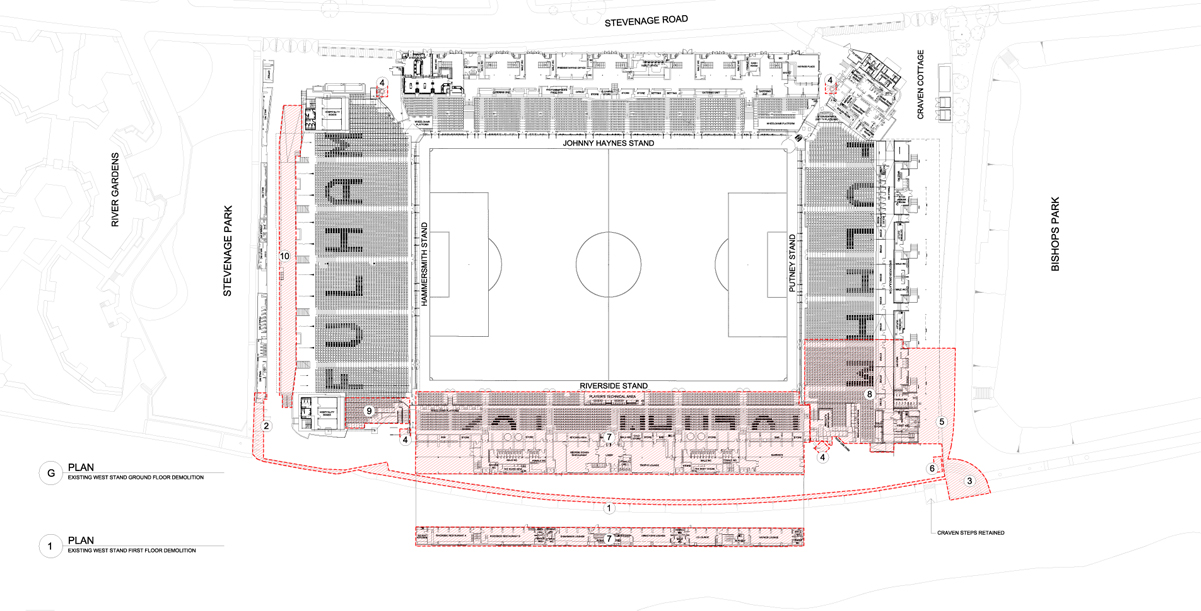 Second, capacity will grow almost as planned. It was initially advertised as a 30,000-seater, now the stadium has a declared maximum capacity of 29,600 seats. The new Riverside Stand alone will have 8,705 seats. While it's not part of this planning application, Fulham also indicated that in the future both end zones can be demolished and replaced with newer, larger stands to further increase capacity.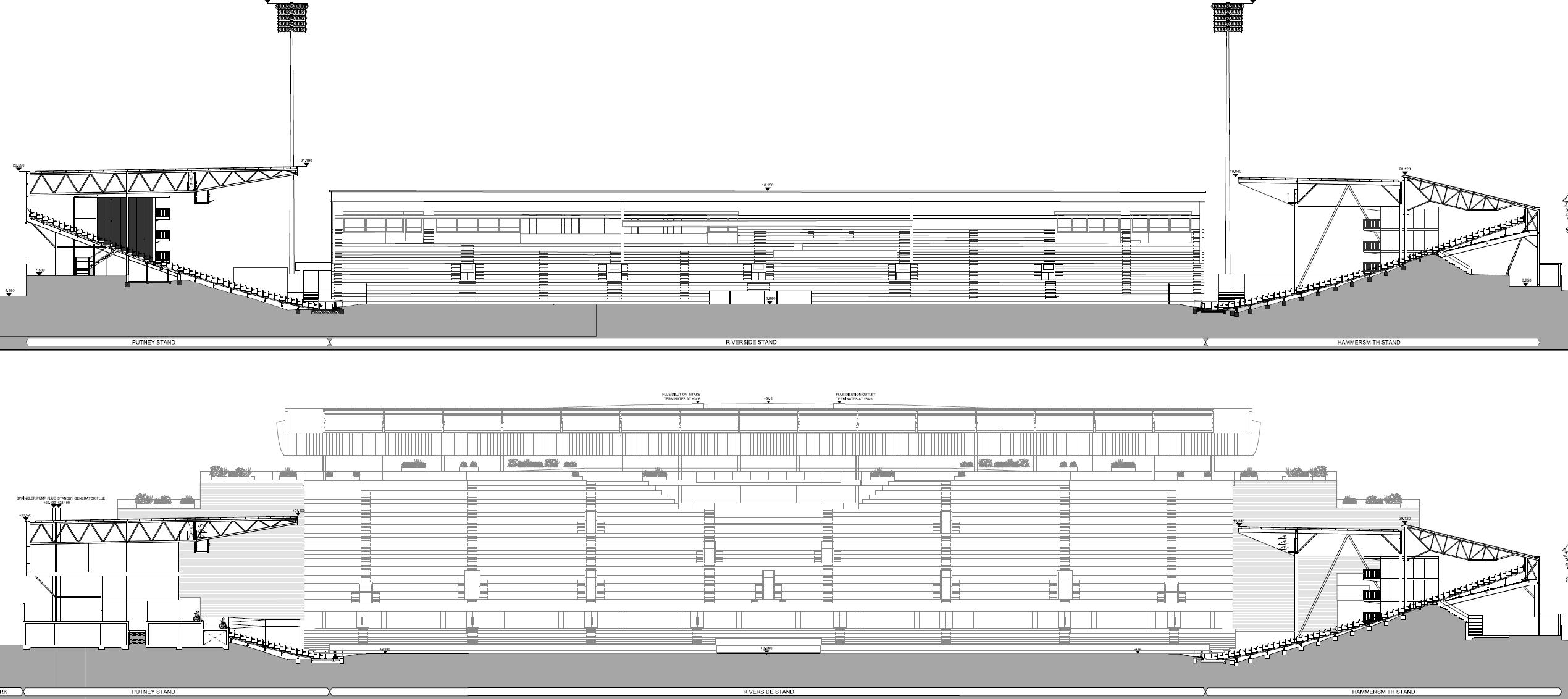 Third, the new design is massively different than the old one. Yes, you should remember that previous design for the Riverside Stand was drawn by KSS Group in 2011 and approved for construction in 2013. It never came to fruition, now the aesthetics selected by Populous are entirely different than before.
Simple cubic forms, steel, glass and natural elements introduced by wood and plants – that's what defines the new design. Of course defines visually, in terms of focus the main goal was squeezing as much from the extremely restricted site as possible.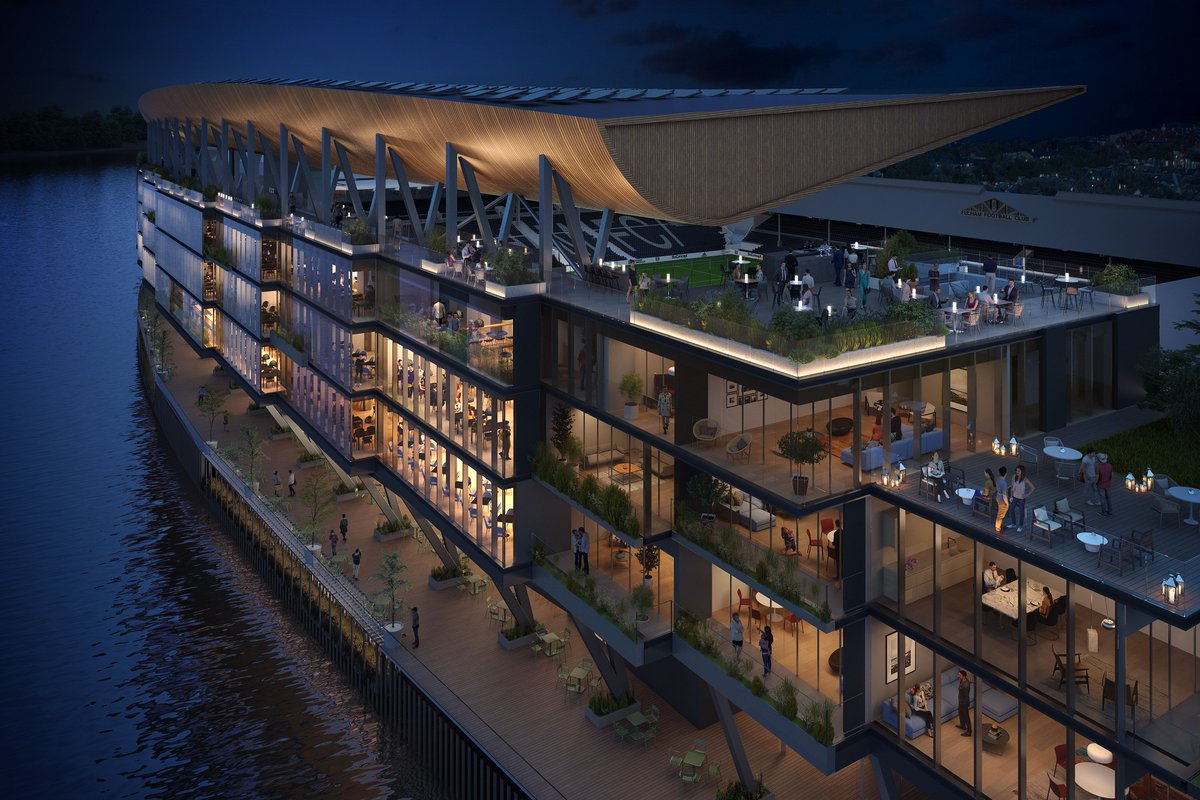 Fourth, Fulham is looking at financial boost unseen before in terms of stadium operations. In terms of corporate seating the Riverside Stand will bring 4,364 new seats, both in general business and sponsor areas, bar, buffet and lounge seats and new director's box. Then there are convention/event rooms within the stand, even below water level. And finally, the pubs and restaurants planned along public promenade, operating every day.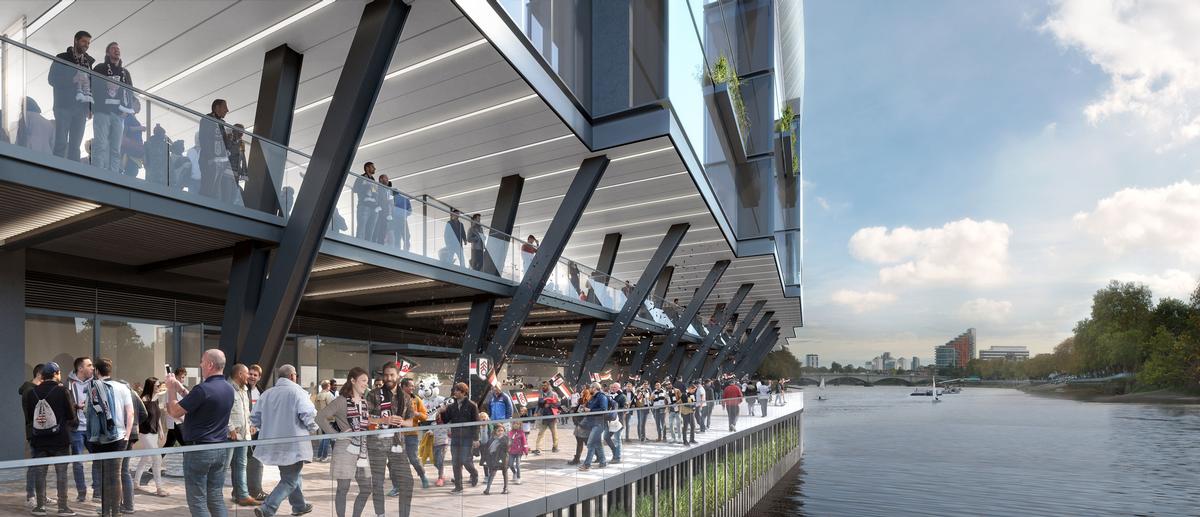 There's a total of 7 floors available, which seems hard to believe from the well-composed silhuette. Also, the new Riverside Stand should help finding a strong naming rights partner, for whom Fulham have left a dedicated space on top of the roof.

Fifth, the roof is completely different. Of course all of the Riverside Stand's silhuette is far removed from the 2011 KSS design, but the roof stands out. Boldly upturned, it's the signature element topping all of the stadium at 34.6 meters. It's lower than the current floodlight masts, also lower than the 2011 design's highest point.
Covered with photovoltaic panels on top and with warm wooden soffit on the other side, it's surely distinctive. But how functional is it? Already noticed by many supporters, the new roof is raised high (over 15m above current roof) and not walled-off, which could make watching games less enjoyable during rainy and windy days, not entirely uncommon in London.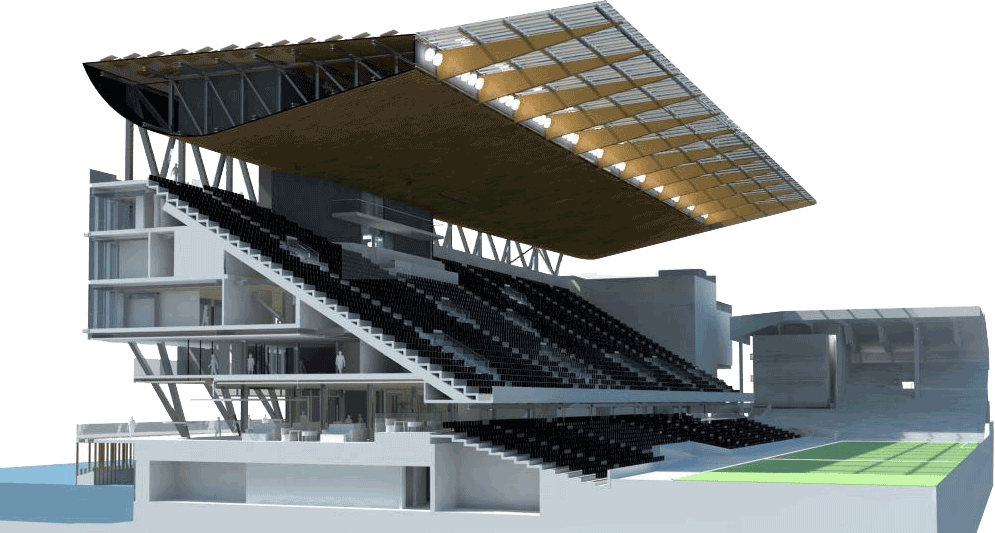 Sixth, it's time for action. Following first rounds of consultation in October, now the planning application needs to be evaluated before approval is granted. It's anticipated to pass after Fulhams' previous green light in 2013, but it takes time. Construction should begin in 2018 and last until 2021, but detailed time frame will hang on potential challenges that might still arise.