Minnesota: What's planned around Allianz Field?
source: StarTribune.com; author: michał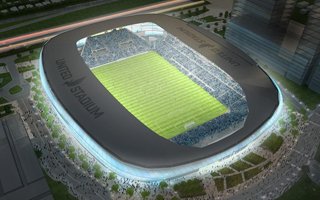 New York-based property management company said Monday it has plans for new buildings that would "add additional retail, office, residential, entertainment, and hospitality options to its property." Investors are now invited to lay out plans for projects around Allianz Field. A Star Tribune report.
RD Management, a New York-based property management company, which owns 20 acres in the Midway area of St. Paul where the Allianz Field stadium is being built, said Monday it has plans for new buildings around the football venue.
The $200-million MLS stadium will be ready in 2019, adjacent developmdents should grow in following years.
"I think the biggest thing about this announcement is it is a reality. … We think this is going to be a significant addition to the neighborhood," said Minnesota United FC owner Bill McGuire, in an interview.
While there has already been significant interest in the site, the announcement is informing potential partners nationally "that this property is out there and all of its merits and virtues and that it is moving ahead," McGuire said.
Its vision called for a new commercial and entertainment district anchored by the stadium that would transform that portion of the neighborhood that falls between University Avenue and Interstate 94 east of Snelling Avenue.
The new buildings are planned along the western edge of the property on Snelling Avenue. Part of the Midway Shopping Center that currently takes up the land will be demolished to make way for the stadium.
As you can see in the below rendering, initial layout will see only open-air parking sites around the stadium, making it the only major building within this quarter. However, the very first rendering presented, and the project's description, indicated dense architecture with commercial, residential and leisure use.