Germany: They never sell out but have to expand stadium either way
source: Hessenschau.de / StadiumDB.com; author: michał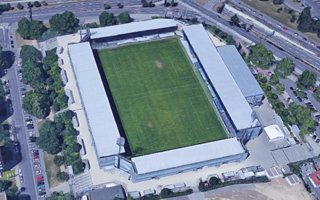 It's a paradox indeed. SV Wehen Wiesbaden haven't had a full house in years and yet they have to build a new grandstand at Brita-Arena. Find out here why!
Usually when we think of Germany, it's packed stadiums with Europe's best attendances. Sure, that's the case in Bundesliga and to some extent in 2. Bundesliga but in 3. Liga not so much. While best third-league clubs manage to draw 10,000+ per game, that has never been the case for one club: SV Wehen Wiesbaden.
Ever since the team moved to their new Brita-Arena in 2007, the top average attendance was around 9,500. But now that they've been stuck in 3. Liga and made hardly any progress, the crowds have dwindled. This year's average is 2,320 so far, roughly the same as last year. With capacity of over 12,500 that's just 18% occupancy overall.

© Ralf Roletschek
And yet Wehen have to expand their stadium, built as a temporary tubular structure 10 years ago. Why? It's owed to their prospect of finally winning promotion to 2. Bundesliga. Currently ranked 4th, the club would face infrastructural issues with the current stadium, should they ascend. Second league in Germany requires 15,000 capacity at least and SVWW seem unlikely to get a conditional approval for smaller stadium.
For this reason a brand new west stand is likely to get built. It would be the first non-tubular grandstand, built with reinforced concrete. It makes a big difference in cost. While the entire stadium in 2007 had cost €14 million, the new stand alone would require €10 million.
Now SV Wehen look at the Land authorities for help. While the club is willing to cover majority with its own resources, aid of €3.5 million would be preferred. This would represent the first public contribution towards the stadium.
If planning permission is granted (documents should be filed soon), construction would begin as soon as the season ends. With simple and largely prefabricated structure, the new stand would be ready either before or early into the 2018/19 season.