Top 3 rugby stadiums in Australia
source: press release; author: michał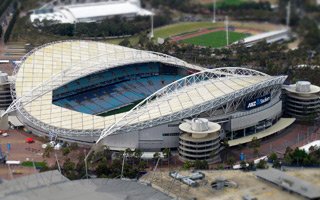 Even though there have been concerns over recent times over rugby on the whole in Australia, it still remains a moderately popular sport.
Over the last few days the latest world rankings were announced and on the rugby union side of things, Australia have climbed from fifth in the world to third, ahead of both Ireland and South Africa. Many would suggest that both union and league aren't as popular as say elsewhere but they do retain a core following for the most part.
One can argue this core following is slowing growing and it maybe that the sport is experiencing a resurgence. This sentiment has been confirmed in a recent interview with a Unibet spokesman, as he stated there was a noticeable increase in sports betting activity in this sport type, and the positive trend continues.
You would probably say that due to the sport being more popular on the whole in places like the UK, that is why they have, for the most part, dedicated rugby stadiums. The story is slightly different Down Under, with the stadia used for rugby also used for other sports such as football and music events as well. That's not to say there aren't some great places to take in a game of rugby around Australia.
Below we take a look at three of the best venues to visit if you're a rugby fan…
ANZ Stadium (Sydney, NSW)
The ANZ Stadium, also known as Stadium Australia, is a truly multi-purpose stadium. Its capacity is 84, 000 and this makes it the biggest venue on this list. In terms of rugby, it plays host to the National Rugby League, as well as rugby union internationals, over the course of a year.
There are currently five rugby league sides who play their home fixtures at the ANZ, they are: the Canterbury-Bankstown Bulldogs, the South Sydney Rabbitohs, Parramatta, the Wests Tigers and the St George Illawarra Dragons. These sides for the most part split their home games between different stadiums. The ANZ also plays host to the NRL Grand Final on an annual basis.
There are usually a minimum of two rugby union tests played at Stadium Australia over the course of a year, with one often being a tour match. Back in 2003, the stadium hosted seven Rugby World Cup games under its former guise of the Telstra Stadium.
Docklands Stadium (Melbourne, Victoria)
The Docklands Stadium, or the Etihad Stadium as it's sometimes referred to due to its current sponsorship deal, is another multi-purpose venue serving both sport and entertainment. Although the stadium, which holds over 55,000, is more geared towards hosting Australian League Football, it has seen both rugby league and rugby union games take place in the past.
In terms of Rugby League there have been two ruby league test matches take place, as well as three State of Origin series games. Rugby Union internationals were hosted from 2001, 2003 saw seven World Cup games hosted and there have been nine games played at Docklands since then. The last game of rugby seen at the Etihad was back in 2014 between Australia and France in the Trophee des Bicentenaires.
Lang Park (Brisbane, Queensland)
Lang Park is also known as the Brisbane Stadium and the Suncorp Stadium and even though it's a multi-purpose venue it is primarily used for rugby, both league and union. The venue holds around 52,000 spectators and has hosted rugby games since way back in 1962.
The most recent rugby fixture held at Lang Park was in June this year and saw Australia take on Italy in the 2017 Hopetoun Cup in front of over 20,000 fans. With over 70 league and union games taking place at the Suncorp, it's seen as one of Australia's top and most recognisable homes of rugby. Like the two stadiums mentioned above, seven Rugby World Cup games were hosted at the venue.