Senegal: China to renovate four major stadia
source: LeQuotidien.sn; author: michał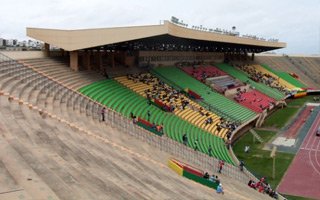 Following meetings earlier this week Chinese authorities will run a large renovation project for several Senegalese stadiums, most notably the national Stade Leopold Senghor.
Despite high chances of qualifying to the 2018 World Cup, the state of stadiums in Senegal is far worse than that of the national team. National Stade Leopold Senghor is in dire state, whether you look at the field, failing floodlights or deteriorating stands that still haven't been converted into all-seating.
However, after they finish World Cup qualification in November, Senegal will not use the venue for several months. The next international game is not due until September of 2018 and thus leaves a good time frame to run renovation works.
As you can imagine, these will be carried out by Chinese companies, as confirmed during the weekend by Matar Ba, Senegal's sports minister. Throughout the week a Chinese delegation was present in Senegal.
It was agreed that four major stadia across the country will be modernised, including the showcase national stadium in Dakar. Remaining stadia are Stade Lamine Gueye in Kaolack, Stade Ely Manel Fall in Diourbel and Stade Aline Sitoe Diatta in Ziguinchor.