Fascinating facts about stadiums that you didn't know
source: press release; author: michał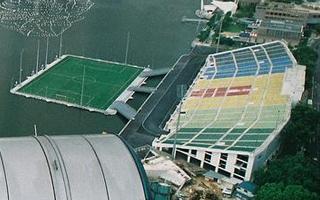 You probably know these stadia, but there are still facts about some of the most famous grounds that very few of you might know. Have a look and let us know if we were right.
Dating back to Ancient Greek times, stadiums have been the centre of attention, awe and national pride not just for their architects, but for the regular sports fans inhibiting these mass sites. Why is this fascination with stadiums? Simply put, they're always positively associated with the excitement and atmosphere of the best games ever played in history.
Today's stadiums are also a mix of strict design, innovation and sustainability rules that are implemented to deliver always a better experience. Just compare the ancient Greek ruins of the amphitheatres with today's retractable roofs, solar panels, roof terraces and shopping centres in stadiums, such as Toronto's SkyDome (the first stadium with a moving roof) and NH Barcelona Stadium, for example.
Stadiums of the future will continue to develop a completely separate life and culture of their own, thus making it extremely interesting for us to dig deeper and learn more about stadiums' history and design. Interestingly, there are still facts about some of the most famous stadiums that very few of you might know. Have a look and let us know if we were right.
Wembley's Secret Underground Time Capsule
For the American fans of the NFL across the ocean, you'd be surprised to know that their largest British counterpart – Wembley in London has a secret time capsule with the original architectural drafts of the Wembley Arch buried underneath the site. The sketches, together with other memorabilia from the 2012 Olympic games, were placed there in the not so distant past of 2005 before finishing the renovation works on the stadium.
The 90,000-seat stadium is also the one with most toilets for any building anywhere in the world! Or at least it was when opened, competition in these terms has been growing since but not everyone boasts about toilet stats... As with most new stadiums, Wembley is also tech-friendly and allows fans to follow the games and win money on their mobiles. Not only does the building host poker tournaments, betting incentives are endless, and many offer a great diversity of different kind of games than just soccer, for example. Fans of online lottery games will be happy to see the list of new premium bingo sites to open this year on the gambling market.
Britain's Second Largest Stadium
To continue with our stadium overview in the UK, it is worth mentioning that Twickenham Stadium is Britain's second largest stadium, with a capacity of 82,000, just 8,000 fewer seats than Wembley. Twickenham is also better suited for rugby than Wembley, as games between the Rams and the Giants proved it. Interestingly, the Giants still share a stadium with the New York Jets, which is not even in New York, but in East Rutherford.
Lastly, it hosted U2's largest concert in 2012, giving it the seal of approval by both sports and music fans for its quality structures and comfort. If you wonder what else makes a great stadium, check out UEFA's Guide to Quality Stadiums.
Stadium Giants
If you think that Wembley is shockingly huge, you should think twice, as Barcelona's Camp Nou hosts 99,354 visitors at its best days, which makes it Europe's largest stadium for any sport. It is planned to grow to reach 105,000 by 2021.
However, this is just a baby comparing to the world's largest stadium that very few of the Western world have had the privilege to see, as the 114,000-seat stadium is located in Pyongyang, North Korea. The North Korean team playing there got into the 2010 World Cup in South Africa, though most of their games are actually held at a 50% smaller stadium not far away.
Only Michigan Stadium might compete at this level with its 107,601 seats. Michigan is also famous for its extra seat that only the director and former football coach, Fritz Crisler, knew about, as he requested it himself.
A Symbolic Seat
Speaking of seats, for those of you across the pond, make sure to visit Fenway Park to spot the only red seat in the sea of green seats at the stadium. The story follows that the seat was painted to honour the memory of Ted Williams home run of 502 feet, which is still the longest one in baseball's history.
It's often believed that sitting on the red seat brings luck to anyone who wants to try their luck during the game, so if you're this lucky one, make sure to have handy some of the best betting sites, listed on TopBingoWebsites.co.uk.
Quirky Locations
The category of quirky and inaccessible locations attracts three stadiums of a truly unique design. Ottmar Hitzfeld Stadium in Switzerland, for example, is only accessible via a cable car, due to its location 2,000m above sea level and the fact that it's hanging on the verge of a cliff.
Moreover, Singapore is famous for the country hosting the only floating stadium, which hosted the 2010 Youth Olympic Games. Balls are frequently gathered by several boats patrolling around the stadium. On the other hand, the Portuguese have often been famous for their ingenuity, and Braga's Municipal Stadium proves this. It was built by using the granite from the quarry that it's now leaning on and oddly enough it has only two stand sections for the fans.