Chicago: Developer hopes to lure Amazon with promise of a stadium
source: ChicagoTribune.com; author: michał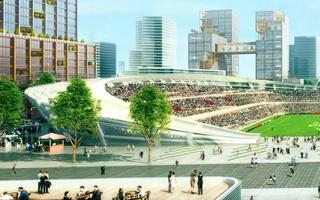 Chicago-based developer Sterling Bay proposes a stadium within new Amazon campus. The concept is part of Chicago's bidding for Amazon headquarters contract, which would bring 50,000 high-payed jobs to the city.
Having Amazon headquarters sounds like brilliant news for any city. Proving this hypothesis is the scale of interest. Amazon issued a request for proposals for a second corporate headquarters in early September and over 230 cities and regions decided to file their bids. In the broader Chicago area itself there are 12 different options on the table.
One of them was created by Sterling Bay, who was approached by city officials to prepare a bid to Amazon. "The city asked us for our boldest ideas on Amazon's HQ2 and that's what we did at Lincoln Yards," Sterling Bay managing principal Andy Gloor said in an email to the Chicago Tribune.
Sterling Bay provides three general outlines for an Amazon campus: a network of buildings along the river, including towers on each side of the Chicago River connected by a walkway on upper floors; a "mega floor plate," with tiers of parks atop and next to offices; and an "urban campus" with two rows of taller towers with a large, open quad in the middle.
One of the proposals, which grabbed the most headlines in recent days, is the inclusion of an open air stadium in the project. While its tenant or details haven't been revealed, the possibility of having one more professional football/soccer stadium in Chicago raised some eyebrows.