London: Fulham to show Craven Cottage expansion design soon
source: StadiumDB.com; author: michał
Pre-application documents filed, now it's time for public exhibition and consultation of what will be the new Riverside Stand at Craven Cottage. Planning application should follow by year end.
On October 12 and 14 supporters and local residents are invited to visit Craven Cottage's Cafe and comment on what Fulham FC are planning to change at the stadium. It's no secret that expansion will cover the western Riverside Stand, sitting directly beside the Thames.
Following the consultation process Fulham plan to submit their planning application, hopefully before Christmas. As of now we don't know how the Riverside Stand will look, what's been shared by Fulham and architects at Populous is the below sketch.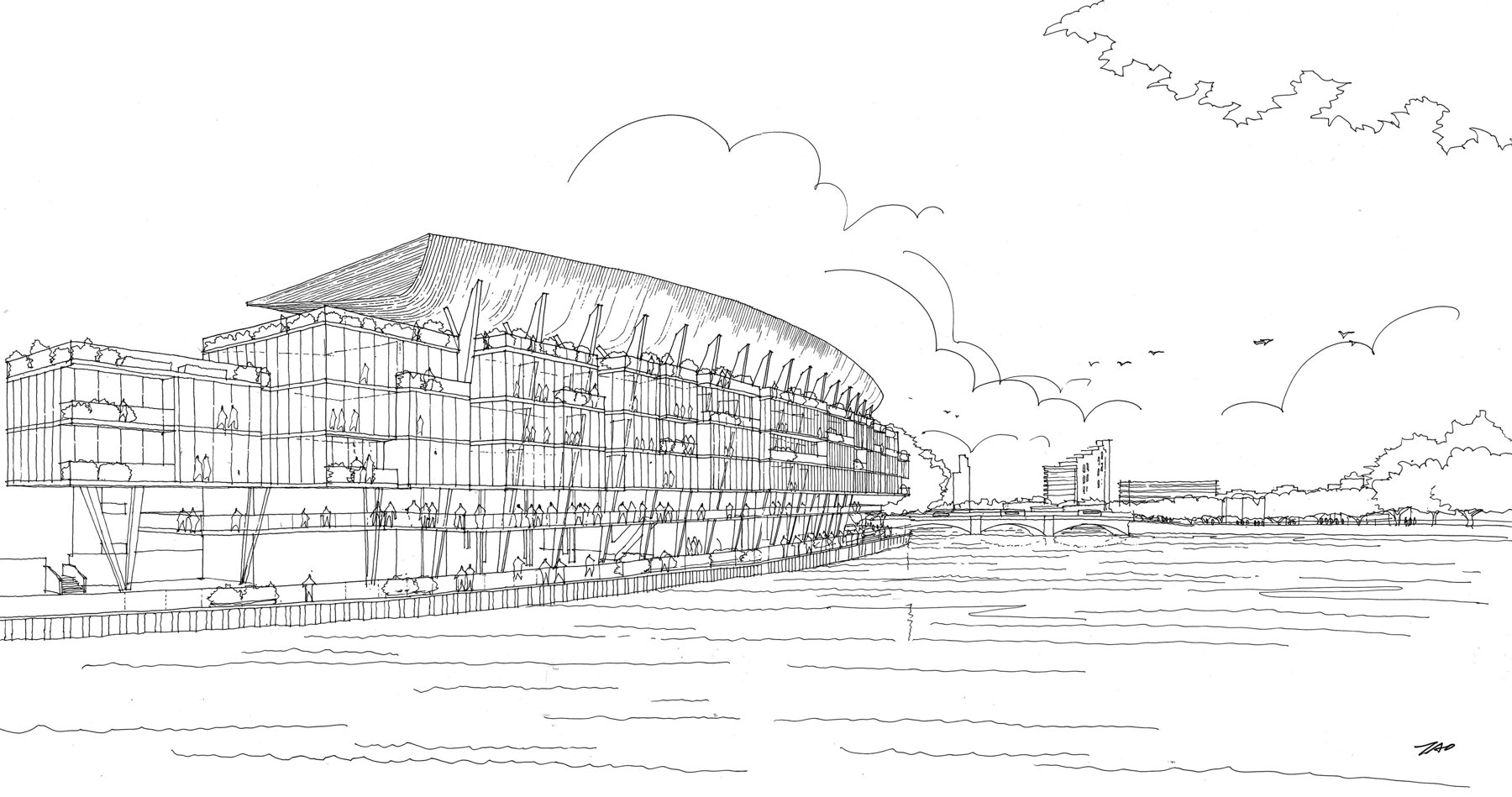 It's understood that the expansion will bring capacity from under 26,000 to over 30,000, though details will depend on final shape of the grandstand. It will comprise an extensive premium hospitality area and is also announced by the club to have pubs, restaurants and public leisure areas for matchday and daily use.
You may recall that Fulham had already selected designers and the shape of their desired Riverside Stand. Indeed, back in 2011 this design by KSS Group was chosen as the preferred option, but after current chairman Shahid Khan came in 2013 he scrapped the scheme in favour of something more ambitious.
"I have admittedly been deliberate in reviewing concepts, interviewing designers and studying the economics of what will turn out to be a signature project for an entire community. I know that our supporters have hungered for information or signs of progress, and I appreciate that. But, I am confident that our approach has been the right one, and equally assured that you'll find the wait to be worth it." Khan wrote in a recent club statement.
"We have engaged Populous, a worldclass architectural and design firm, to deliver a Riverside Stand project that will transcend the customary standards of football grandstands. Imagine a new Riverside Stand that will be iconic and beautiful, include riverside pubs and restaurants, event facilities, green spaces, open the river walk every day of the year and, of course, make Craven Cottage a greater destination in all of sport than it already is. It will be a spectacular venue to watch Fulham. And our home ground will blend history and the contemporary like no stadium in the land or beyond."