Perth: Hybrid turf being laid
source: StadiumDB.com; author: michał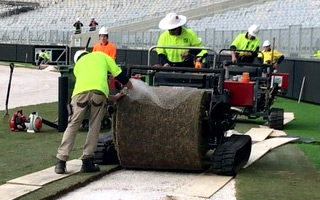 The grass with 10% of synthetic fibres is already arriving at Perth Stadium, currently the largest football project in Australia. Over 18,000 square meters will be laid altogether.
Field installation began at Perth Stadium, one of the most anticipated phases of the roughly $1-billion football project. It should be remembered that Perth Stadium in Burswood will accommodate not only football and rugby, but also Australian football, which means the field of play needs to be larger and elliptic.
That's why a massive surface of 18,000 square meters is being transported from Western Australia's largest farm, owned by Greenacres Turf Group, some 77 km away from Perth. The almost-circular field will be surrounded by a strip of synthetic grass with car dash-board infill to provide safe landing to players who would run dangerously close to the stands.
Turf installation underway @NewPerthStadium Major milestone for the project pic.twitter.com/tfcrnoM7AJ

— Perth Stadium (@NewPerthStadium) August 1, 2017
The field itself has been cultivated for the last two years. First, the grass saw synthetic fibres sawn in and then natural grass began growing around them. This way a 90%-natural hybrid field has been created, now transported in single rolls to the stadium.
Since it's being cut into pieces for transport, the field is already being segmented and if any piece of it needs replacement, there's a dedicated spare area left at the farm to be brought in. However, this kind of hybrid grass should be significantly stronger than just natural turf.
Due to the stadium's massive 60,000-seat auditorium, over a third of the field can need artificial lighting during winter. To ensure proper quality of the grass in that period, five mobile lamps were bought and will aid growth in the northern area of the field.
Perth Stadium, currently the largest stadium project in Australia, is expected to officially open its doors in March of 2018.