Perth: Field installation complete at Perth Stadium
source: PerthStadium.com.au; author: michał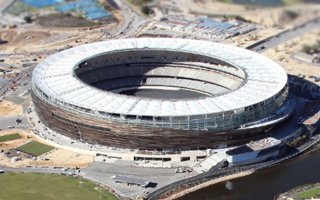 Installation of the turf onto the Perth Stadium playing surface is now complete, marking another project milestone. With progress at 90%, the project is one more step closer to the opening of the venue in early 2018.
Just three weeks after it had begun, the field of play installation at new Perth Stadium is now complete. Just several hours ago the minister for sport Mick Murray, and a representative from the turf supply and installation contractor, HG Sports Turf, laid the final piece onto the Perth Stadium playing surface.
The turf is a combination of natural couch grass woven with artificial turf, which provides outstanding durability and stability. The same turf is successfully used at other stadia in Australia and overseas including the Melbourne Cricket Ground (MCG), Eden Park in Auckland and Perth's own nib Stadium.
A total of 18,000 square meters of turf was grown at a local turf farm in Serpentine and was delivered to site in one-meter wide x 10m long sections. The turf was installed using a three-tonne roller and was trimmed to fit the Perth Stadium playing surface.
The playing surface is now ready to play but will be monitored and maintained until the Stadium opens in early 2018 and then throughout operations.
Growlight rigs will be used as part of the maintenance program and will be positioned on the northern portion of the turf during the winter months supporting the winter sun. Replacement turf will also be grown and maintained off site for use when required.
The turf will be protected when concerts, including the two Ed Sheeran concerts in March 2018, are held or when drop-in seats are used for rectangular events.
Construction of Perth Stadium and the surrounding Stadium Park is over 90% complete and remains on schedule to open in early 2018.