China: Gold paint to change stadium's feng shui
source: Shanghaiist.com / SINA; author: michał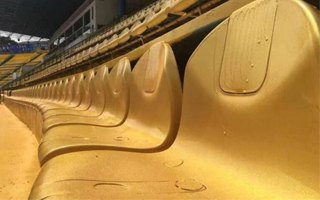 They were struggling to win a home game for almost all of the season. Guangzhou R&F thus decided to paint their stadium gold and get rid of bad luck. You might now believe the results after the change.
Guangzhou R&F are the less known team from Guangzhou and it's no wonder at all. They never won any trophy and have existed for barely 6 years. Meanwhile local rivals Guangzhou Evergrande won 6 national championships and are on their way to secure the seventh title in a row with dominant first place.
That said, it's Guangzhou R&F who use the more famous stadium. Incorporated into the Yuexiu hill, the ground is famous for its steep stands and infamous for a disaster caused partly by the steepness years back. Now it's known for a completely different reason.
In mid-July the entire stadium was covered with gold paint, including seats, the concrete and walls of surrounding facilities. It might sound ironic because just half a year ago, in late 2016, the entire building was painted blue to fit the club's colours.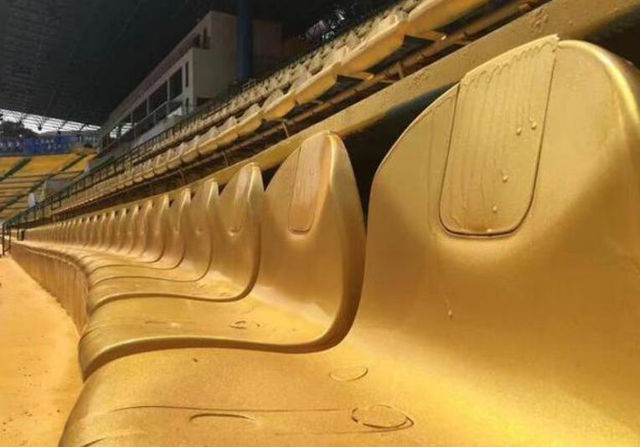 Why change now? Well, since March 12 the team had been unable to win any home game, which means that with the all-blue paint they only won one fixture. Putting the blame on feng shui, the club thus reached for gold, a colour symbolising completeness and fullfilment.
We would gladly write about superstition, but seeing their results since the mid-July return we're not that sure. Four league games, all won, with at least 4 goals scored, including the derby against powerful reigning champions Evergrande.