Bolivia: Tragic accident, floodlight mast crashed onto spectators
source: ABI; author: michał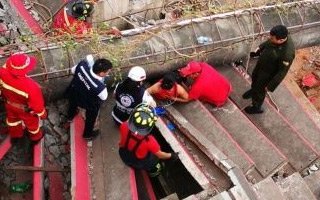 One of Real Santa Cruz stadium's floodlight masts collapsed last weekend. Unfortunately, there were people at the stadium and the accident claimed one life.
On Saturday, at around 10:30 local time, a serious accident happened at Estadio Juan Carlos Durán Saucedo in Santa Cruz de la Sierra, Bolivia. The north-eastern floodlight mast of the ground broke and collapsed onto the stadium's auditorium and field.
Sadly, a youth (U12) game was being played during the catastrophe and there were people inside, mostly relatives of the players. The mast crashed onto a section occupied by 6 people: three women and three children.
Two of them found themselves directly underneath. A 2.5-year-old boy was rescued from beneath the rubble first. Despite efforts on site and quick transport to the nearest hospital his life was beyond saving due to excessive trauma to his internal organs.
It took more time to get the woman out of the concrete trap. An excavator was brought onto the site and she was finally released well over an hour after the collapse. She suffered from serious injuries, including fractured spine.
The stadium's floodlight masts were reported to be in dire condition and on Saturday strong wind caused this one to fall.