Russia: Farmer creatively mocks Zenit Arena
source: StadiumDB.com; author: michał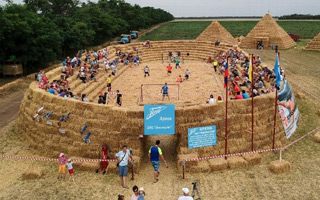 "Not even one ruble was stolen during construction" says the plaque hanged on this Zenit Arena. Not the original one but that built in 5 days using only hay.
Last weekend in Russia an unusual stadium inauguration took place. Ironically named Zenit Arena, a ground for 300 people was inaugurated in Krasnoye, Stavropol region. Apart from the official name it has a large plaque informing visitors of the construction process.
The budget was quite modest, just 41,000 rubles ($683). This covered construction workers' salary, while the project's initiator, farmer Roman Ponomarev, provided 4,500 haystacks used for construction. After 5 days of work the building was ready, and it's supposedly safe though no planning permission was issued.
This unusual Zenit Arena mocks the original one in Saint Petersburg. Subject to dozens of scandals, Russia's most expensive stadium in history serves as example of corruption and incompetence in public perception (budget grew from 6 to 48 billion rubles between 2006 and 2017), still being subject to works despite 11 years under construction. After having been the centre of numerous memes online, now it has a real life "mockup". It's thus no surprise that the haystack caricature also has the words "not even one ruble was stolen during construction" included on the plaque.
It's not a serious campaign against the original venue though, rather a way to bring more attention to the idea of haystack stadium. Ponomarev himself is a Zenit supporter and his concept has already been noticed in Saint Petersburg. Zenit reacted to it by inviting the farmer to their home game in order to exchange experiences.
The professional football club also supports Ponomarev's other idea, hosting the first ever hay football world cup. The fun tournament is held in Krasnoye this week. "We looked online whether we need any permission for such event. As I understand, FIFA only deals with official sports so anyone can claim a hay world cup." Ponomarev explains, inviting people to the tournament. Though it's not serious, there will be judges and trophies.