Poland: A chance for Arena Zabrze's last piece?
source: StadiumDB.com; author: michał
With three modern stands and a hole filled by dilapidating old west stand, Arena Zabrze is hardly the optimal stadium. But the city officials seem to have an idea on how to finance the new main stand...
Ever since it opened early last year, Arena Zabrze has been one of Poland's larger stadium. But it's also a very odd one. There are three modern, double-tiered stands and one miniscule in the west, a leftover from the old ground, remembering the days of Nazi Germany.
It's the result of two crucial factors. First, the stadium was divided into two phases in order to allow Poland's most decorated team Górnik Zabrze to constantly use it throughout construction. Second, this move facilitated financing from public funds. Unfortunately, the city as of yet hasn't been able to restart the construction due to lack of funds.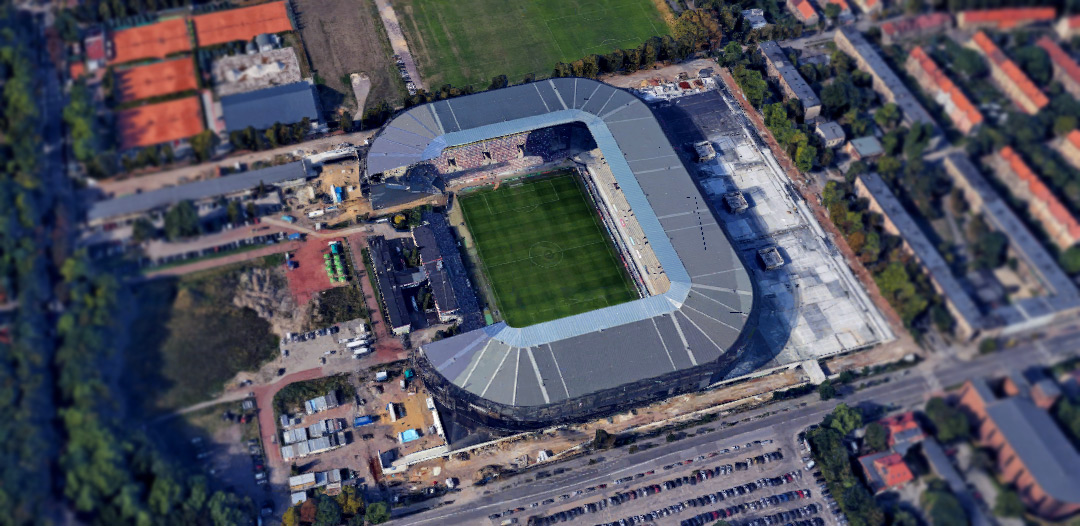 The last stand is also the most expensive due to its extensive infrastructure. Etimated to cost PLN 90 million (€21.5 million), the stand would house the media, hospitality and disabled-spectator areas.
However the city is now willing to cut some of these functions as they have already been accommodated within the three operating ones. The corporate seating is located in the east, along with press seats. Command centre has been created in the south-western corner and platforms for the disabled have been spread across the stadium. This could lead to a reduction of up to a third (€7 million), making the project more reaistic.
Currently the city of Zabrze is in significant debt but officials have a plan. "As a city we're paying instalments of a huge loan. We have a desire to renegotiate it with the bank. Hopefully, after paying two or three instalments we could postpone further ones and thus free up the resources to build the last stand" said deputy mayor Krzysztof Lewandowski.
The city of Zabrze has valid planning permission for the missing fourth stand, which would bring the stadium to over 30,000 seats. In order for the permission to remain in force, the difference between delivery of the three current stands and groundbreaking at the fourth one cannot be longer than 3 years. In order to extend that period works are still ongoing at the stadium, which means the 3-year period is yet to begin.