London: Barnet FC's grand plan
source: StadiumDB.com; author: michał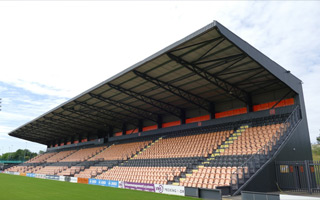 Their relocation from Barnet to Harrow is taking shape with increasing pace. In 2018 Barnet FC may have one of London's most impressive football complexes, even if not the stadium itself.
It began modestly, the relocation from Barnet's Underhill Stadium to The Hive in Harrow. In 2013 there was only one major grandstand along the west side, holding 2,684 people. Three remaining sides only had minor terracing (north & south) and 6 rows of seating in the east. Altogether just over 5,000 capacity.
This began changing in mid-2016. In just 6 weeks brand new north stand was completed, adding 1,900 seats to the overall capacity. But, having removed the northern terracing to make way, this moved the stadium size to only over 6,200, which is the current size.
In late June Barnet FC have presented their plans of further development and their quite impressive. In terms of stadium size alone... not so much. The scheme would see a mirror reflection of the north stand built behind the south goal, meaning further 1,900 seats. Also, the east stand will be converted from 6 rows of seating into a 10-row terrace. Altogether this will bring The Hive's capacity to some 8,000.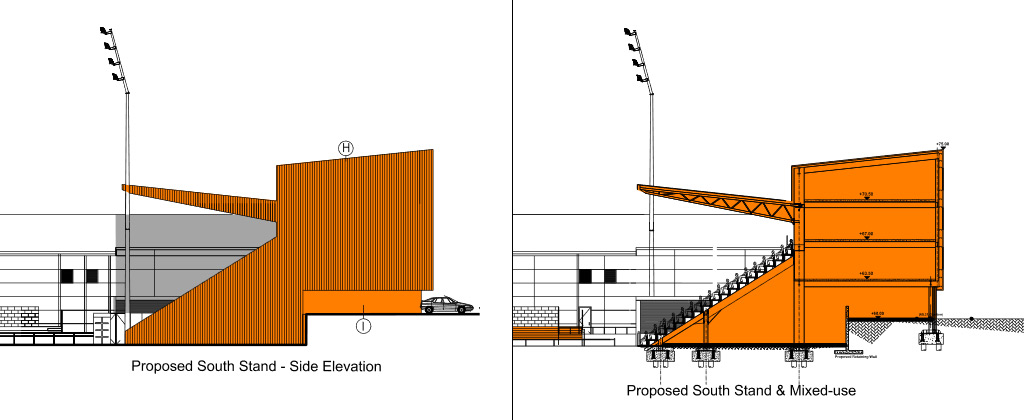 Much more impressive are the changes in secondary infrastructure. Today it's focused around the east stand's 'shed', while new additions will bring multi-use spaces to both the north and south ends.
The new south stand will be built with a 4-level building behind it. Marked only as 'mixed-use' for the time being, this pavilion will add 3,700 m2 of floor space. Meanwhile, the north end will be accompanied by an indoor sports hall for volleyball/basketball, as well as overall training facilities.
In terms of the football academy facilities The Hive will also grow. Already now there are 6 full-sized fields and 5 smaller ones around the stadium. After redevelopment one of the 3G pitches will receive a dome to make it weatherproof, while aother field will be converted from natural to 3G, envoloped by new kiosks, toilets and coach parking.
Should the planning proceedings go as planned by Barnet FC, the entire scheme should be built already after the 2017/18 League Two season. And while there have been some issues raised within the Harrow Council, there's still enough time to push the project forward in time.