Innovations: Stadium of Tomorrow by Populous
source: NGM.com; author: michał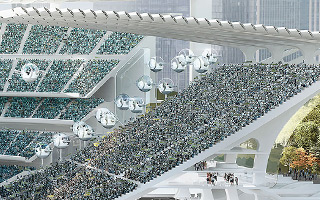 Don't get overexcited, it's not getting built. Or not yet, at least. But this cooperation between Populous and National Geographic lets us dive deep into the future of matchday experience!
The London studio of Populous, highly experienced in stadium designs, took on the idea of stadium of tomorrow as part of a joint project with National Geographic. Some of their ideas are simply an evolution of what we already know very well from stadia. Other elements surely have the 'wow factor' and would be game-changing if implemented.
Seen that already. Or have we?
First, let's list the ones we know but could be done in a much more impressive and effective fashion. Like rainwater storage. It's quite common these days but in this latest iteration it's more natural, as if literally inspired by plants and their use of water.
Speaking of plants, Populous suggest creating large, actual park on top of the Stadium of Tomorrow. This wouldn't be the first idea of its kind, if you recall some entries for the Tokyo 2020 Olympic Stadium (including that of Populous themselves), but as of yet there has never been a football ground with this amount of green areas that could both insulate it, make it a landmark and reduce the carbon footprint by creating a self-sustainable ecosystem.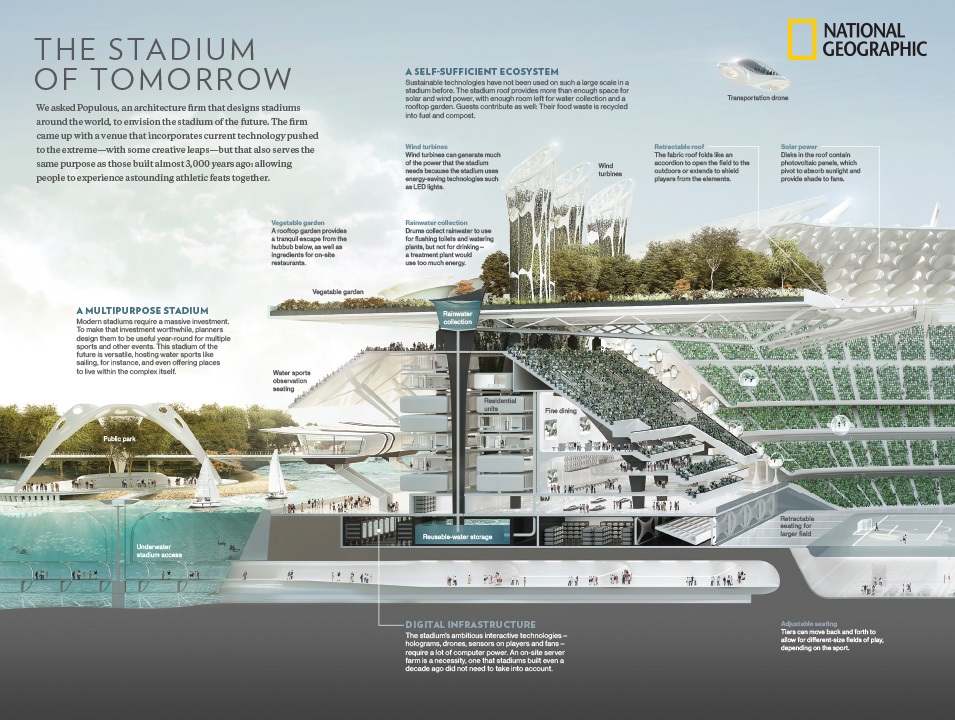 Wind turbines are also nothing new in football stadia, except here they would be part of the wider green framework. Solar power? It became almost common in stadia recently. Now however, it would be garnered a lot better with roof petals pivoting to absorb as much as possible regardless of time of day.
The big ideas
Here are a few things that stand out for us. First, the field. Not retractable, rather transparent and able to change texture, color and other features depending on discipline. This would be a new variety of multi-use stadia.
The lines marking the area of play are projected onto the field, allowing the field to vary in size and shape and there is even scope to make the field transparent, opening up possibilities for an underground viewing area to enable fans to watch the action from a whole new angle.
Another concept: augmenting matchday experience to new levels. "The Stadium of Tomorrow will also be highly interactive, employing LED technology and augmented reality to bridge the gap between the three participants in any sports event; the fan, the remote fan and the player experience. In the future, the crowd may be able to share their emotions through LED clothing or even experience what the players are feeling. Fans in smart-kit might feel the heartbeats of their favourite player or light up in colours to reflect the mood of the game." Populous write.
While Populous suggest that new matchday experience would become effortless for fans through increased automation, this wouldn't be the case entirely. All kinetic energy generated by visitors on event days would be used to cover the stadium's extra matchday consumption.
The stadium also envisions adding the best bits of TV sports coverage to the live, first-hand experience. A large holograph will hover over the field with the score and player stats, while smaller versions are literally displayed on the rear of seats for individual and tailored experiences for all spectators.
Automation will also extend to electro-magnetic hospitality pods that will move along rails within the stadium, allowing fans a view from anywhere they like. Such ambitious interactive technology will require a step-change in the computer power a stadium will need at its disposal, meaning an on-site server farm is a necessity.
Maria Knutsson-Hall, Associate Principal at Populous, said: "the Stadium of Tomorrow envisions a stadium ecosystem that creates a sustainable vision that incorporates social, economic and environmental sustainability. It will create an urban superblock that not only forms 7-day-a-week sports and recreation opportunities, but generates a highly connected infrastructure and transportation hub where people live, work and play."
That we wouldn't mid! To see all the amazing features of Stadium of Tomorrow, please check out the latest issue of National Geographic Magazine or visit NationalGeorgaphic.com!