Innovations: Between esports and football stadia
source: press release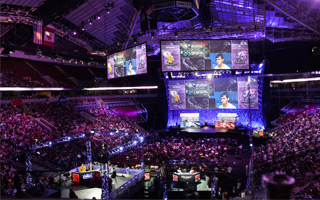 Whether you enjoy it or not, esports are here to stay. And by here we mean stadiums, not only those built for football. With growing market it's no wonder that Tottenham expect to host large esport events at their new stadium.
This Daily Mail article made headlines just two months ago, claiming that Tottenham Hotspur aim at earning £3 million per event for each esport tournament they host. The sliding field will enable creation of a stage that might draw crowds to the new 60,000-seater.
Whether it would be packed to capacity is a different issue, though. So far the largest esport event drew around 50,000 people to Frankfrut's Commerzbank Arena but the market shows amazing growth year by year with online audiences for top events in the tens of millions.
Prize money is also increasing, matching salaries of Premier League players in some cases. It's a week or month's salary at best, sure, but take into account that it's money for playing a video game that might actually include the said footballer.
Just look at this year's Champions League final in Cardiff. Or, to be more precise, the build-up before it. On June 2 a different "road to Cardiff" came to an end as best Pro Evolution Soccer gamers fought for the title of World Champion at Emirates Stadium. Three best performers earned £200,000, £100,000 and £50,000, respectively.
For top esport events the prize pool is in the millions already, which makes it worthwile for players, just as much more exciting for viewiers. If you're not a professional gamer yourself, one option there is to enjoy a Betway casino welcome bonus and give a different sort of gaming a try. In fact, getting online and betting or playing a casino game might be part of the future event experience. Augmented reality is also already being tested and commercial potential of such games might prove convincing to organisers.
So, are esports here to stay? It certainly seems so, even if there are few stadiums dedicated to this kind of entertainment. The first one, Yongsan in Seoul, was opened back in 2005 and it's not entirely a stadium, not of the football variety at least.
Esports need good acoustics, ambiance and, most obviously, giant screens. Football stadia aren't the perfect match, which is why only the largest events take place on the fields, while other high-profile gatherings occupy conference halls and hospitality areas of regular stadia.
That said, the esport market is fluctuating and hasn't morphed into a specific kind of event experience as of yet. While there are a number of esport-specific venues being announced around the world, the event infrasturcture at football grounds is also being reinvented to hold indoor concerts, boxing galas and yes, also esports.
That's why we can expect that regular football grounds will still grab a piece of the cake for their respective owners. Whether Tottenham will manage to get the desired £3 million per large esport event is still unclear. Their bold estimate caused some scepticism in the UK esports community, as expressed in this Esports News UK coverage.
But with growing demand for esports, it's certainly something we should see more of within the realm of football venues, especially that hosting costs with temporary infrastructure are becoming more accessible and the commercial value of gaming is growing.