Brazil: Arena das Dunas also under corruption scrutiny
source: Reuters; author: michał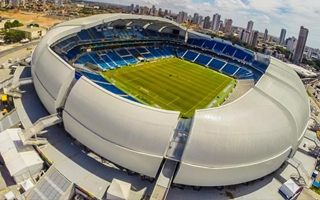 As arrests were made on Tuesday in relation to Arena das Dunas corruption case, the stadium becomes already the 7th to be part of a nationwide scandal.
On Tuesday police officers arrested former Brazilian tourism minister Henrique Eduardo Alves, nominated under president Dilma Rousseff. Former lower house speaker Eduardo Cunha, who is already in prison, also fell under the scope of investigation.
Overall, in a probe into corruption in the construction of Arena das Dunas and also in connection to alleged fraud at a state-run bank, five arrest warrants were issued.
While the probe's more serious part covers the bank fraud at Caixa Economica Federal, the stadium was apparently part of a major corruption case. According to the police statement, contracts for the construction of this particular stadium were inflated by a total of 77 million reais ($23.4 million) to fund bribes to lawmakers.
Natal's Arena das Dunas is the seventh of 11 stadiums used in the 2014 World Cup to come under scrutiny during the nationwide Lava Jato investigation.