New stadiums: Mansfield, Exeter and Fylde
source: StadiumDB.com; author: michał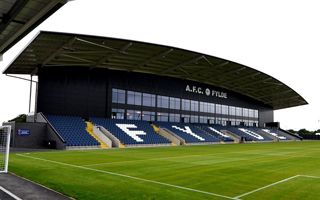 Please welcome these three latest stadiums in our database, hardly believable we could have missed them for so long. The historical venues from Exeter and Mansfield, plus the fresh ground of AFC Fylde!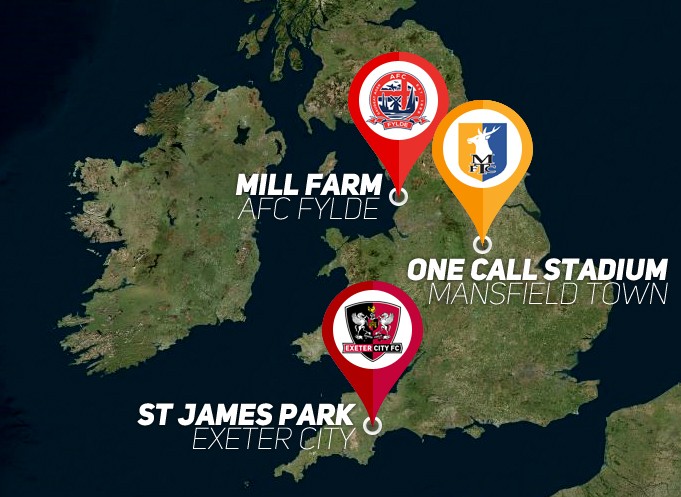 Considered the oldest functioning stadium of England's professional league system, Mansfield's Field Mill has been in use since at least 1861, perhaps even longer. Its name is owed to a large mill which used to stand just south of the field until its demolition in 1925.
For the first half a century it served primarily for cricket and football players were not even allowed to the dressing rooms. This began shifting as the 20th century came along with shift towards football-only use. Although there were episodes of rugby or greyhound racing, the stadium's main purpose hasn't changed since. Even its first concert as late as 2010 has proven the single only one to date.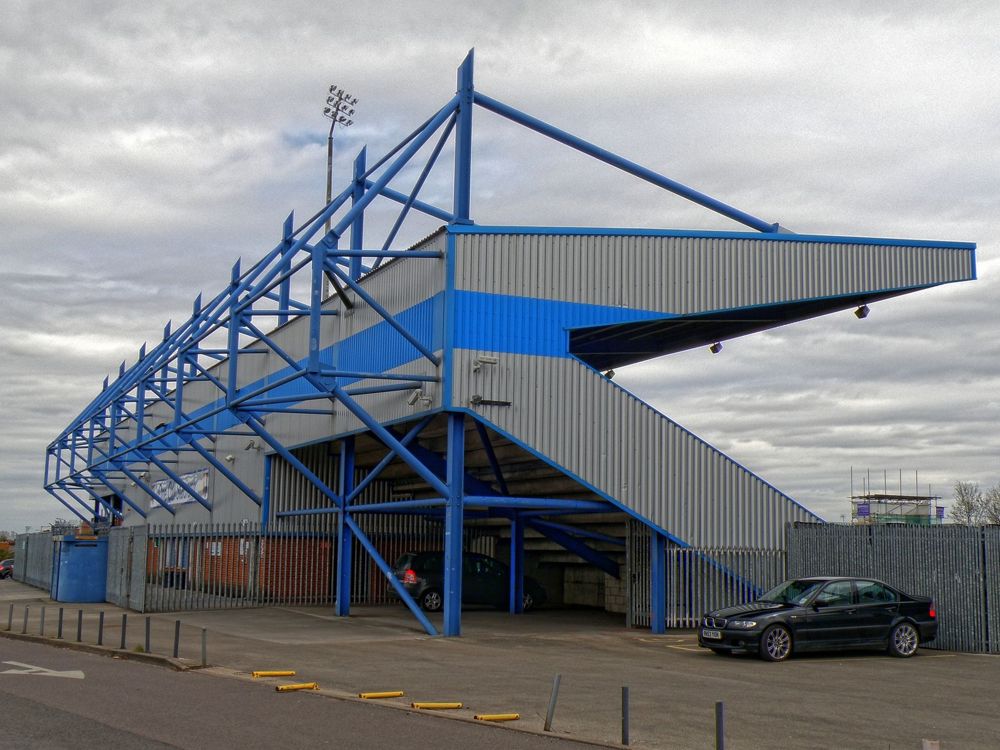 © Heather Ormsby
First grandstand was built along the west side in 1922, while remaining stands were raised with coal ash brought from nearby mines. In 1929 a modest roof/shed was erected in the east, but a much more symbolic event happened the following year.
On February 22, 1930 the stadium became England's first to host a competetive game under floodlights. And even though such practices were then sceapped for two decades, the event enjoyed nationwide interest, with representatives of major teams and even Wembley in attendance.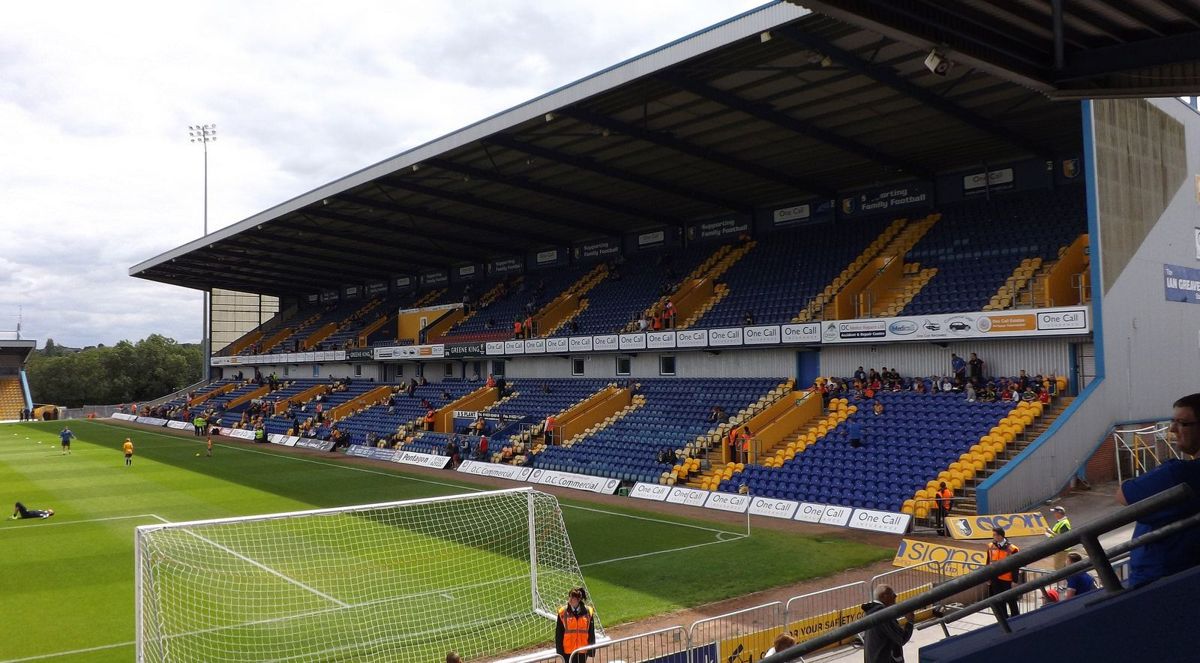 © Ian Johnson
In 1957 the supporters club funded a new north end, later adding an even greater effort in early 1960s, when fans bought a stand from the defunct Hurst Park racecourse. Both of these survived until late 1990s, when post-Taylor reconstruction began.
During the 1999-2001 period the stadium changed its image entirely. Three new stands were built, two behind goals and the most impressive, double-tiered one along the west side.
The stadium north of central Exeter was built in a place of arguable reputation. For centuries it was mostly used by pigs until football settled in between late 19th and early 20th century. Initially it was home to Exeter United, renamed Exeter City in 1904, remaining on the site to this day.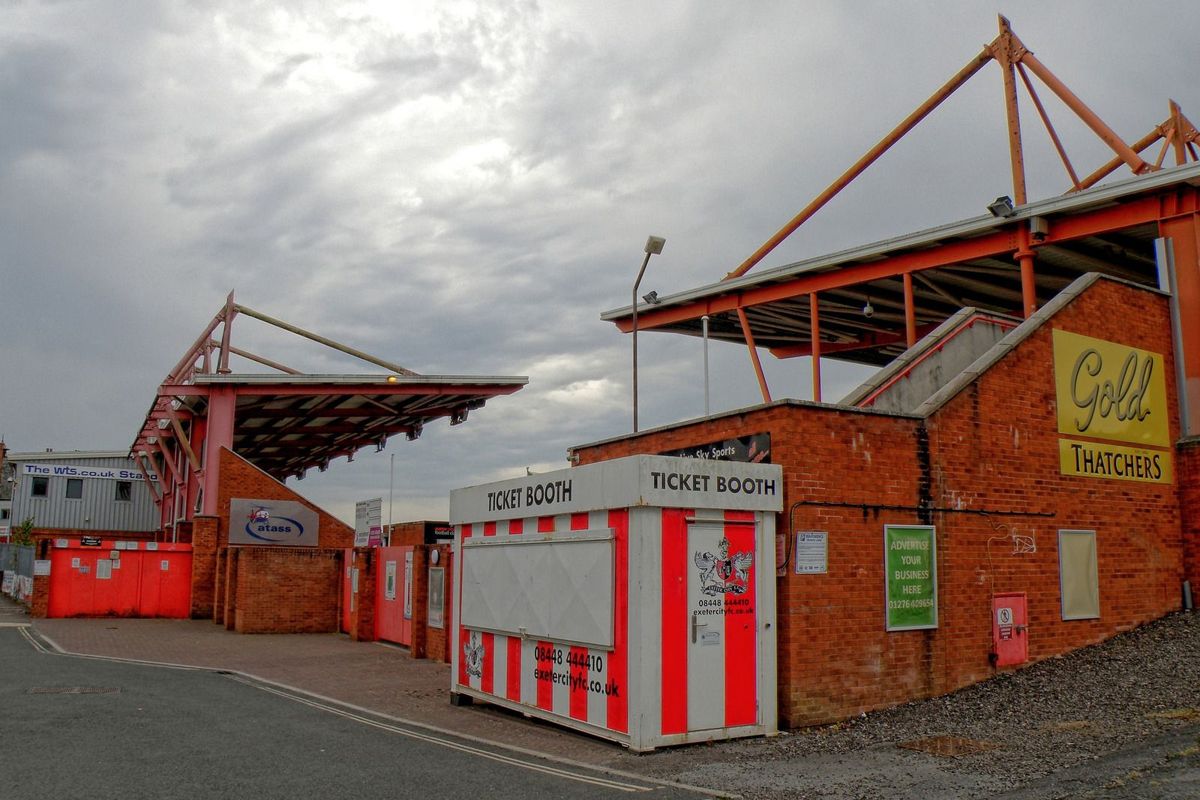 © Heather Ormsby
At that point the stadium had one grandstand in the west and terracing/embankments on remaining sides. By 1921 City had the resources to buy the ground, though they had a rough start. After just 5 years significant part of the grandstand burnt down in a large fire, forcing players to change clothes in nearby pub. It took months to repair all of the damage.
When rebuilt, the stadium saw its record crowd in 1931, when Sunderland came and defeated the hosts in front of nearly 21,000 people.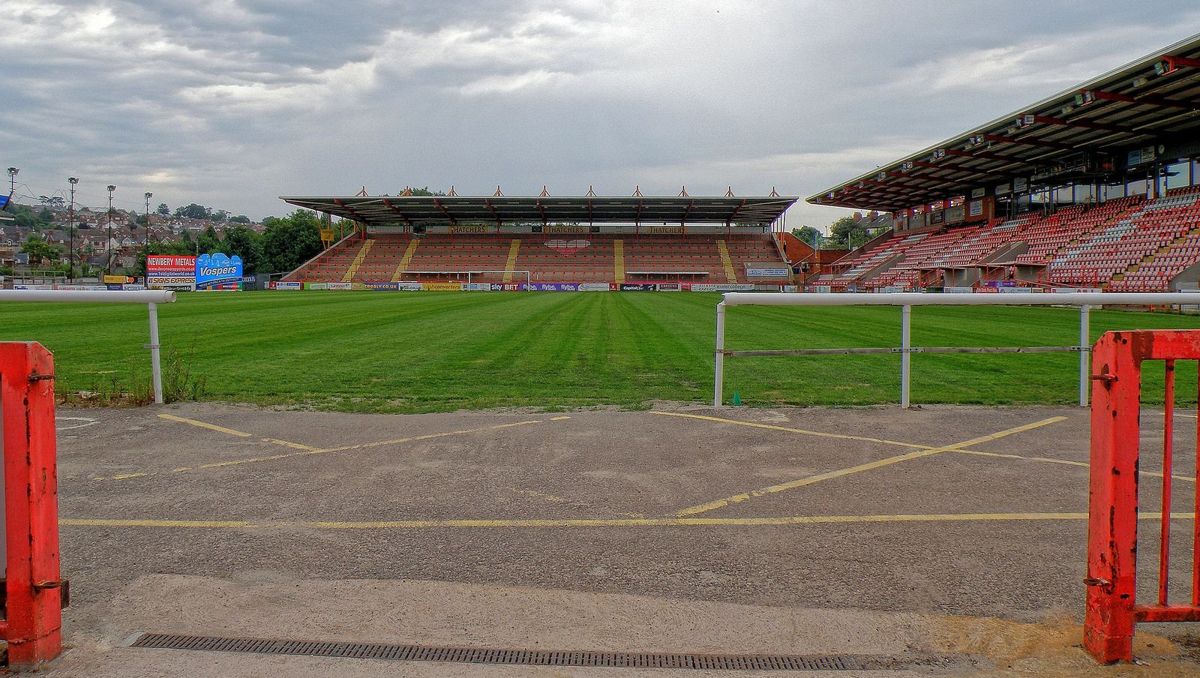 © Heather Ormsby
Like many stadiums across England, this one also underwent the most significant changes following the Hillsborough Disaster. However, in Exter's case it was significantly more painful as the club went into administration in 1994 and had to sell the ground. It then went into the hands of private developers and was bought back by the city council to safeguard the club's existence.
Only then reconstruction of the Big Bank terrace (north) and Cowshed (east) took place, seeing both rebuilt with cantilevered roof and significantly standing out when compared to the 1926 old Grandstand. Still, the southern away terrace remains the worst part of the ground despite plans of upgrades.
Mill Farm, Medlar with Wesham
Young and ambitious team AFC Fylde opted to secure their Football League status by 2022 and one of the means is a brand new stadium. They had invested in their previous home in 2006-2016, but by the end a the successor was already under construction just off the M55 motorway.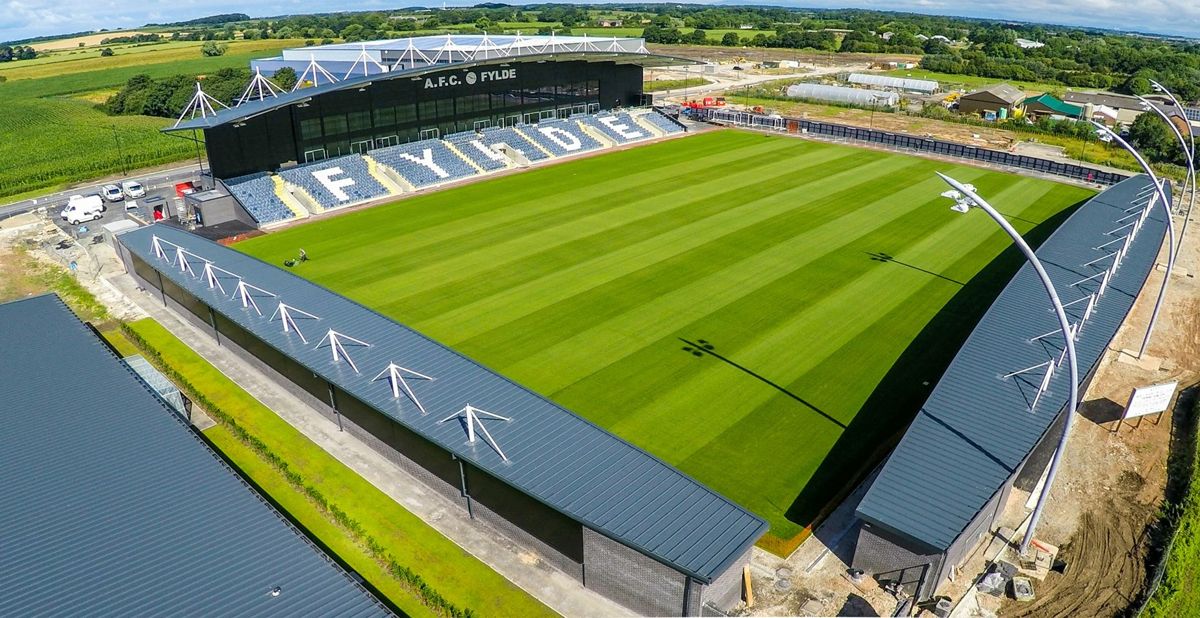 © AFC Fylde
Designed by renowned English office Frank Whittle Partnership, the latest stadium is simple yet elegant. Using almost solely black and white colours in outer/inner cladding and combined with smooth, curved form of the roof, this stadium might be taken as an example for aspiring non-league sides.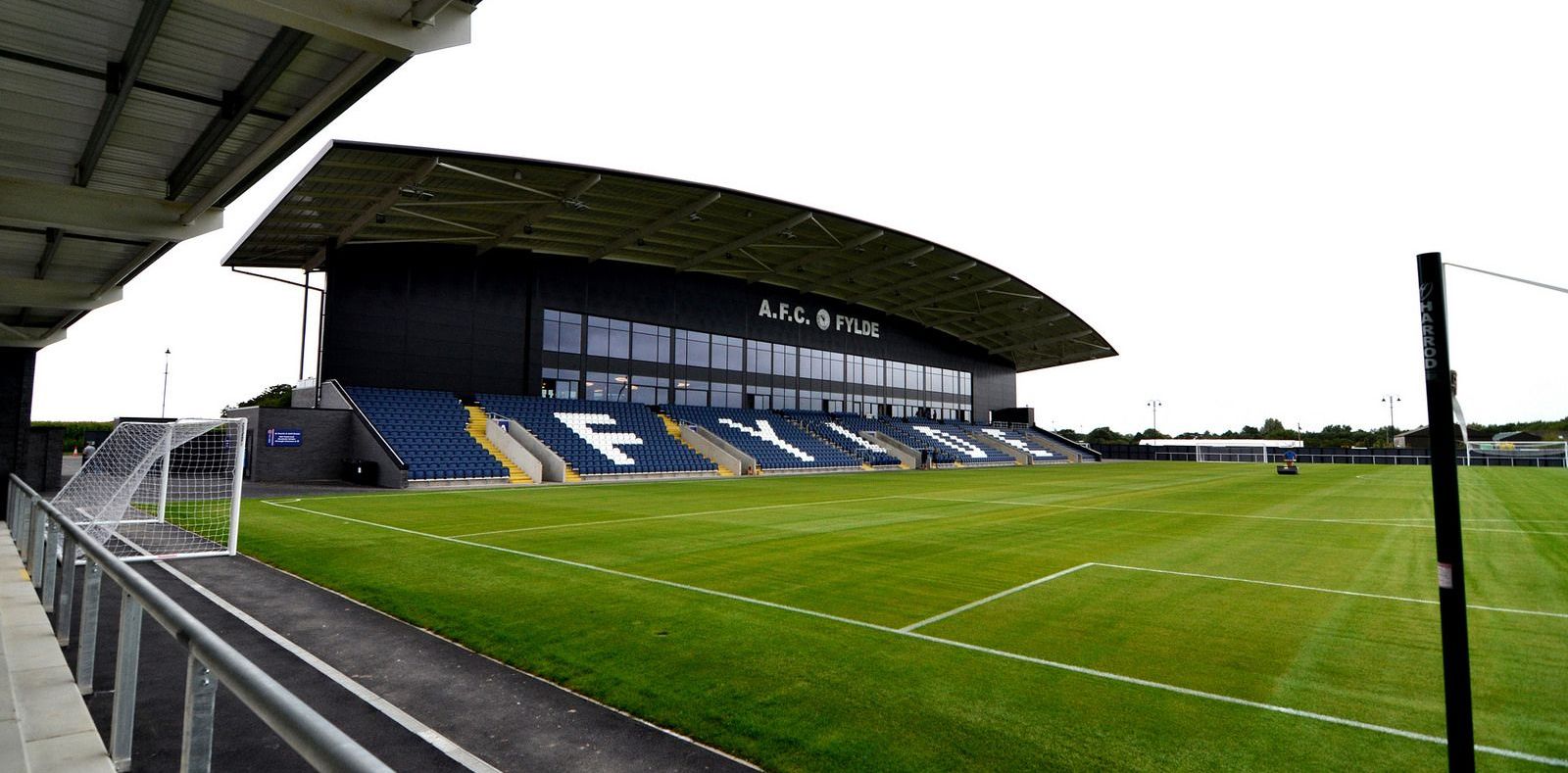 © Steve Mclellan Photography
Delivered in 2016, it has three stands, of which two (east and south) comprise of covered terracing. The main grandstand offers 2,000 seats and hospitality areas hard to compare with other non-league teams. A 290-seat pub, 80-seat restaurant and a cafe for 40 people are the key elements on offer.
Though built with the goal of enabling future expansion, the stadium is accompanied by a supermarket just behind the south end. There is also a gas station built as part of the same project with prospect of a small hotel joining the facilities in the future.