Las Vegas: Bold time frame for Raiders stadium
source: StadiumDB.com; author: michał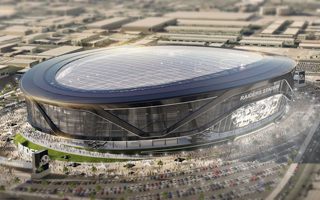 The Las Vegas Stadium Authority predicts construction of the 65,000-seat domed stadium will be done in just 30 months. That seems very unlikely.
Just a week ago, on May 1, NFL team Raiders acquired the land needed to build their new home in Las Vegas. 62 acres (25 hectares) at Russell Road will soon be prepared for first works to commence. Just several hours ago the public governing body Las Vegas Stadium Authority (LVSA) released a preliminary schedule of the stadium construction. We quote it below:
By August 2017: Clark County High-Impact Process completed, including approval by the seven-member Clark County Commission. Nevada Department of Transportation project review completed. UNLV Board of Regents approval of the joint-use agreement.
By September 2017: Stadium Authority certifies that all Senate Bill 1 findings have been met. All project documents are completed and reviewed by the Authority board. Clark County and NDOT development-infrastructure process overview summary with Authority board.
By October 2017: Final project documents approved by Stadium Authority board.
By November 2017: Stadium land transferred to the Stadium Authority board. Developers funding provided, as required by Senate Bill 1. Raiders responsible for first $100 million in construction costs.
By December 2017: Stadium site work begins.
By January 2018: Stadium bonds are issued. Stadium construction begins.
By June 2020: Stadium construction completed. Raiders begin moving in to facility.
By August 2020: NFL opening day for 2020-21 season.
This means just 30 months for actual construction of the stadium. It's worth mentioning that none of the recently-built domed stadiums of the NFL was delivered in such short time frame. Meanwhile the Las Vegas venue is expected to be among the most technologically and structurally advanced sports arenas across the US. Even adding the 3 months for launching events this schedule seems very optimistic.