Germany: WWK Arena finally getting its facades
source: sueddeutsche.de; author: michał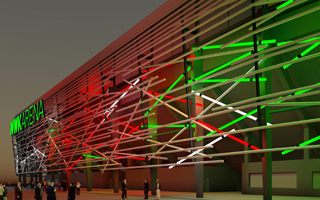 From the 2017/18 season onwards the home ground of FC Augsburg will finally stop being just bare concrete. 20 kilometers of tubes will cover WWK Arena, forming an interesting pattern.
Ever since early renderings were presented over 10 years ago, the new FC Augsburg stadium was expected to have outer cladding of sorts. Yet to this day it hasn't been implemented. Soon this will change, even if 8 years after opening is still a long time.
Updated images of the planned cladding were presented last summer, showing a completely different idea than before. Somewhat similar to Stade Pierre Mauroy and Arena Zabrze, the stadium will be covered with tubes. Contrary to the mentioned cases, in Augsburg the tubes will form only partly uniform layout, with significant portion of diagonal beams, illuminated with LED lamps.
Altogether some 20 kilometers of tubes will be used to create this thin outer skin, with works priced at €4 million. Installation began earlier this year but will only speed up now that the season is ending.