England: See the business part of Forest Green Rovers plan
source: StroudNewsandJournal.co.uk; author: michał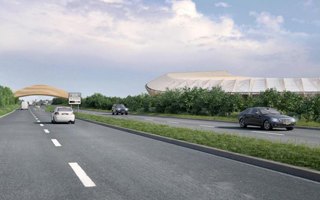 Founder of Ecotricity Dale Vince has yesterday unveiled bold new designs for the proposed Eco Park and a so called 'Gateway to Stroud'. A StroudNewsandJournal.co.uk report.
Owner and chairman of Forest Green Rovers FC yesterday presented the second part of his megaproject. After the FGRFC wooden football stadium now comes the accompaying business park, worth an estimated £300 million.
Plans include a new dual-carriageway on the A419, concept designs for Eco Park's Green Technology Hub and a Zaha Hadid designed footbridge linking the two main sides of the development.
Dale Vince said: "With Eco Park we hope to push the boundaries of sustainable development, create 4,000 jobs in the green economy, a world class football stadium and make more room for nature with a big biodiversity boost.
The plans and a 3-D model of the park were shown to more than 100 businesses in Stroud earlier, ahead of the outline planning application, which the company aims to submit in July.
It is hoping is to obtain local support before the plans are considered by Stroud District Council to avoid lengthy planning disputes.
If built, the park would be situated near junction 13 of the M5 near the west of Stonehouse. It would cover 100 acres (over 40 hectares), include a new dual carriageway on the A419, a "green technology hub", a new football stadium and promises to "make more room for nature".