Stadium of the Year 2016: Jury Vote 3rd place – Stadion FK Krasnodar
source: StadiumDB.com; author: michał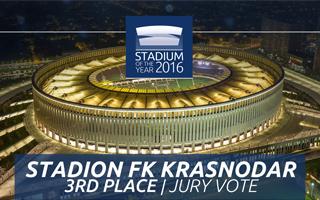 Impressive, but not lavish. Thought-through in the very smallest detail and representing unmatched quality. New Krasnodar stadium is the first ever Russian project to be on the podium of our Jury.
This edition of Stadium of the Year saw some unique stories behind the nominated projects. One of them is that from Krasnodar. While Russia is preparing for the 2018 World Cup, this stadium has little to do with it. It's a private project launched by billionaire Sergey Galitsky, for whom it's part of building a domestic powerhouse of FK Krasnodar.
Construction delays are nothing new and this stadium also suffered from some setbacks. But you would be mistaken for thinking that's due to insufficient funding. Money was no issue here, it was rather the arduous process of selecting the very best and most satisfying solutions.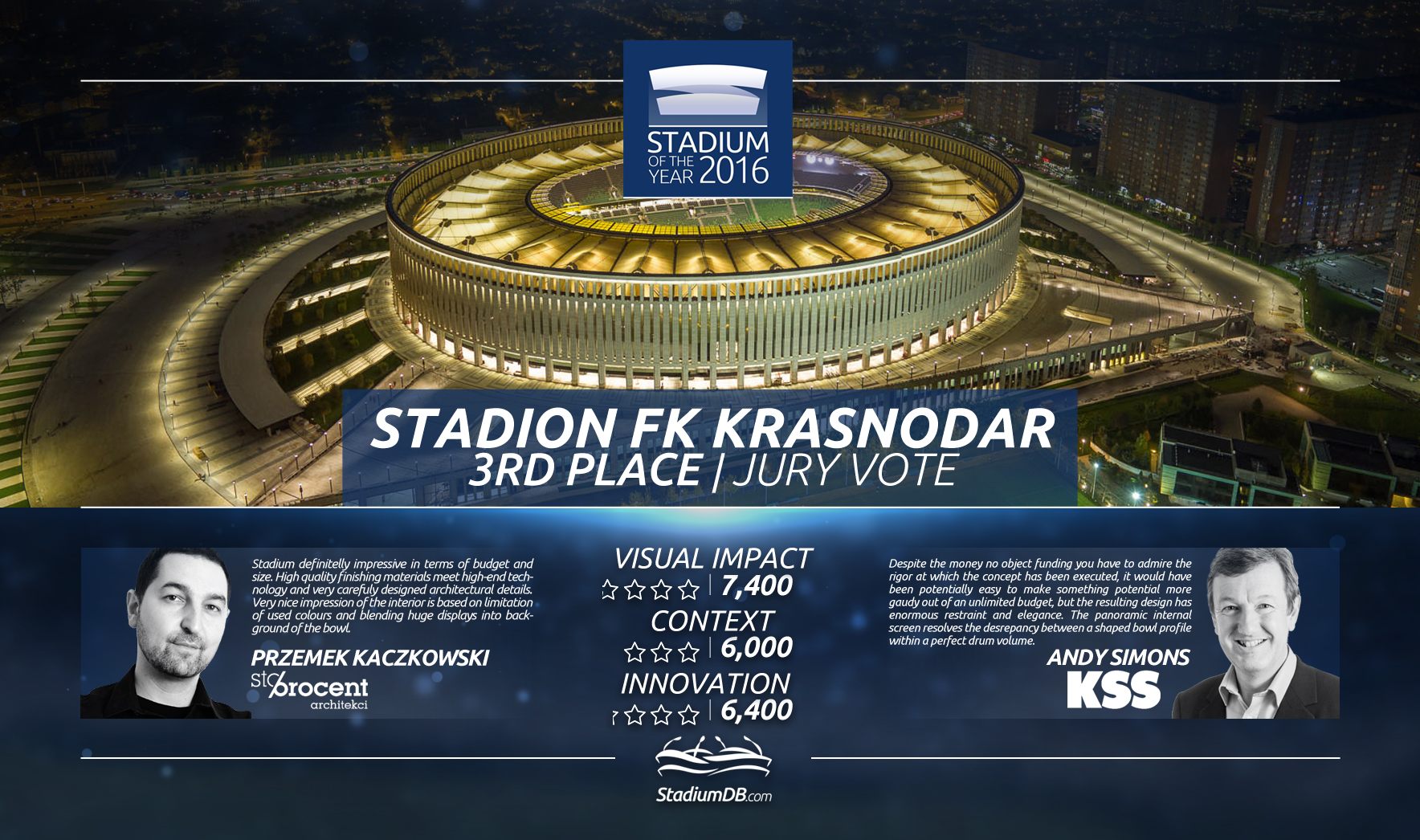 Quality above all
The stadium is planned thoroughly in every detail, you won't see fences or bare concrete, everything has its place here and is eye-pleasing. That's why Stadion FK Krasnodar scored the highest of all nominees in visual impact (7.4 out of 10), earning two votes of 9 points!
Our Polish Juror Przemek Kaczkowski (STOPROCENT Architekci) praises the attention paid to details in this project. "High quality finishing materials meet high-end technology and very carefully designed architectural details. Very nice impression of the interior is based on limitation of used colours and blending huge displays into background of the bowl."
The display, Europe's largest in terms of size (roughly 4,800 m2) and also the world's first panoramic screen, is also seen as a great addition by Andy Simons (KSS). "The panoramic internal screen resolves the discrepancy between a shaped bowl profile within a perfect drum volume. Although, a high cost item this internal screen is certainly unique."
Simons also applauds the discipline in designing and delivering a stadium with almost unlimited budget. "Despite the money no object funding you have to admire the rigor at which the concept has been executed, it would have been potentially easy to make something potentially more gaudy out of an unlimited budget, but the resulting design has enormous restraint and elegance."
This opinion is shared by Peter Bordas (BORD). "I liked how the archetypical form was recreated, how the surroundings and the whole building shows authority."
What's seen as powerful by one Juror isn't entirely agreed upon by another. Przemek Kaczkowski thinks it could still be better. "However, the overall impression doesn't necessarily reflect money, time and effort spent on this project. Heavy, neoclassical architecture doesn't go along with the function of the building. Instead of being (as intended) simple, monumental, modern and classy… it is just boring."
Don't forget to check the complete list of 29 nominees (Public Vote) and 10 finalists (Jury Vote)!