New stadium: The only one with fishing ban
source: StadiumDB.com; author: michał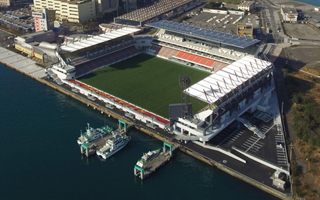 Yes, that's not a joke. Fans in the east stand are officially informed that fishing is prohibited. That's how close to water Mikuni World Stadium is!
Plan for a brand new stadium in Kitakyushu was established in 2010, when local club Giravanz for the first time reached J2 League (currently J3). Initial concept suggested capacity of 10,000, but eventually it was increased to 15,000, so that one day J1 League games can be played here. And, should demand increase further, there's also possibility of adding further 5,000 seats.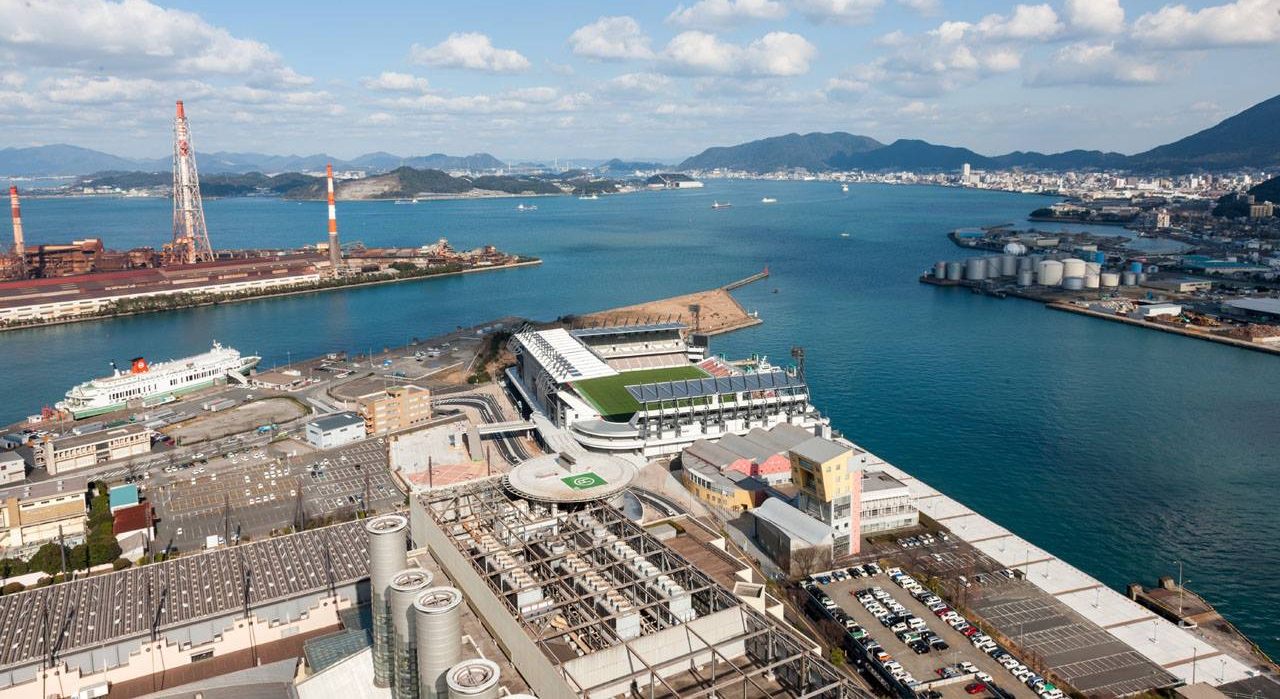 © ミクニワールドスタジアム北九州 / City of Kitakyushu
Of all possible location the one almost at the heart of the city was selected, just beside the International Convention Center. To fit the compact stadium within existing parking space the road running beside it had to be moved west and still the east stand almost hangs above waters of the Kanmon Straits. The stands have a very tight layout, with steep upper deck. Front row is just 8 meters away from the field and with a fence of just 65 cm it's expected to feel very cosy.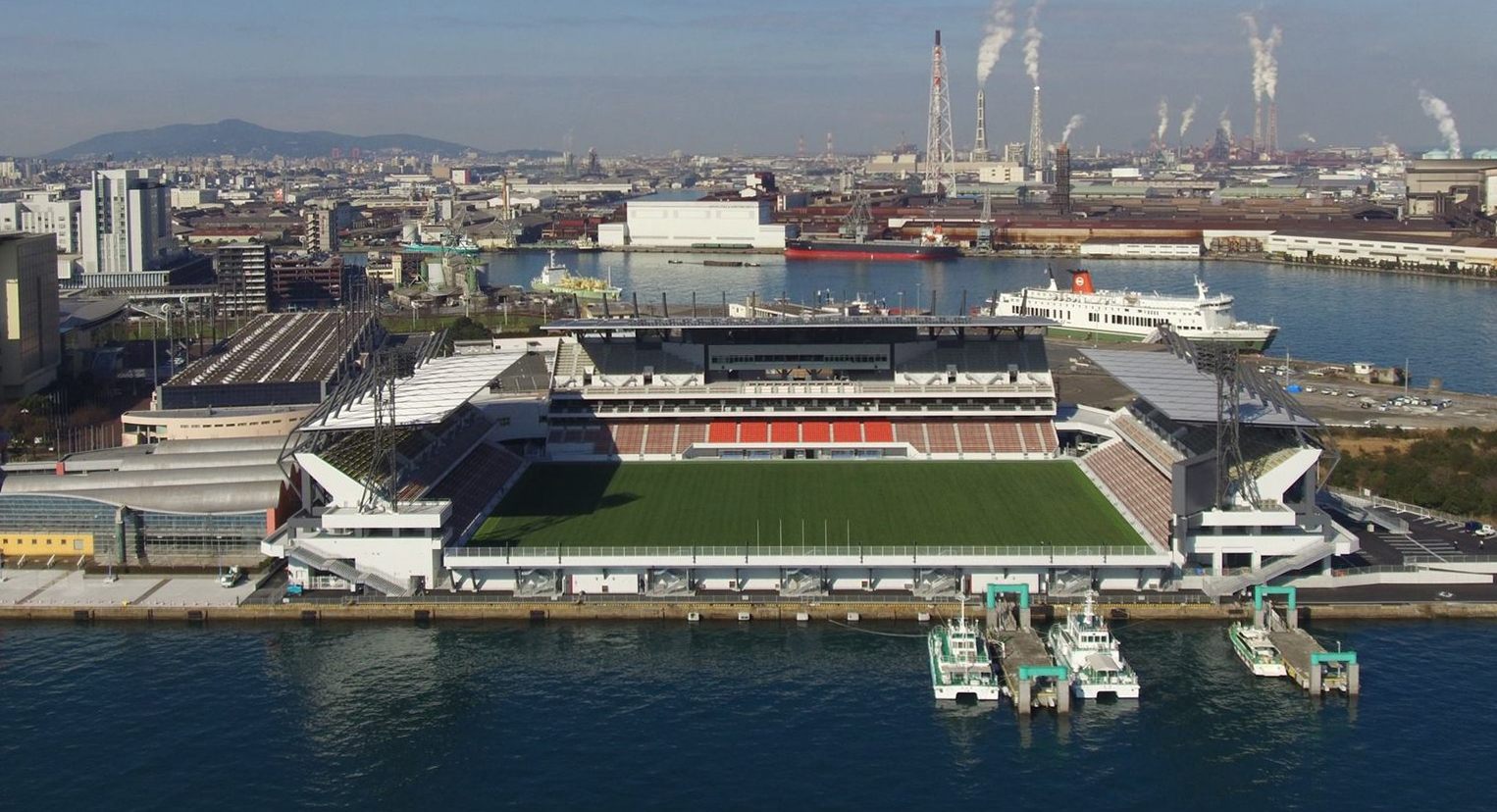 © ミクニワールドスタジアム北九州 / City of Kitakyushu
Spectators enter the stadium via a system of ramps, primarily in the south and west (home fans), but also in the north (away fans). A wide promenade would have surrounded the entire building if not for lack of space in the east. Here fans walk down to ground level, getting as close to the water as any stadium can bring them. In fact, it's the only known stadium to have an official ban on fishing!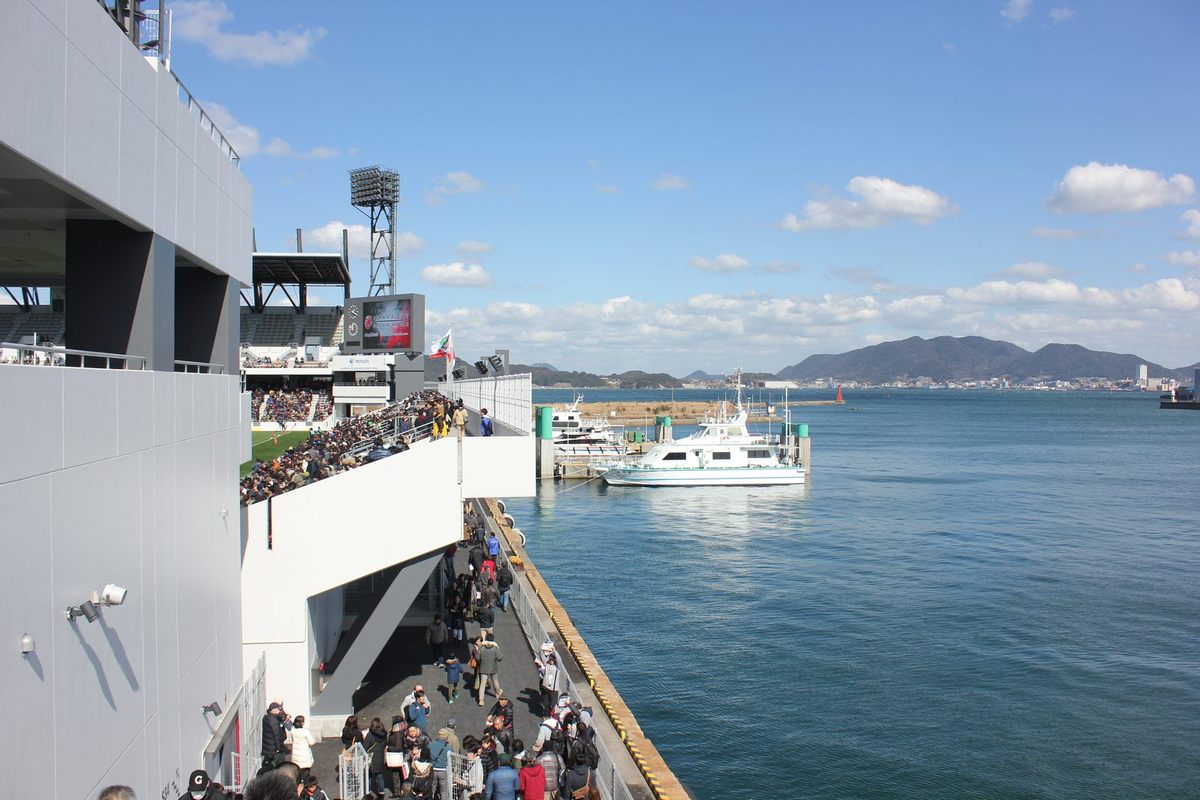 © WAKA77 (copyright-free)

As always in such cases, there's the issue of... who gets the ball if it lands in the sea? Believe it or not, this problem was seriously analysed. A tall net was an option, but proved unfeasible economically, difficult logistically and would spoil the dramatic view. Because the open side is not behind a goal, balls shouldn't fly outside often, so it was agreed that in such case the organiser is responsible for retrieving them.
This unique location was chosen for its comfortable commute. While there's little room for public parking, the stadium is just a 6-minute walk away from key railway stations, including the ultra-fast Shinkansen.
Construction was launched in April of 2015 and lasted nearly two years, until March of 2017. First game was organized in February (charity rugby game), but the football opening came on March 12, when Giravanz filled the new ground to capacity for the first time. Fans of this club have a dedicated section in the lower south stand.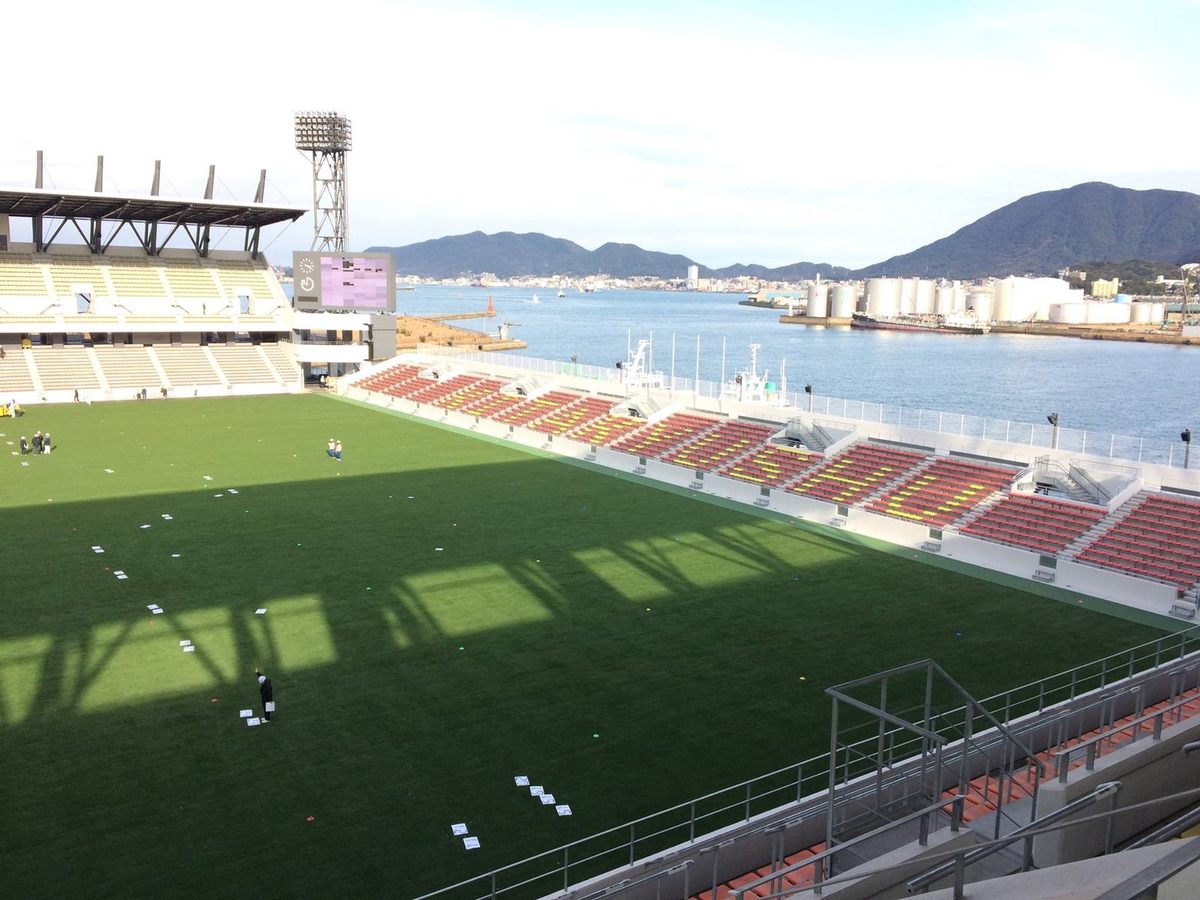 © ミクニワールドスタジアム北九州 / City of Kitakyushu
The building's cost was expected to stay below ¥10 billion, but proved higher (almost 11 billion or $95m) after roof was added on top of the north and south ends, initially not part of the scheme. Budget was secured with the help of national lottery and numerous private companies in the Fukuoka area.
The stadium was designed in order to withstand high winds and earthquakes. Its roof is also able to accept significant number of photovoltaic panels. Use of LED lighting allowed significant reduction in energy consumption on weekdays and matchdays alike.
From early days of its operation the building has a commercial partner. Mikuni World Stadium is the first naming rights deal, worth ¥30 million annually ($265,000) over 3 years.