Munich: Lions' ultras demand new stadium
source: StadiumDB.com; author: michał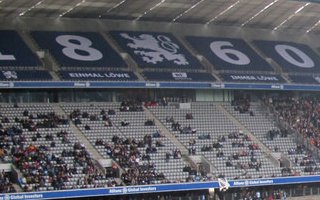 After months without organized support, atmosphere at TSV is finally better and morale is high. But reunited supporters now demand prompt relocation from Allianz Arena, which they call a "wasteland".
2016/17 hasn't been the best season for TSV 1860. Not in football terms, they're safe from relegation, even if promotion back to Bundesliga is extremely unlikely this year. But in terms of atmosphere it's been very poor lately.
Last summer two largest groups of fans, Cosa Nostra and Giasinga Buam, were dissolved. This meant no organized support, with only spontaneous cases during away games. Combine that with the fact that TSV only fill a third of Allianz Arena and you can imagine the feeling during "Sechzger" games wasn't great.
Finally in February a major improvement came. Following unilateral talks within the fan scene, new umbrella organization was formed. Münchner Löwen (Munich Lions) is expected to represent supporters interests and ensure proper matchday atmosphere.

© Tim Seidenberg
Members of ML officially introduced themselves to other fans during this weekend's game against Würzburg. Throughout Allianz Arena people could find their open letter. It consisted of what you would normally expect in such case: assurance of determination in support of TSV and appeal to unite behind the club. But there was one more thing which may have been less expected. Here's how the message ended:
"Finally, we remain critical of all people running the club and we will defend our point of view. We will also fight for prompt relocation from Allianz Arena, just as we will support the players. That's why our main demand from the club is serious action for a new stadium. We expect solutions as soon as possible to finally abandon the Fröttmaning wasteland", ML wrote.
"Fröttmaning wasteland" is of course reference to Allianz Arena, located far from Munich's heart and extremely unpopular among TSV fans.
Main investor of the club has read the leaflet during the game and soon afterwards responded to it publically, via facebook. "Of course I have read the open letter of Münchner Löwen. I understand 100% that you want a new home and this is precisely my plan. However, in order to implement this project – if we are to remain within city limits – we need support from the city", Hasan Ismaik wrote.
The Jordanian businessman has earlier this year hinted that TSV might be forced to leave Munich and build their new stadium outside city limits. So far all proposed sites for a new stadium have been rejected, including the Olympiapark and Riem's exhibition center.
Hasan Ismaik hopes to build a stadium as big as 52,000. Supporters seem to opt for something more compact. Ongoing poll on TSV's largest supporters' website gathered almost 5,000 votes so far and vast majority (57%) are in favour of 30,000-40,000 ranges with option of future expansion.