Liverpool: Everton close to securing Bramley-Moore Dock site
source: Everton FC.com / theGuardian.co.uk; author: michał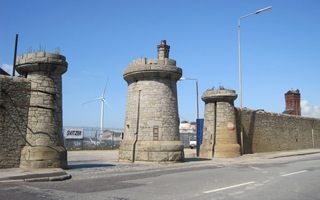 They already agreed with developer Peel, now the Toffees are set to agree the principles of an innovative finance model with the Liverpool City Council.
A few days ago Liverpool mayor Joe Anderson hinted there would be a major announcement on Thursday. Some were hoping for so called "stadium porn" (official renderings), but they have to wait a bit more. Still, there's a major update indeed.
Everton have confirmed they reached an agreement with Peel, the developer behind Liverpool Waters project. This means Peel in principle agreed for a new stadium to be built within the Bramley-Moore Dock, part of their project's area.
Now, as the statement by Everton reads: "Everton and Liverpool City Council are set to agree the principles of an innovative finance model that will support the Club's ambition to build an iconic waterfront stadium at Bramley-Moore Dock."
Next step should come very soon, within just a week from now. A report will be presented to the council's cabinet next Friday (31 March) recommending that the City Council progress Heads of Terms to create a new Special Purpose Vehicle (SPV) company which will take a lease of the stadium from a funder and, in turn, sub-lease it to the Club.
Under the proposed finance structure of the SPV the council will not provide any finance for the new stadium, which is anticipated to cost in excess of £300m ($375m) and will be fully funded by the Club. That said, there's significant responsibility on the city council too:
As well as paying off loans through the SPV and its annual security fee to the council, Everton will also pay into a security package to be accessed in the event of non-payment of rent. That would effectively be in the event of relegation. In that scenario the council would have to pay off the debt but would become sole owner of the SPV, the stadium and the land.