Stadium of the Year 2016: Halfway there, what's next?
source: StadiumDB.com; author: michał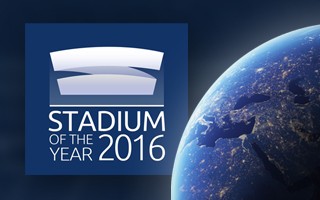 We're exactly past the halfway point in the annual Stadium of the Year competition. With over 25,000 votes and counting, any stadium (literally!) can still win. What now?
Stadium of the Year is now heating up, especially in recent days, when numerous online publications throughout Europe generated momentum and brought new people willing to vote. As we write this, almost 26,000 users have cast their votes already. Thank you!
There are still over two weeks of the vote left, so you still have enough time to read all descriptions, view all the photos and make up your mind which of the 29 nominated stadiums to vote for. To help you in making this decision, we're making a list of 29 reasons, each in a different article.
Yes, you guessed correctly: each article is about a stadium and each stadium is a reason to vote. Now we're going to tell you why each of them deserves your vote! These won't be regular articles, rather a list of what's best about each of the competing stadia, why you may consider each of them in your top five.
After all, this year's competition is full of original, sometimes quirky stadiums, each with its own value. There's the sharp, aggressive US Bank Stadium in Minneapolis, second tallest stadium of the world in Moscow and just 35-meter shorter giant in Miami Gardens. The world's largest cantilevered roof of London Stadium, one of South America's hottest cauldrons in suburban Montevideo and the amazing cultural context (and, in fact, structure!) of Oaxaca's new stadium…
In upcoming days you will be able to read short pieces about each of these stadia and still have enough time to vote by March 4 (midnight, CET), when we close the voting platform until next year.
Why are we giving you the reasons? Because this year's vote is the most competitive one we've seen in years and we're eager to make sure everyone potentially interested gets the chance to vote. Though we're already past the halfway point, even the last listed stadium could literally win the Public Vote! Yes, that sounds incredibly, we're surprised ourselves with how stiff the competition is.
Because we're receiving questions regarding the voting process, here is a simple instruction in the language of each country represented in the competition, on how to cast a valid vote.
| | |
| --- | --- |
| | Prohlédněte si seznam nominovaných stadiónů, vyberte z nich pět, které se vám zdají nejlepší a hodnoťte je od pěti do jedné hvězdičky. Poté stačí kliknout na Hlasovat a je to. Díky! |
| | Conozca la lista de 29 estadios nominados y elija cinco que más valora. Délos notas de 5, 4, 3, 2 y 1 estrella, luego presione el botón "votar". Eso es todo, dio una voz importante! |
| | Voici une liste de 29 des stades nominés. Choisissez-en cinq que vous appréciez le plus. Donnez-leur des notes de 5, 4, 3, 2 et 1 étoile, puis appuyez sur le bouton "vote". C'est tout, vous avez donné un vote important! |
| | Hier finden Sie die Liste aller Nominierten. Wählen Sie ihre besten Fünf aus der Liste aus. Bewerten Sie sie jeweils mit 5; 4; 3; 2 oder 1 Sternen. Zum Bestätigen klicken Sie bitte auf "Vote". Vielen Dank! |
| | Tinjau stadium-stadium di daftar nominasi kani dan pilih 5 yang paling anda sukai. Berikan mereka masing nilai bintang dari 1 hingga 5 bintang. Bila sudah selesai, harap klik "vote". Terima kasih! |
| | تصفح لائحة الملاعب المرشّحين و اختر خمسة بحسب قيمتهم. اضع تقييم من ٥ نجوم، إلى ٤، ٣، ٢ و نجمة واحدة. عند الإنتهاء، فقط اضغط على تصويت، شكراً! |
| | Scorri la lista degli stadi nominati e seleziona i cinque che preferisci. Assegna loro da 5 a 1 stella. Una volta finito, clicca su Vote, grazie! |
| | Bekijk de lijst met stadions en selecteer de vijf stadions die je het meeste waardeert. Geef ze een waardering van 1, 2, 3, 4 of 5 sterren. Als jeklaar ben kun je op Vote drukken. Hartelijk dank! |
| | Abaixo uma lista de estadios nomeados, escolha cinco que mais valoriza e dê-lhes notas de 5 a 1 estrela e em seguida pressione o "votar". Isso é tudo, você deu uma voz importante! |
| | Просмотрите список номинированных стадионов и выберите пять, которые Вы цените больше остальных. Дайте им оценки от одной до пяти звёзд. Когда Вы закончили, просто нажмите Голосовать. Благодарим. |
| | Aday stadyumların listesine gir ve en beğendiğin 5 tanesini seç. Stadyumlara 1-2-3-4 ve 5 yıldız üzerinden puan ver. Bitirdikten sonra "Oy ver"e tıkla ve işte bu kadar! Teşekkürler! |
Many thanks to Mateusz Strauchman, Monika and Wildson, Katarzyna and Greg, Paweł Borek, Anna, Arend, Clarissa, Chiara, Eric Buntoro, Ersen, Georges, Ivan, Jamal Edin Belghiti, Necati, and Marcin for your help in translation!