Lisbon: Sporting to rebrand their stadium after election?
source: atascadocherba.com; author: michał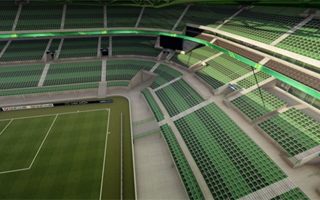 Complete replacement of all seats and capacity increase may soon be coming to Lisbon. That's what one of Sporting's presidential candidates offers to supporters.
Estádio Jose Alvalade XXI is known worldwide for its bright mosaics of yellow and green, created by famous architect Tomas Taveira, known precisely for his bold use of colours in stadium projects. Well, apparently his works isn't exactly in line with local expectations.
After all, Sporting's colours are green and white, yellow is only a secondary one in the club's crest. Already in 2012 the tall roof pylons were repainted green instead of initial yellow. Now further yellow elements may disappear as one of two presidential candidates in Sporting suggests he would prefer complete seat replacement.
Pedro Madeira Rodrigues proposes installation of only green seats, with horizontal stripes created with two shades of green. Also, staircases would no longer be bright yellow, removing the colour further.
According to A Tasca de Cherba, who first published the info and attached renderings, the stadium would also gain some 1,800 seats. Very much like similar project at Amsterdam ArenA, this would mean adding new front rows within existing moat between fans and the field. This would also make the stadium more fan-friendly.
All the above works are expected to cost no less than €1.5 million. At this point there are no details as to how it would be financed. However, should Madeira Rodrigues win the election on March 4, he suggests works could begin as soon as May 2017, right after the current football season.