Las Vegas: Superstadium plan collapses, can it be saved?
source: StadiumDB.com; author: michał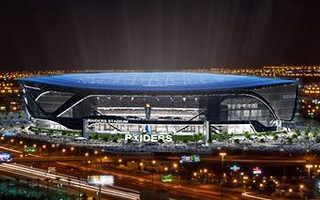 Billionaire Sheldon Adelson pulled out of the proposed Raiders Stadium in Las Vegas. Without him the whole financial structure is in pieces and may prove beyond the chance of saving.
It's only Wednesday and the week is already extremely tense in Las Vegas. The city's proposed partnership with Oakland Raiders suddenly became very unlikely if not impossible. Crucial partner of the move Sheldon Adelson has just pulled out.
Why does it matter? The move to Las Vegas depends heavily on new 65,000-capacity domed stadium, expected to cost $1.9 billion. Adelson, the richest man in Nevada, promised $650 million for the project. Raiders and their partners are expected to contribute $500m, while taxpayer funds would cover the remaining $750m.
Adelson pulled out of the deal on Monday, after he found out that Raiders because the Raiders on Thursday had presented a draft lease agreement to the Las Vegas Stadium Authority without Adelson's involvement or knowledge.
This doesn't have to bury the proposed scheme but makes it extremely difficult not to fall apart. Raiders' contribution of $500 million heavily relied on Adelson being the partner. The Oakland Raiders' deal with New York-based Goldman Sachs to finance a $1.9 billion stadium in Las Vegas is in jeopardy because the agreement was contingent on a $650 million investment from Sheldon Adelson.
Even the taxpayer part may prove not on the table anymore. Yesterday, sources told ESPN's Ramona Shelburne that "support for that commitment largely came from Adelson's connections and influence . . . [and] that it should not be viewed as a 'standing commitment."
There are already efforts in public authorities to transfer the $750 million from increased hotel tax for other needs.
Could San Diego step in?
With the Raiders stadium plans in Las Vegas showing cracks, the city of San Diego is expressing interest in the Raiders as a potential replacement for the recently departed Chargers.
According to Kevin Acee of the San Diego Union-Tribune, San Diego mayor Kevin Faulconer reached out to an NFL official to let the league know they are eager to speak when the time is appropriate. Another city representative attempted to reach out to a Raiders official as well.