Angola: Tragedy at season inauguration, 17 dead
source: StadiumDB.com; author: michał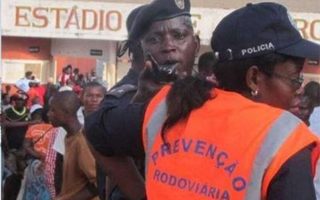 What happened outside the stadium in Angolan city of Uíge is one of the most tragic events in African football. And yet inside the game was played as if nothing happened.
Friday saw the opening game of Angolan top tier Girabola's 2017 season. Northern club Santa Rita, for whom this was a historical debut in Girabola, were facing Recreativo de Libolo. For citizens of the 120,000-inhabitant Uíge city it was a special occasion, so crowds were no surprise.
Long before the game commenced nominal capacity of the ground was exceeded and still many people were queuing outside the north stand. Around the 7th minute of the game emergency services were already rushing to save people crushed at the gates.
Although there were reports of panic and stampede, currently all data suggests there was simply excessive congestion that led to people being crushed and unable to breath. As a result no less than 17 people were killed, including children. 61 were taken to hospital, several of them in need of immediate help.
Shockingly, the game was never interrupted and saw Santa Rita lose 0:1. As it later turned out, people inside were largely unaware why there was so much commotion behind the outer walls. Recrativo's staff claimed they have only learnt of the disaster once they arrived back from the game, to Luanda.
Santa Rita officials accuse the police of letting far too many people to the direct vicinity of their home stadium. Those with tickets were pushing to get through the crowd, while many ticketless fans were also attempting to get inside.
Estádio 4 de Janeiro in Uíge is severely outdated and offers only one small grandstand, pushing all other spectators to green terracing around the field. There were plans of reconstructing the entire stadium, but never got implemented.