Glasgow: Celtic fans might mock Ibrox issues during Old Firm
source: TheNational.scot / Scotsman.com; author: michał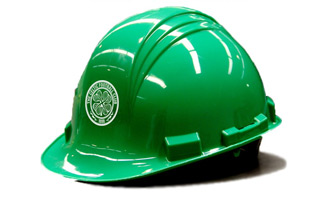 After four years of absence Celtic supporters finally return to Ibrox for a league game on New Year's Eve. And they might be wearing helmets as the stadium's roof is in dire condition.
They waited too long to see one-another in the Premiership. After four years Rangers returned and will host their first Old Firm in the league on New Year's Eve. Ibrox Stadium might be the place of unusual fan initiative on that day as an idea to wear construction helmets by Celtic supporters caught surprising traction online, making headlines of major Scottish media.
It's a way of mocking Rangers' issue with stadium safety, subject to controversy for months. A year ago hundreds of Rangers supporters were asked to leave their seats during a game as a piece of the roof above them was supposedly loose.
Chairman Dave King unwillingly fueled speculations in June as he admitted roof needs significant work above three out of four stands. "it is as unfortunate as it is true that Ibrox and its surrounding environs have been sadly neglected for many years – even prior to the Craig Whyte takeover", King said.
He continued: "The stadium itself requires significant maintenance work, much of which will go unseen, but will include a major overhaul of the roofs of the Broomloan, Copland Road and Sandy Jardine stands."
Celtic fans will occupy the Broomloan stand, so the joke isn't entirely off. Even if Ibrox in fact has valid safety certificate, issued ahead of the 2016/17.
That old Celtic humour on the go again with the suggested head wear at Ibrox on Hogmanay :-) pic.twitter.com/ixOBtsTikh

— Lisbon Lion (@tirnaog09) December 10, 2016