Colombia and Brazil: They filled stadiums for Chapecoense
source: StadiumDB.com; author: michał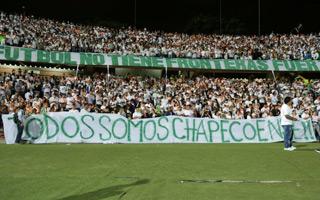 This night saw stands full both in Chapecó and Medellin, where the Copa Sudamericana was supposed to be held. No game, just common tribute to all those lost in recent plane crash.
This night was supposed to see the first leg of Copa Sudamericana final between Atletico Medellin and Chapecoense. But after the Brazilian team's plane crashed shortly before reached the destination, people flocked to Estadio Atanasio Girardot not for football, rather to pray and pay respect to those killed.
The Medellin stadium can hold just over 40,000 people but last night thousands more came and were left outside the building, watching the ceremony's broadcast on a giant screen. Dressed largely in white, fans of Atletico and other citizens brought numerous flags and banners expressing solidarity with their Brazilian counterparts.
The stadium got very loud with chanting on occasions, this time not rooting for Atletico but new friends in Brazil who are now left with immense void to fill.
Torcida se despede da cerimônia, em Medellín, com homenagem tão grandiosa quanto as vítimas. #SomosTodosChape #1MinutoChape pic.twitter.com/0PBha188in

— MinistériodoEsporte (@minesporte) December 1, 2016
Así están las afueras del Atanasio Girardot. Increíble. #FORÇACHAPE [ @sebasgrisalesr ]

pic.twitter.com/ftAuJjBFhd

— Juez Central (@Juezcentral) December 1, 2016
4.500 kilometers south-east a different stadium was full for a second consecutive night vigil. It's Arena Conda, the home of Chapecoense, also lit up with candles, mobile phones and flares.
As first football games since the tragedy are played worldwide, players and supporters of numerous other clubs express their solidarity with Chapecoense, who lost almost all of their players and staff during the disaster.
♫ Sou... Chapecoense... com muito orgulho, com muito amor ♫ Agora há pouco na Arena Condá, bonito e triste :'(

Opublikowany przez Henrique Cegatti na 29 listopad 2016