Berlin: "The best tradition of German football"
source: StadiumDB.com; author: michał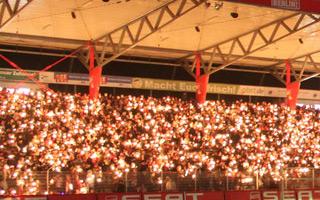 Four days after the tragic terror act, eyes turn again to Berlin, where the traditional Christmas caroling will fill Union's stadium beyond capacity yet again.
When 13 years ago a group of 89 supporters illegally entered the Alte Försterei stadium to meet before Christmas, none of them probably thought that in 2016 prestigious Die Welt will call their meeting "the best tradition of German football". This is exactly what the newspaper's online edition published today, advertising the Christmas caroling event which begins at 7pm tonight.
It didn't happen overnight, but Union's nurturing approach towards the cheerful event allowed it to grow. By 2005 already 1,000 people wanted to participate. The number doubled the following year and went to 10,000 in 2010. By 2011 all stands had to be opened to those willing to participate. Another record was broken in 2012 and tonight the stadium will be filled with 28,500 people, well above its nominal capacity.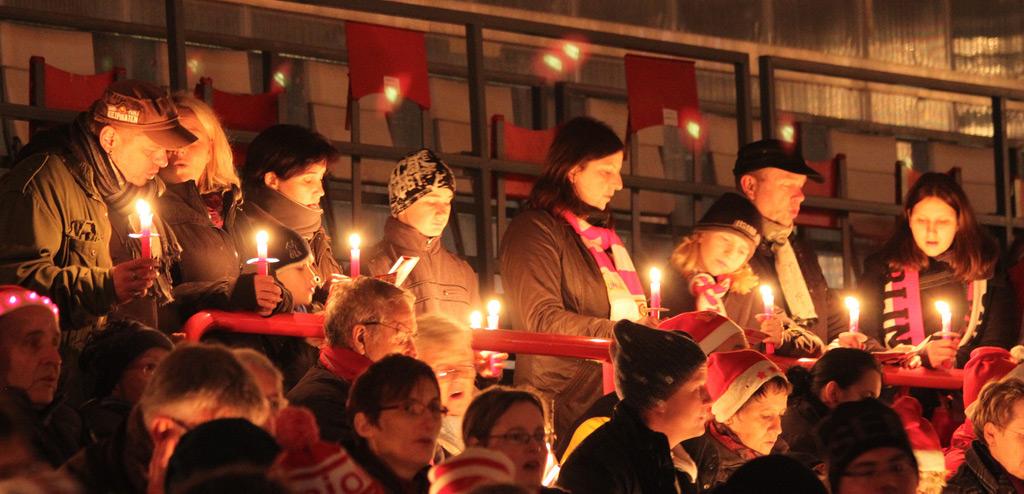 Photo: Der Robert (cc: by)
Tickets have been sold out for weeks and their price on the black market reaches €30. Yes, that's the black market selling tickets for an event during which you have to sing carols for two hours. In any other context this seems surreal, but Union's event has far outgrown the capacity of Alte Försterei. Most Union supporters received their tickets free of charge while VIP entrance was priced at €70.
Terror won't stop them
As we're just 4 days after the dramatic attack on one of Berlin's Christmas markets, one might expect the attendance to drop but it's not what the organizers expect. In a way there will be even more people as additional forces will be deployed by Berlin's police department.
Union announced that entrance to the stadium will take place in matchday mode. The club urges fans to refrain from bringing bags or food/drink containers if not necessary as candles, song books and beverage will be available on site. Organisers encourage guests to take their cameras though, if anyone wishes to record another edition of "German football's best tradition".
This is how the event looked last year: