Oslo: Vålerenga asks fans about stadium choices
source: VIF-fotball.no; author: michał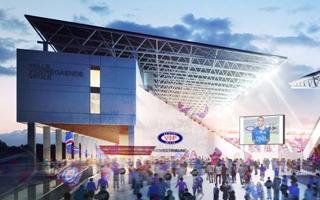 Construction is advancing very fast, but there are still some decisions left to make. And supporters are encouraged to give their feedback on seats, colours and commercial offer within the new stadium.
It's history in the making in Norway's capital city. While concrete stands are taking shape at Vålerenga's future stadium, the club invited supporters for a somewhat unusual meeting. On October 26 fans will have two hours to discuss many issues.
These may seem secondary, but they play crucial role in creating a bond between fans and the new stadium. Seating colour, décor and offer of concession stands within the stadium will be discussed during the meeting.
"Enga" will also give supporters more details about the stadium's ticket scheme before they move to their first ever own ground in the summer of 2017. While the club are hoping for high turnout, they also ensure radio broadcast will be in place for those unable to come.
After years of struggle, Vålerenga are finally running their private stadium construction. Groundbreaking took place in January of this year and the new 17,500-capacity venue in Valle Hovin will be ready in late summer of 2017.