New stadium and designs: Gabon won't be fully ready
source: StadiumDB.com; author: michał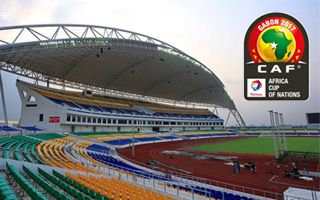 The most important host stadium lost its rights due to construction delays. Two others are still under construction with less than 3 months left to 2017 African Cup of Nations.
Ali Bongo Ondimba is a controversial leader to say the least. Accused of vote fraud, corruption, human rights abuse, tolerance of ritual murder and more. But, since we're covering stadiums, we have to point out that he likes grand projects and stadiums are quite high on the list.
First, during his first term, he brought the first ever African Cup of Nations to Gabon in 2012. That tournament was co-hosted with Equatorial Guinea. Now, during the 2017 edition, Gabon is about to be the sole host. You've already seen one major Gabonese stadium in our database, the Chinese-built new national stadium (image below) in Angondjé, suburb of Libreville.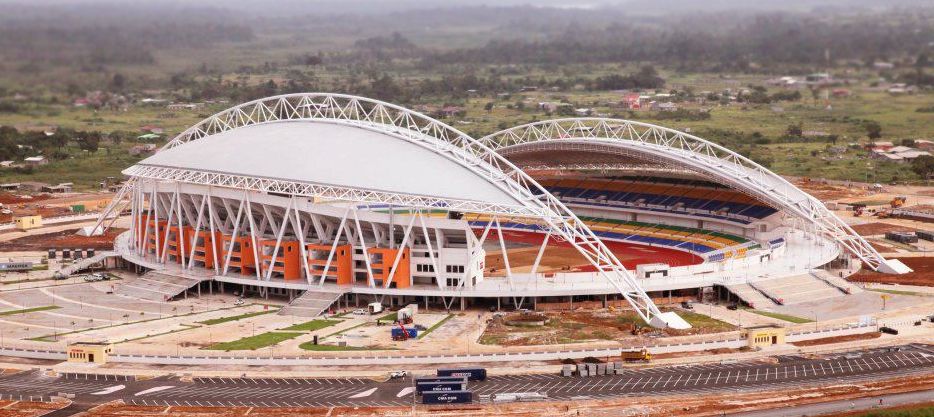 That building, called the Stadium of Chinese-Gabonese Friendship, was the biggest venue during the 2012 AFCON and will also be the most important one from January 17, when the opening game is held there. But that wasn't supposed to be the case, because Gabon is about to get another 40,000-seater, located in central Libreville. Except that Stade Omnisport (description below) won't be ready in time.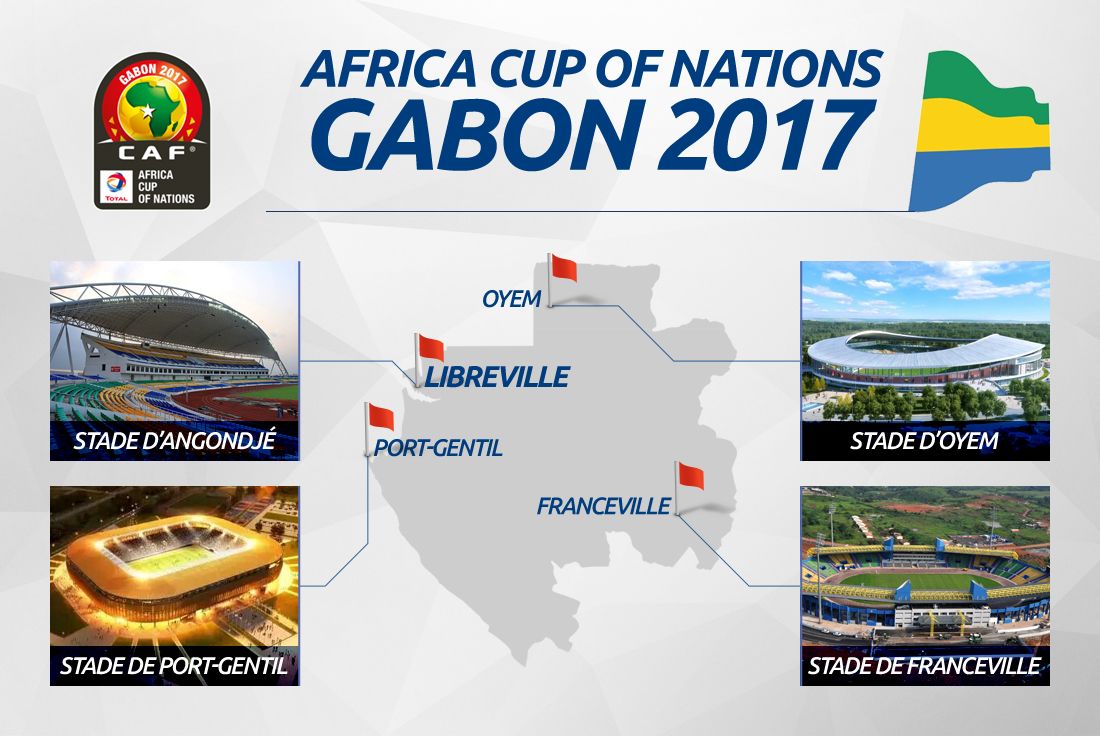 Stade Omnisport, Libreville (40,486 / under construction)
The largest stadium ever to be designed and constructed in Gabon (and by the Gabonese, not Chinese) will stand in central Libreville, on the very site of former Stade Omar Bongo. The dilapidated national stadium was demolished in 2010, making way for this immense 40,000+ ground, occupying 50,000 m2. Located on a unique circular plot, it's expected to become a catalyst for new business district of Libreville.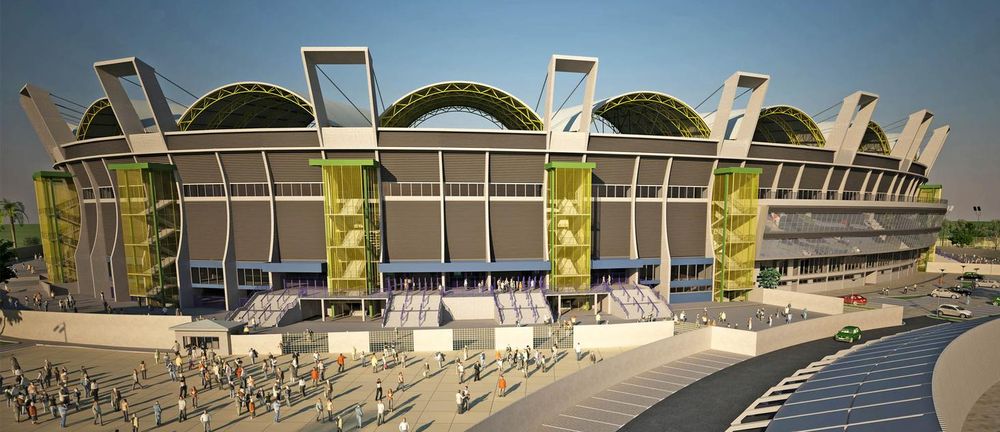 Construction began in 2010, almost 2 years ahead of the 2012 Cup of Nations (AFCON). The stadium wasn't finished in time for the tournament (games were instead played in suburban Angondjé) and the new goal became to host most important games during the 2017 edition. However, in this week it was confirmed that the tournament will once again be played without this stadium, shifting the opening match to Angondjé again.
At this point we cannot give a detailed figure regarding its cost. According to available information the best estimate we have is XAF 129.4 billion ($215 million) spent since the old one's demolition.
Most up-to-date overview photo we found, from this summer: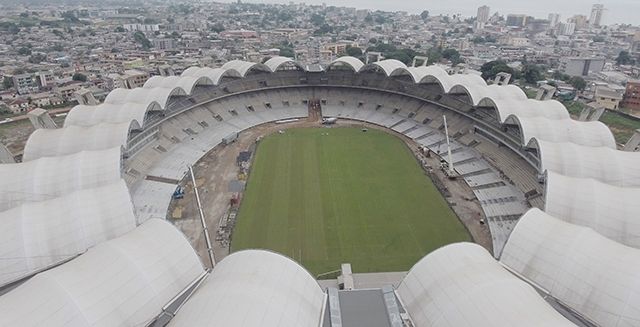 Though opened back in 2005, this stadium began its international carrier thanks to the reconstruction it received ahead of Gabon's first Cup of Nations (2012). That's when the auditorium for some 22,000 people was created and covered by an oddly-shaped roof based on yellow steel trusses and massive blue concrete columns.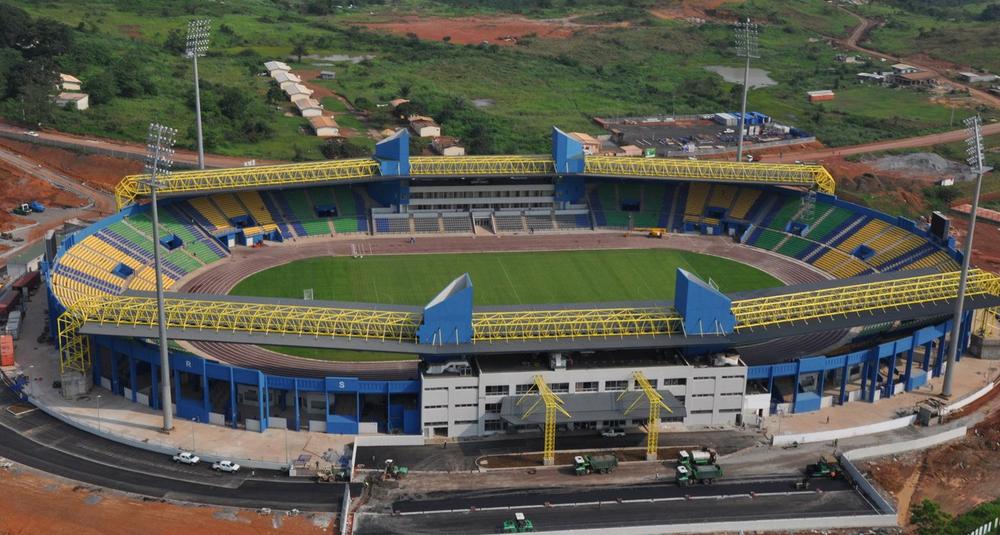 Yellow, blue… so the only national colour of Gabon missing is green. You can find it inside as seats display a pattern similar to Gabon's flag. Roughly 13,000 of the seats are covered (60% of the stands).
West and east stands of the stadium have very limited capacity due to two pavilions with 10,000 m2 of floor space, used largely for sporting and administration facilities.
Stade d'Oyem, Oyem/Ewormekok (20,031 / under construction)
One of two stadium commissioned to Chinese companies ahead of the 2017 Cup of Nations. It's being built in a place hard to understand, in a remote village of Ewormekok, some 15-17 km north of Oyem in northern Gabon.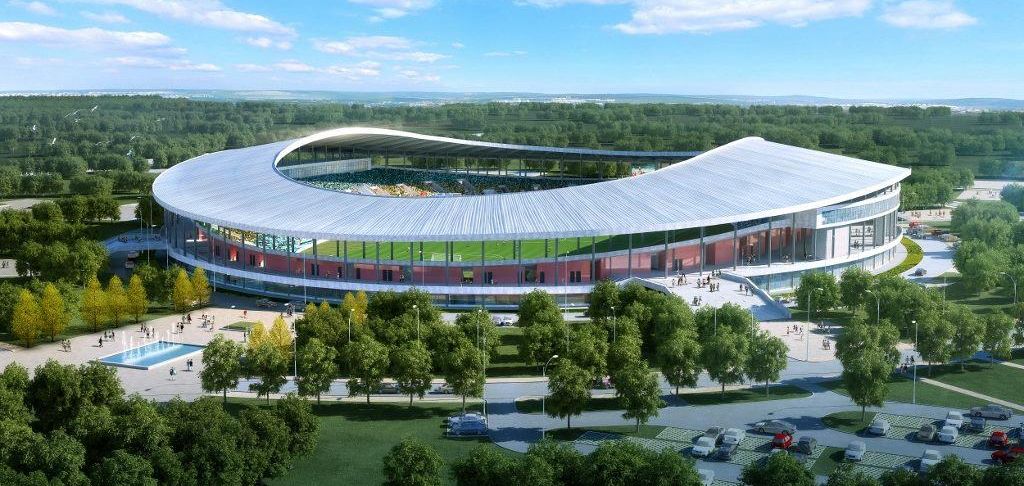 With single-tiered stands rising to 19 meters it will be able to hold 20,000 people. All seats will be covered with a dynamic roof peaking at 30 meters. Despite lack of floodlight masts (initially planned), it's bound to become the tallest building around, of course due to its location.
Construction was launched in September 2015, in the presence of president Ali Bongo, ministers and the national football team. Final delivery is expected extremely late, in December of 2016, just a couple weeks before the tournament.
Along with additional infrastructure, including hotel and several playing courts, the stadium should cost XAF 36.3 billion ($60 million).
Photo from August can be seen below: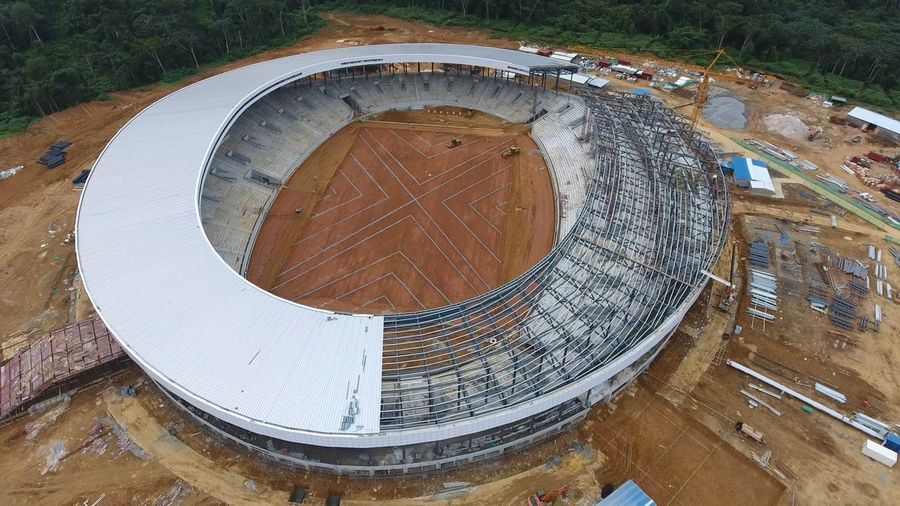 Stade de Port-Gentil, Port-Gentil (20,000 / under construction)
This stadium became world-known on the vary day of laying its first bricks. The groundbreaking ceremony wasn't attended just by president Ali Bongo, but also Lionel Messi. The Argentinean player was then hugely criticized for accepting invitation from a controversial regime.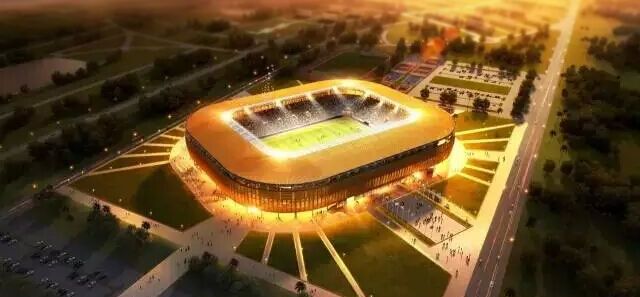 Designed with 20,000 people in mind, the stadium will not replace former central ground of Port-Gentil. Instead, it's placed in a more remote location, allowing to create additional parking spaces and a training stadium beside it. Worth noting, it's the only big football-specific stadium in Gabon.
Located in the second-largest (and considered wealthiest) city of the country, the stadium is kept simple, but elegant on the outside. Both the roof and its hypnotizing outer cladding are brown/gold (depending on lighting), while the roof's steel structure is green. Together with seats in national colours of Gabon this makes for an interesting layout inside the ground. With surrounding infrastructure and roads the project was estimated to cost XAF 42.7 billion ($70 million).
The stadium should have been ready by the end of October, but it's most likely that finishing works will go on in November as well. Current status, courtesy of مـــــلاعـــــب: