Atlanta: Fixed roof ready at Mercedes-Benz Stadium
source: Bizjournals.com / MercedesBenzStadium.com / StadiumDB.com; author: michał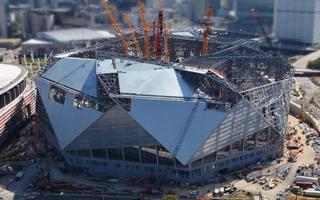 Over 18,000 tons of steel already installed as Atlanta's new NFL stadium reaches a major milestone. The roof is now structurally ready, awaiting installation of retractable petals and panoramic giant screen beneath.
Just a few hours ago the construction team were celebrating in Atlanta. Traditional signing took place as the last steel beam went up, marking the end of permanent roof's construction. The primary cover already weighs over 18,000 tons (99 trusses altogether, heaviest one weighing 816 tons!) and will become even heavier when fully clad and equipped.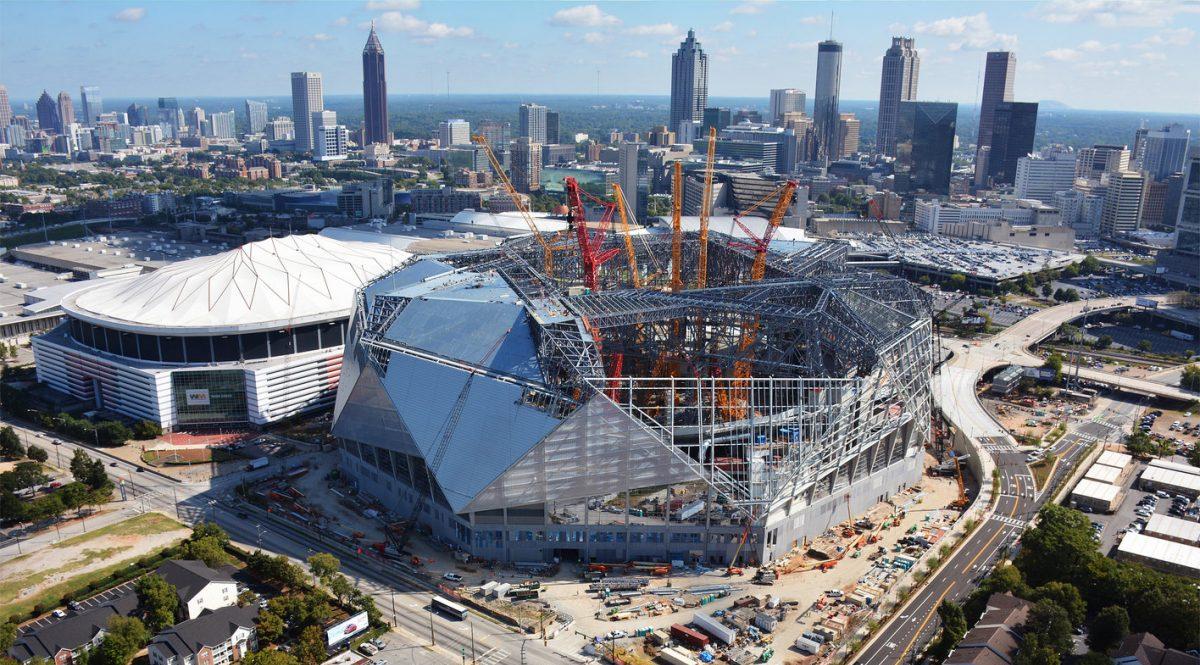 © Mercedes-Benz Stadium
Eventually it will be covered with a stunning surface of almost 58,000 m2 (14.5 acres) of sheet. And then on top one of the world's most elaborate retractable roofs will be installed. Consisting of 8 petals, each reaching 61 meters inwards when closed, the retractable roof will resemble an oculus even when sliding, gradually allowing less and less light inside.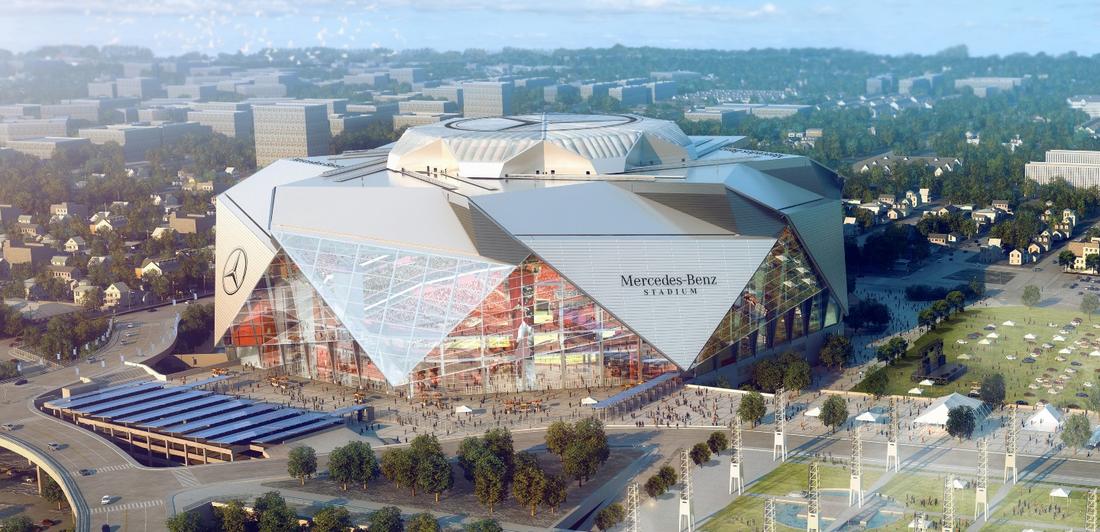 © Mercedes-Benz Stadium
The entire operation of opening or closing it will take only 8 minutes, making it one of the world's fastest roofs. In the closed position, the petals lock together to form a weatherproof seal. Each petal structure will be covered with air-inflated ETFE pillows.
On the other side, beneath the already existing fixed roof, one of the world's few panoramic screens will be installed. Contrary to the one in Krasnodar, this one will not be placed outside the seating bowl but rather above the field.
It might seem that with smaller perimeter that screen would be smaller than in Krasnodar, but it's in fact expected to outgrow any stadium screen ever! Earlier announced to reach 5,900 m2 (63,800 square feet), it's now expected to reach 8,450 m2 (91,000 square feet).
Due to the complexity of roof design, construction works at Mercedes-Benz Stadium are now around 3 months behind previous schedule. While there are from 1,800 to 2,200 people on site every day (and 300-500 at night), construction will last in excess of 3 years, ending in mid-2017.
As it takes longer to build, as the screen gets even larger, also its capacity grew to 71,000 (from initial 65,000). Interestingly, it's expected that over 40,000 of these seats will be available during MLS soccer games of Atlanta United, even if not ready in time for the March 2017 season opening.