New design: Italian third league's own Allianz Arena?
source: StadiumDB.com; author: michał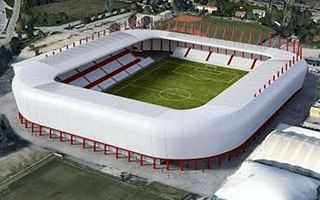 This comparison has only been made a million times by now, probably. Every second new stadium is compared the landmark that is Allianz Arena. In this case there's some, even if purely functional, resemblance.
Stadio Plebiscito is a fairly unknown stadium to football fans outside Italy and, possibly, to many within the country. It surely wasn't known to us as we had remained convinced that the large Stadio Euganeo is the heart of football in Padua, north Italy.
But Euganeo was born with the original sin of having a running track and stands retracted far from the football action. It's also far too large for the needs of Calcio Padova, currently playing in the 3rd league. It's now thus planned that Calcio Padova join local rugby and American football teams at Stadio Plebiscito. Both venues are marked on the map.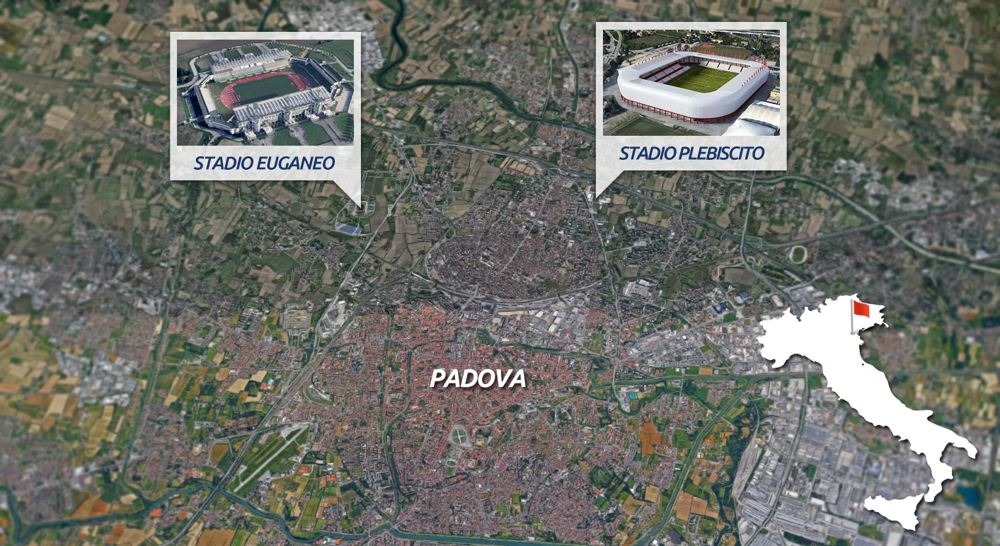 Plebiscito was built in 1981 and has two stands on both sides, each holding roughly 4,000 people under partial cover. The recent plan by Padua city hall foresees thorough upgrades of the existing west and east stand. Then, on both ends, additional stands will be created. Double-tiered one in the south and a smaller structure in the north. This way capacity will increase by roughly 4,500 seats.
Most crucially, the entirety will be enveloped in opaque PTFE skin, resting on red steel structure. The wrap, neutrally white by day, will be illuminated at night. This is where the comparison to Allianz Arena kicks in, because the neutral/illuminated membrane skin is of course derived from Munich's iconic stadium.
What will make the Padua stadium stand out then? The lightweight envelope's height will decrease towards the north. Simple and economic means will result in an interesting outcome, with red pillars bursting through the white membrane.

Work on the revamp's first phase began in August 2016 with seat replacement on both existing stands. West side will receive 3,745, while the east 4,333 new seats. Spectator areas and roofs will also be improved.
The first phase should cost €3 million, but will surely not be the end of spending. Final budget, just like the source of financing, remains unclear. The municipality hopes to sell the stadium's name in order to cover part of the cost.