Historical, design & construction: Torino returning to roots
source: StadiumDB.com; author: michał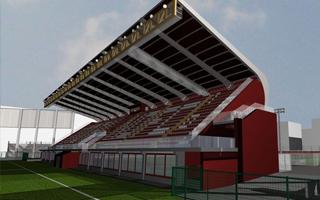 After over half a century of playing next door, Torino FC is finally just months away from returning to its spiritual home. Stadio Filadelfia will be operable in 2017.
Its location was an economic choice. Just look at the below aerial from 1928 and you will realize that Torino FC bought a rather remote suburban plot in 1926, lying just across the street from actual farmland. That street, Via Filadelfia, became a symbol for one of Turin's two most famous clubs.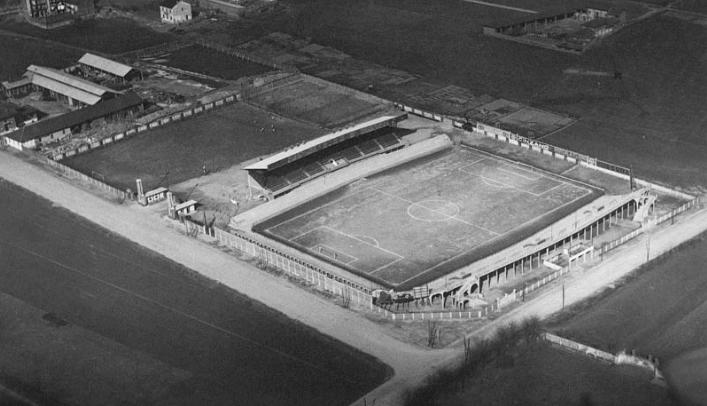 Here they've built a stadium for 15,000 and then 30,000 people (expanded after just four years). It could have grown further if not for World War II, during which it was bombarded and damaged severely. Following the war an even greater tragedy happened to Torino themselves as the entire team was killed in the 1949 Superga disaster, brutally stopping a 6-year unbeaten streak at home.
Instead of further success the club collapsed, the stadium's ownership was transferred to the football federation and Torino gradually began moving their fixtures to Stadio Olimpico (earlier known as Stadio Mussolini). Since June 1963 they hadn't played any game at Via Filadelfia, using the aging ground for training until 1989. Heavily dilapidated, the stadium was almost entirely demolished by 1998, leaving just two western corner sections.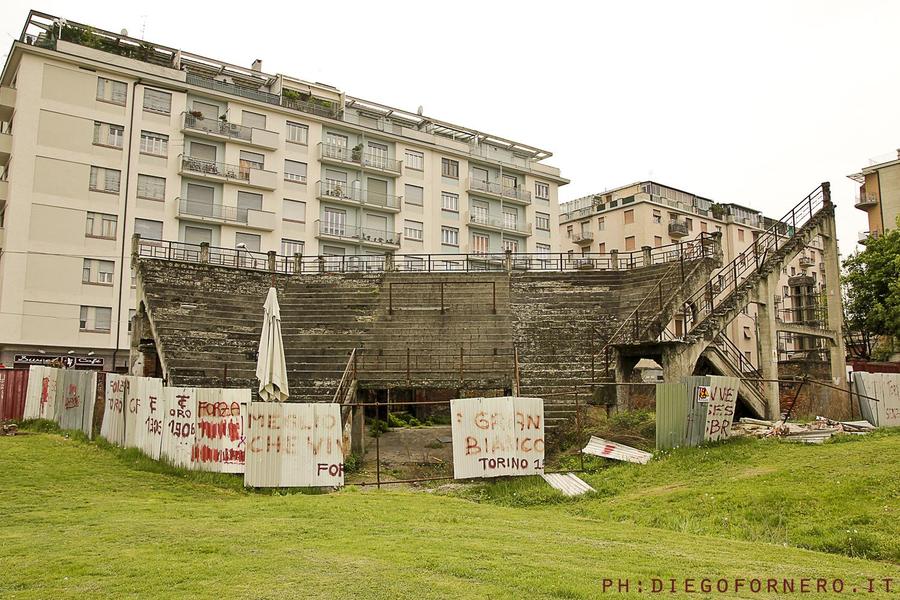 © Diego Fornero
The turbulent history of Stadio Filadelfia is itself material for a book and "Granata" had been making efforts to return here since late 1980s. Many obstacles arose and finances weren't the only one. What was a distant suburb in 1920s is now a densely populated area of Turin and fitting a full-sized Serie A stadium into the plot proved unviable.
We weren't able to count all concepts of what could be built here – official and not – but the list is very long. Below you will find three well-documented ones, but majority surfaced in years after 2006. That year "Toro" supporters successfully lobbied for a working group for Filadelfia's revival.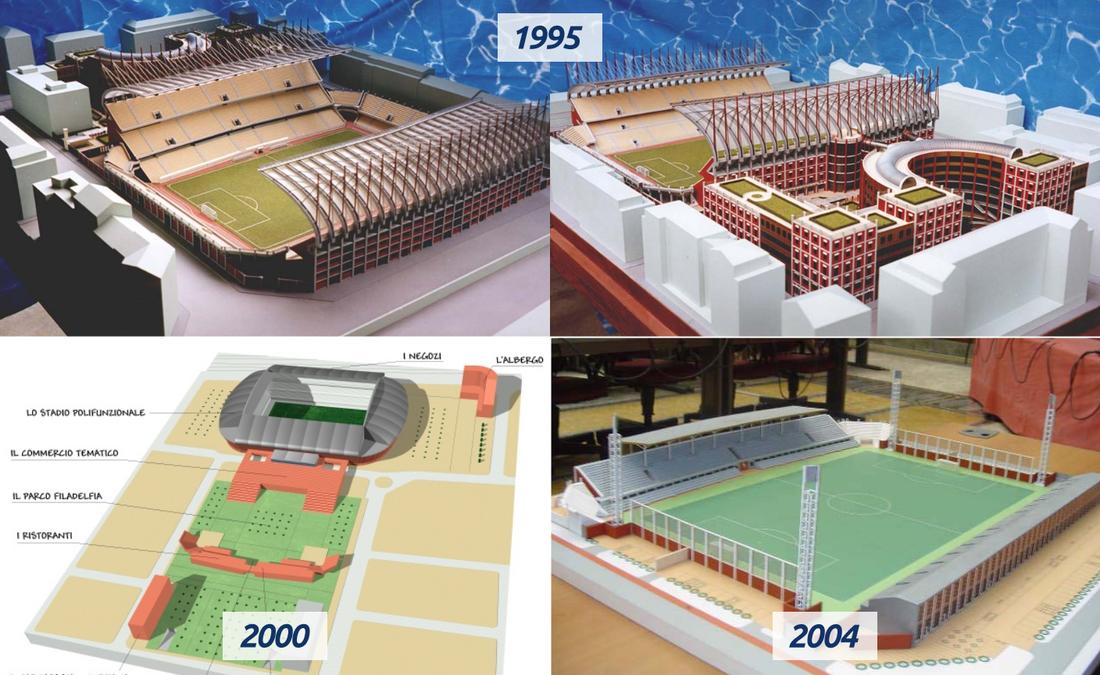 The efforts led to a purpose-created foundation, Fondazione Stadio Filadelfia being created, even if as late as 2011. Between 2012 and 2014 numerous ideas were shared to create the optimal scheme for what's feasible at Via Filadelfia. In the end a training complex with Torino's secondary stadium (for reserve and female teams) is getting built.
The eventual plan was divided into three phases. First one envisages construction of two training fields, one in the place of former stadium's field. Player facilities will be located in the stadium's main stand, erected in the place of the original one built in 1926. The new one will house 2,000 seated and covered fans, while also comprising 5 floors of space for various uses and 50 covered parking spaces. Around the field additional terraces will be built for further 2,000 spectators.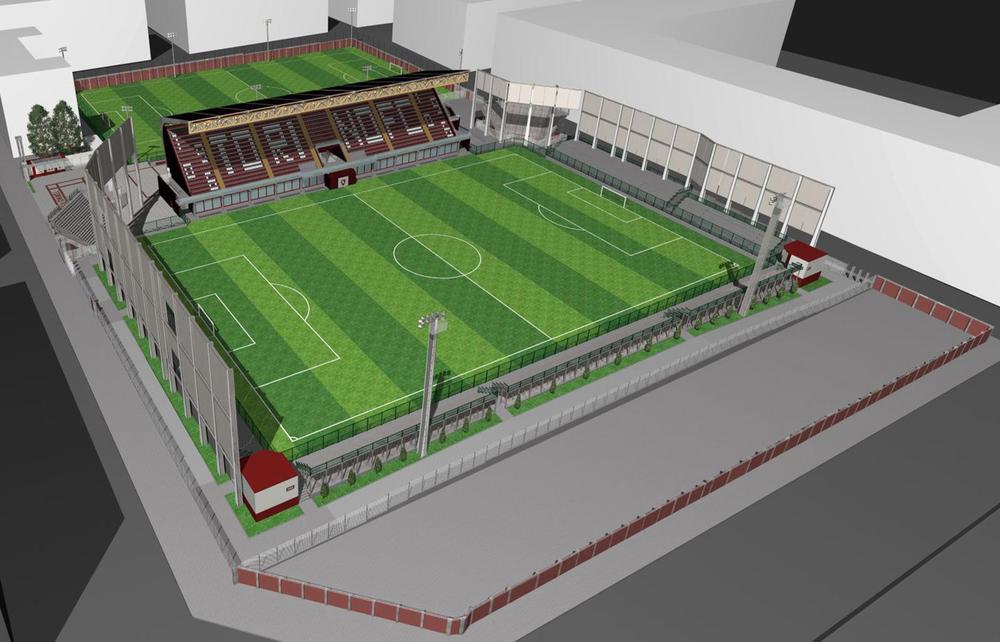 © Fondazione Stadio Filadelfia
Second stage will bring the Memory Plaza, including restoration of last remnants of old Stadio Filadelfia – the western corner sections. Third and last, the complex's east side (along Via Giordano Bruno) will see a two-floor Museo del Toro club museum.
Final cost? Still unclear. In 2015 €8 million was earmarked for the project by the Piedmont Region, the city of Turin and Mamma Cairo Foundation. But, as with many other efforts, Torino relies on its supporters, running a crowdfunding campaign as well. Packages of between €50 and €10,000 are available, as well as merchandise connected to the project.
Groundbreaking officially took place on October 17, 2015. The date has a special meaning, because 89 years earlier on that very day the previous ground at Via Filadelfia had opened. By the end of 2015 the site for both planned fields was cleared and in spring of 2016 erection of the stands began. By now Stadio Filadelfia is almost entirely ready as the roof works go on. And, thanks to Fondazione Stadio Filadelfia's help, we'll be able to show you the progress in upcoming months!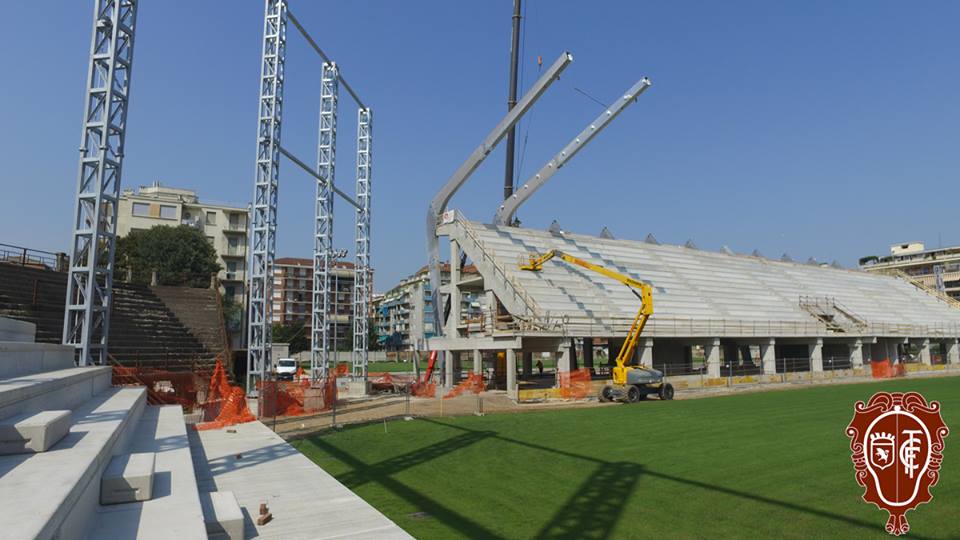 © Fondazione Stadio Filadelfia