France: FC Nantes want to "pimp" La Beaujoire
source: StadiumDB.com; author: michał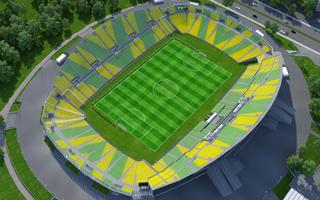 The popular French club launched a unique action, allowing fans to select the future seating layout at La Beaujoire. The unique thing about it is the fact that supporters can see the outcome as they choose.
Seating colour scheme tends to be the element of stadium design most commonly left for supporters to choose. As a form of engagement it's useful and enables the creation of stronger bond of the fanbase with their stadium. A fine tool for new stadiums with little identity, but also used for older stadia.
We've seen it happen numerous times in many countries, but still the case of FC Nantes stands out. Not only has the French club provided 8 seating patterns for Stade de la Beaujoire to choose from, but also gave supporters a platform with 360 panoramic preview of how the stadium will look after seats are replaced.
The "Pimp ma Beaujoire" initiative was launched on September 22 and votes are welcome until October 9. FC Nantes hope to see as many as 80,000 participants in the vote that will reveal how La Beaujoire will look for years to come.
The seat replacement operation will be carried out following the 2016/17 Ligue 1 season. Roughly 35,000 new seats will be installed by the city of Nantes, who own the stadium. Since La Beaujoire hasn't hosted Euro 2016 games, the city bids to be part of Paris 2024 Olympics bid. Refreshing the aging structure with new seating should boost its appeal.