Egypt: 16 "scapegoats" still awaiting trial
source: DailyNewsEgypt.com / StadiumDB.com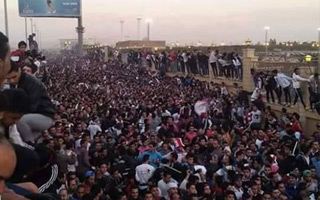 16 supporters of Zamalek SC accused of leading to their fellow fans' deaths are still awaiting for their trial to recommence, following delay caused by insufficient evidence. Proceedings will restart in November.
The North Cairo Criminal Court postponed to 10 November the court session for the retrial of the "Air Defence Stadium" case, in which 16 Ultras White Knights (UWK), Al-Zamalek SC fans, are accused of violence and rioting. Two of the defendants in the case, Mostafa Abdel Maged and Hesham Fathy, were ordered to be arrested by the court, according to Daily News Egypt.
The session was postponed in order to implement a request filed by the defence team, in which they requested a copy of the prosecution's investigations.
In February, the North Cairo Criminal Court ordered a re-investigation into the violent events that occurred outside the Air Defence Stadium last year and commissioned Judge Wagdy Abdel Moneim to supervise investigations. Currently the trial has been on hold due to insufficient evidence.

At the same time any and all officials (organizers, military, police) responsible for matchday security that day were cleared from responsibility for the tragedy. This stance is shocking because inability of officials to cope with supporters wanting to enter the stadium has been apparent throughout.
Only one single gate was made available to fans while some 5,000 tickets were distributed. Under normal circumstances, this would require some 10 gates. When crowd began pushing and authorities lost control, tear gas was fired into the crowd, causing panic and resulting in deaths in the stampeding crowd, most commonly of asphyxia.
The tragedy took place on February 8, 2015, when several thousand supporters, possibly many more than had tickets, were attempting to enter the Armed Forces Stadium in Cairo. Even before tragic efforts to disperse the crowd, many people were screaming for help as they were being crushed. The stampede happened before the Zamalek – ENPPI game. 20 people were killed or died as result of injuries.