Russia 2018: Milestone reached, but Samara still troubled
source: StadiumDB.com; author: michał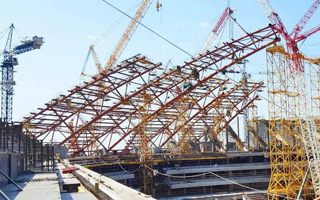 First of 32 immense girders already tops the stadium nicknamed Cosmos Arena. The Samara venue for 2018 World Cup will prove much more expensive than planned. And it's 3 months delayed as of now.
Over the weekend a symbolic milestone has been reached in Samara, where the first of 32 dome girders was assembled. As you may recall, its first segment was installed back in April. Second one followed later in spring and now the final third piece was put on top of the two, reaching a truly monumental length of 107 meters.
Each of the 32 girders will be assembled in the very same way, from three segments. Weight after installation is 202 tons, which means that the primary roof structure alone will weigh almost 6,500 tons, excluding secondary trusses and cladding. Impressive? Surely, just as the future dome's diameter of 330 meters!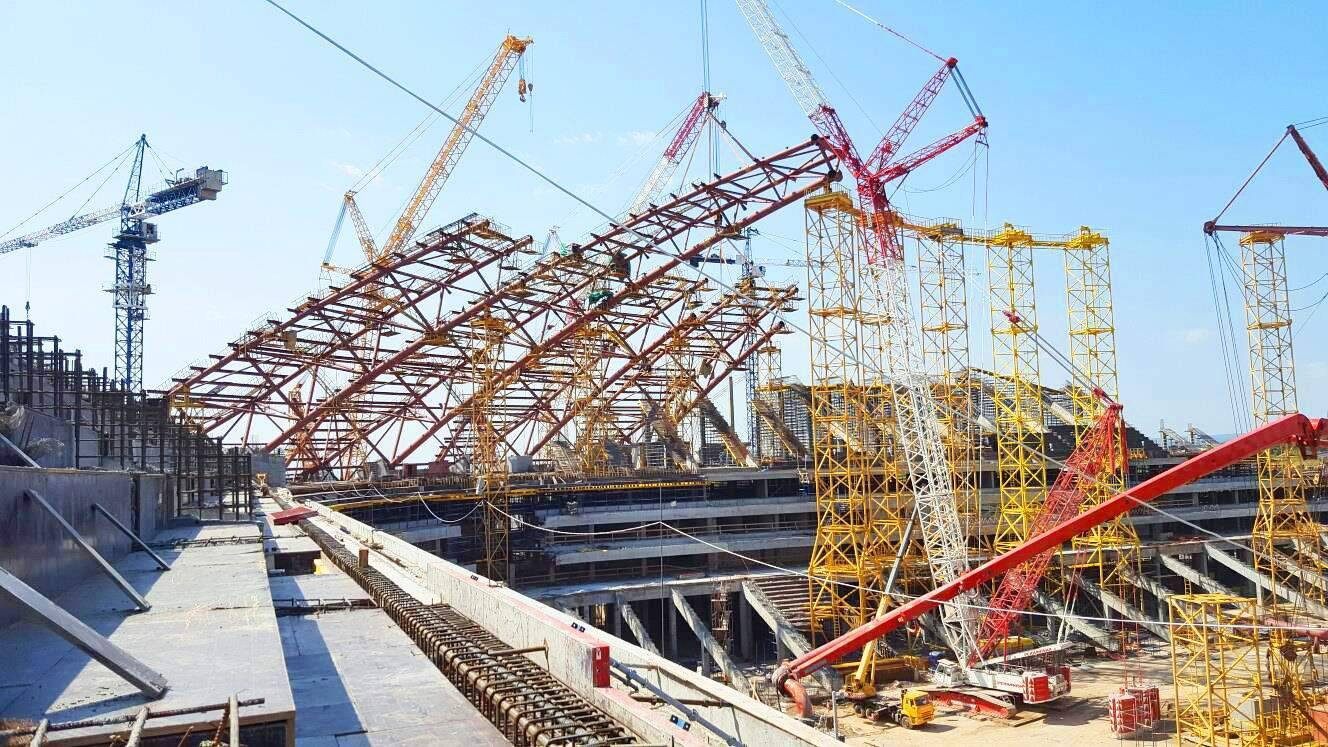 Delayed and more expensive
Completion of the first girder is a symbolic moment and reassuring one. After all, in early May the general contractor threatened to leave the construction site if not granted much more money to deliver the project. After negotiations PSO Kazan is still working on site, but the slowdown during talks resulted in current delay of 2-3 months.
It's hoped that PSO Kazan will make up for the lost time and manage to deliver the stadium as planned, by the end of 2017. The stunning steel dome should be ready in spring of 2017.
While deadlines haven't changed, the price has. Previously contracted for RUB 13.2 billion, the stadium is now priced at RUB 18.2 billion (currently $282 million). The 5 billion leap is still far below what PSO Kazan indicated the stadium should cost (immense 28 billion!). To keep the budget nearly 10 billion under contractor's estimates numerous further cost-cutting measures had to be introduced. Therefore the stadium might not be as impressive as seen in the below plans, when it's delivered in 2017/2018.
Samara Arena will be one of the most important venues of Russia's 2018 World Cup. The 45,000-seater is expected to host one of Russia's home games during the group stage, also being a venue for Round of 16 and a Quarterfinal. In legacy mode it will become the home of Krylya Sovetov, one of Russia's most popular clubs.