Poland: Płock joins the pursuit of new stadium
source: StadiumDB.com; author: michał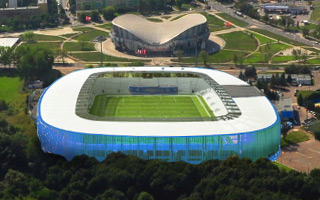 Latest Ekstraklasa team Wisła Płock will have a brand new stadium. Though the municipality calls its plans a "modernization", they mean demolition and construction from scratch.
Named after legendary manager Kazimierz Górski, the municipal stadium in Płock has just joined the Polish top flight and so far the stands are filling up very well, averaging 8,500 people out of a total 10,000+ capacity. In terms of infrastructure the stadium has barely, and conditionally, been granted admission to Ekstraklasa, though.
In order for Wisła Płock players and fans to enjoy the performances, the city is now inviting experienced companies to bid for reconstruction. So far it's neither a design competition, nor construction tender. The aim is to provide a feasible reconstruction scheme that could serve as basis for detailed design and works on site.
According to tender regulations the stadium would have to be rebuilt entirely to reach 12,000 seats, all covered. Aging floodlight masts are to go, with lamps now planned within the new roof. This multi-discipline stadium (recently with a drift circuit around the field!) needs to get new stands, because authorities want the first row just 6 meters from the field, while currently the distance is 14-25 meters, depending on area.
The 12,000 capacity is to be spread throughout an enclosed bowl of four stands. Additional challenge is the provision of phased development. The city made constant availability of the stadium a crucial condition, suggesting that the east stand gets demolished first, replaced by a joint set of east + north stands (currently the north is open). Then the west and south stands would follow.
What you can see below is not official material. It's what a local website ran earlier this year as their April Fools' joke that proved shockingly accurate. The rendering includes a proposed stadium for Sosnowiec placed in Płock, one that meets all of the city's criteria.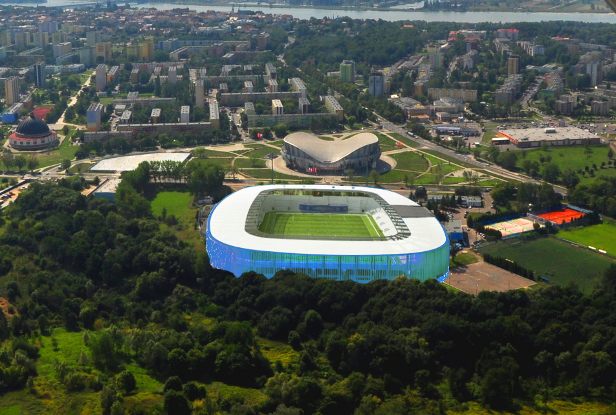 Img: e-Wyszogród.pl
The winning bid for new stadium concept will be known in late August or early September, pending further developments. When selected, designers will have until December 15 to deliver their vision of the new stadium. Construction would depend on available funds and documentation work, which means late 2017 is the optimistic time for groundbreaking.