New design and construction: Estudiantes complete their dream
source: StadiumDB.com; author: michał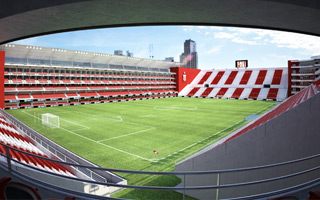 This stadium has been on the agenda since 1990s and still hasn't been delivered. But this is literally the final, only one year before Estudiantes can return from exile to their roots.
The big dream of having a stadium of their own began very early for Estudiantes de La Plata. When they were about to join the professional league in 1907, the club settled in Paseo del Bosque, picturesque central park of the city. It took just a few months to prepare the first stadium, though more of a field than actual stadium back then. It received its first major grandstand in 1911.
When Estadio Jorge Luis Hirschi was an aging 23,000-capacity ground in 1990s, the new goal was to build from scratch at the same place. Well, perhaps not exactly the same because when construction began in 2002, it was launched behind the building with the intention of later moving the field north.

This time also work lasted only several months, but not because it was ready so fast, quite the opposite. Construction got halted long before reaching half the height of the north stand. Legal disputes began, lasting effectively until 2007. There were protests connected to environmental issues, a major political battle and even threats of the club relocating to neighbouring town of Ensenada.
The turmoil ended with agreement in 2006 and construction could resume in 2007. At that point it may have seemed the stadium could be delivered by 2010, as was the schedule, but this also didn't happen. 2007 is when the old ground disappeared entirely and works on the north stand were launched again. Second came the large east stand and both were structurally complete by 2011. In 2012 erection of tall pavilion along the west side of the field began, followed by the new south stand in 2013. The field was moved north in that year.
By that time Estudiantes had been playing away from home for 8 years, having left their spiritual home back in 2005. Splitting their fixtures between Estadio Unico and Estadio Centenario de Quilmes, "Pincharattas" were effectively in exile and remain to this day.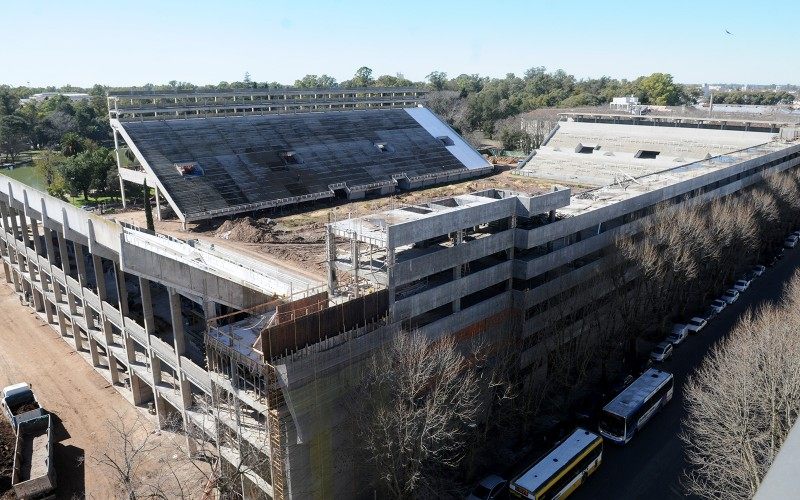 © Club Estudiantes de La Plata
But the sole reason for our article is that the long wait is about to end. This time next year Estudiantes are expected to play at their new home after in February this year new contractors agreed to deliver all works in 420 days. The contract is worth ARS 192 million (or $13 million), though we were unable to establish what was the entire value of works delivered before. You can see construction photos of the decisive phase at StadiumDB.com thanks to the kind help of Estudiantes!
What's planned?
This stadium concept for Estudiantes La Plata, initially nicknamed Tierra de Campeones, envisages both remaining at the spiritual home and retaining the name of Estadio Jorge Luis Hirschi. The place, occupied by Estudiantes since 1907, offers limited space for construction, thus the unusual stadium layout, but is also one of the prime spots throughout La Plata.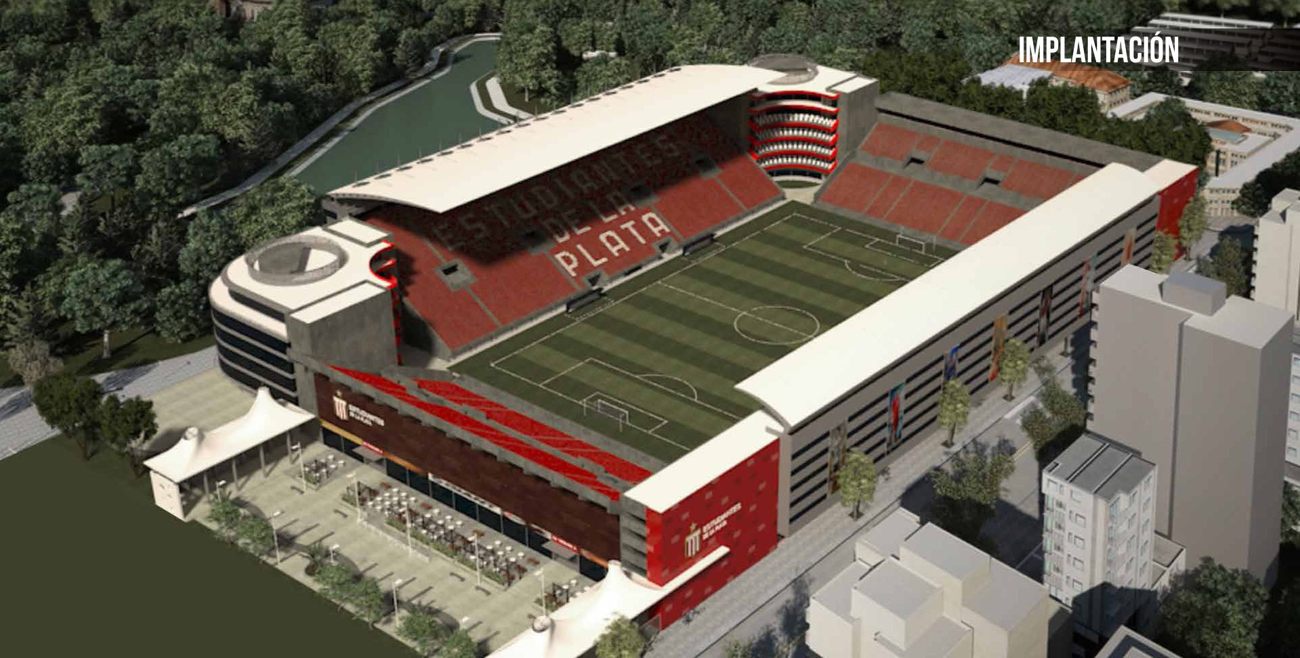 © Club Estudiantes de La Plata
With extremely compromised west size, all infrastructure for players and media will be located on the east side. The west will only see a large pavilion for corporate clients with 120 private boxes and semi-open business sections spreading through 5 floors. A total of 146 boxes are envisaged for the entire stadium, offering 2,807 business seats.
Behind the goals two vast terraces are planned. The larger one will be built behind the north end, accommodating over 9,000 most vocal fans. South end, with fewer rows, will offer just over 6,000 capacity. Both will also house significant infrastructure for sportsmen, though not necessarily football players. A large gymnasium is planned in the north, while swimming pools will be located under the south end.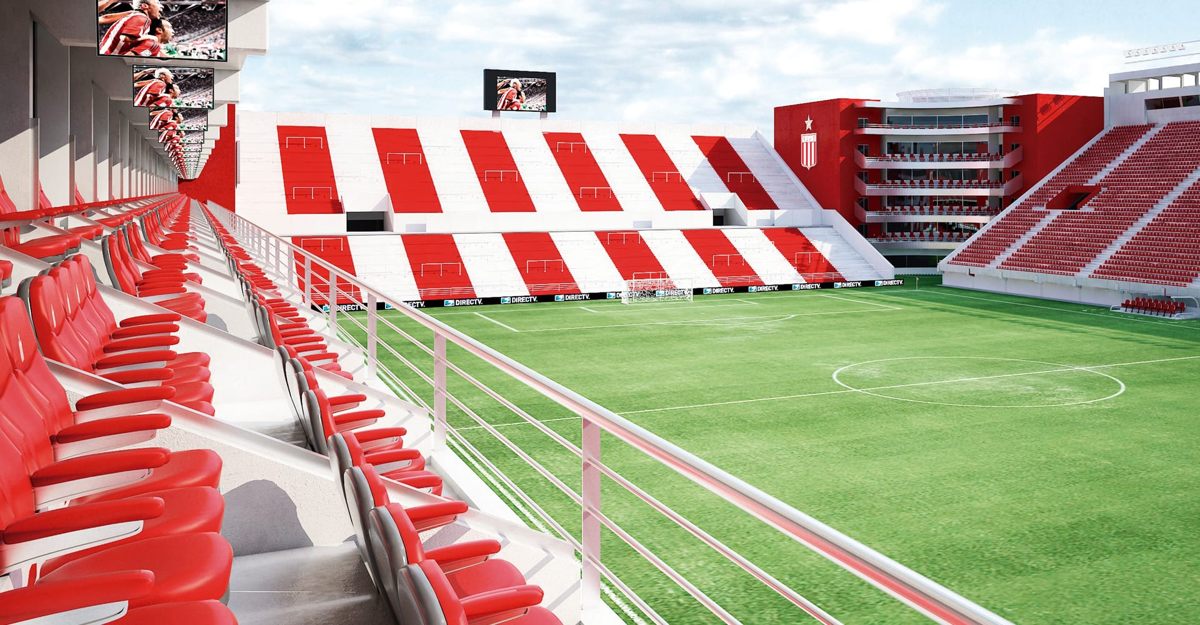 © Club Estudiantes de La Plata
Designed by former club president Enrique Lombardi, the stadium has been reinvented several times, especially with numerous delays and interruptions forcing its construction to last 15 years at the very least. Current plan foresees opening in mid-2017 with no roof, but partial or even complete cover could be added on a later date.
Interestingly, the stadium is expected to offer large surfaces of office space, totaling 15,000 m2. Much of it would be used by Estudiantes, but commercial lease is also planned.