Wales: Welsh supporters bought the whole stadium… in Cardiff
source: WRU.co.uk; author: michał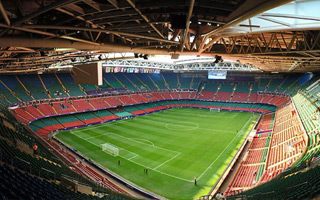 Tickets were sold out within minutes as Welsh fans flocked to see the semifinal against Portugal. No, not in Lyon. They'll watch it at Principality Stadium in Cardiff.
The success of Wales during this year's European Championship was unexpected and you cannot blame the Welsh for their excitement with tomorrow's semifinal. Due to high interest, the Euro 2016 fan zone is now being transferred to Principality Stadium, the country's largest stadium.
Public viewing of the semifinal against Portugal will be available for 20,000 people, which is roughly the size of the contingent likely to support Wales live at Stade de Lyon. The entire stadium cannot be used for logistical reasons (temporary giant screen will be set up for a portion of the audience).
Ticket distribution began today at 10:00 and ended soon afterwards. Were it not for the overwhelming online traffic, it could have lasted even shorter than the 90 minutes it took for the 20,000 seats to "sell out".
Not literally a sell-out though, because tickets were free of charge and fans were only advised to donate to Cancer Research Wales while booking their spot. Many of them did, for which the organization already thanked the Welsh supporters.
Update: Due to very high demand, additional 7,500 seats were released for the event, bringing the planned capacity to 27,500.

© Stadiontour.at