Madrid: The crown for Atleti stadium is coming
source: StadiumDB.com; author: michał
The steel compression ring is arriving from Galicia, while swaths of membrane will follow from China. Here's the immense roof of Atletico de Madrid stadium explained!
During recent FAQ for their supporters, Atletico de Madrid answered some crucial questions regarding the new stadium's roof. We went slightly further to show you one of the most unique roofs planned for stadiums worldwide.
First, a quick note: in case you're wondering why the roof is on our agenda, almost all of the seating bowl is now complete and once tower cranes are removed, the very last concrete prefabs will complete the structure. So it's natural that the focus is shifting to the long-awaited canopy over the nearly-70,000 seats.

Perhaps in the most spectacular phase of the project, the stadium will get over 6,000 tons of steel mounted on top of the existing concrete bowl. First, the outer compression ring (spanning across 286m north-south and 246m east-west). Comprised of white steel trusses, the ring is assembled on site into large segments like the one visible below.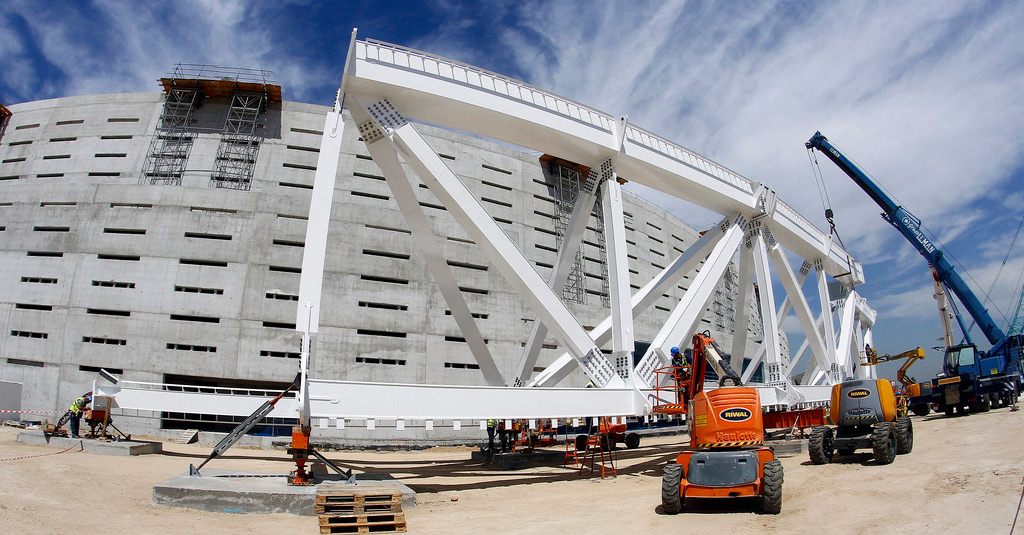 All prefabricated elements of the ring are being transported from A Coruna in Galicia, some 590 km west of Madrid. Interestingly, the very same manufacturer (Horta Coslada) also prepared roof trusses for Santiago Bernabeu, home to Atleti archrivals Real. But while "Real" means royal, now it's Atletico who are getting a crown, and a very literal one too. The compression ring will top all of the stadium.

Since the auditorium has varying height in specific areas, the ring will be placed at the height of between 45 and 57 meters. This would have been very high if not for the fact that it's 45-57 meters from the field level, which is sunken deep into the ground (indicated below). As a result, the stadium will not be excessively imposing to its surroundings despite its large scale.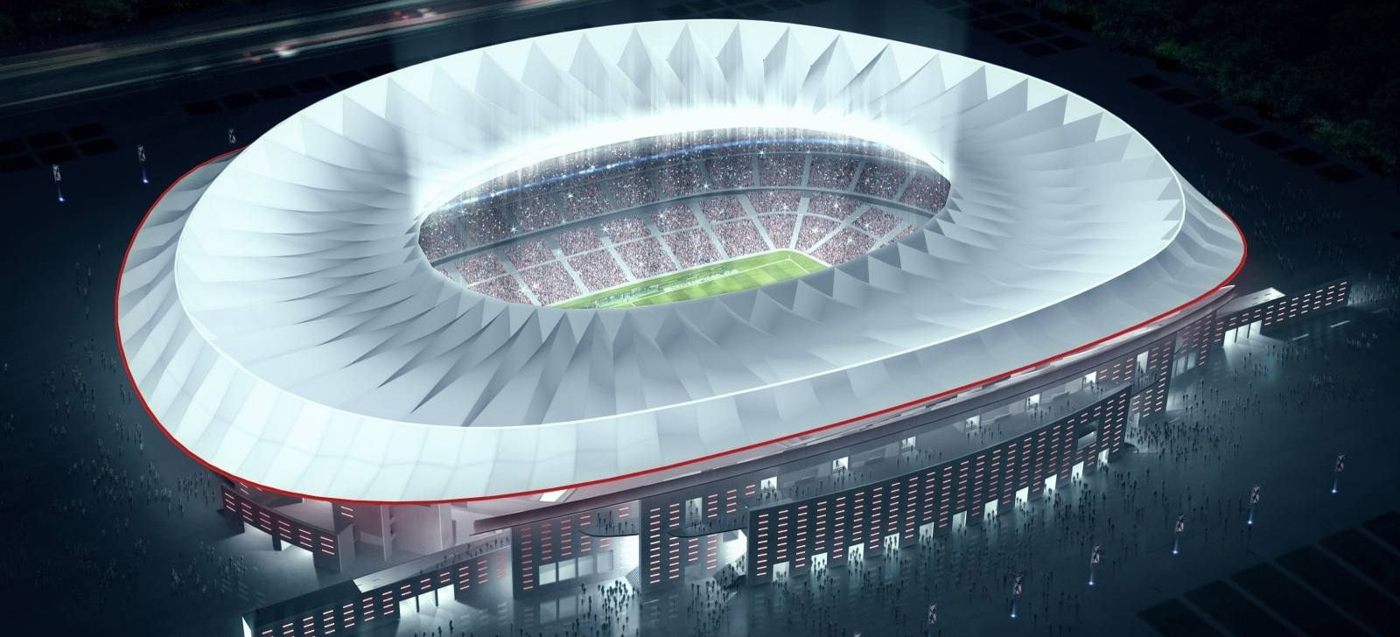 The main compression ring will be connected to a much smaller inner one, hovering directly above the field. Both will be connected with strong steel cables. The system resembling a bicycle wheel is increasingly common in football stadiums for its efficiency. In Madrid total length of cables is expected to reach 14 km, providing support for the beautifully shaped membrane.
The membrane, though provided by Taiyo Europe, is coming from Shanghai. Fiberglass and PTFE membranes will cover 83,000 m2 altogether, however the roof's surface is expected to be 46,500 m2. Why the difference? Remainder of the fabric includes folding and inner surfaces, because we can all agree this won't be just another roof, its aesthetics will become the stadium's signature feature.
The roof will top what we've seen built in recent years, both literally and metaphorically. After all, the long-delayed project began in 2011 and is now just months from delivery (early into 2017). Once the roof is ready, the building will be structurally complete.