Genoa: Derby rivals take over at Marassi
source: Genova.Repubblica.it; author: michał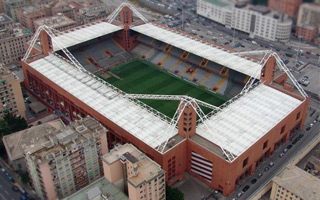 Sampdoria and Genoa stand together in order to make the best of their cohabitation by jointly managing and upgrading their "English" stadium.
On Monday Genoa and Sampdoria officials came together and, in front of a notary, and signed a historic agreement. The two football rivals have pledged to take over at Stadio Luigi Ferraris (Marassi), a venue operated by the municipality for the last 70 years.
Now Marassi is being transferred to Luigi Ferraris Srl, a consortium formed by both clubs to manage the building.
Next step: investment
This year the management shift is the biggest change we can expect. Turf replacement is also planned, but any major structural changes are out of the question due to very little time being left before Serie A begins.
Next year, however, we can expect significant alterations. Over a period of 2-3 years the football clubs could spend roughly €20 million to improve infrastructure of the aging facility. Improved press and VIP areas, new player facilities are just some of the expected changes.
It's worth keeping in mind that over the past decades both clubs have been signaling a will to leave the aging stadium in central Genoa. Sharing a stadium by two strong clubs is always challenging, resulting in Sampdoria and Genoa hinting they would like to build a place of their own. However, after attempts proved futile, the next best step seems to maximize the benefits of existing infrastructure.