Erfurt: Stadium not ready, but 3. Liga begins
source: MoPo24.de / Liga3-online.de; author: michał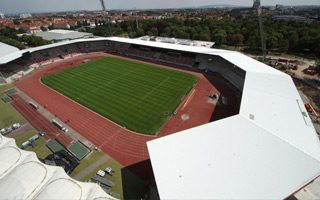 Formally the reconstruction of Steigerwaldstadion should have ended tomorrow, but instead it will go on for two more months. Still, that won't stop Rot-Weiß Erfurt from hosting their opening game of the season!
Yesterday the very first game of German 3. Liga was played, today six more teams are hosting games at their stadia. One of them is Rot-Weiß Erfurt, who haven't got their stadium entirely complete. Planned to be delivered on July 31, the building is said to be delayed by 2 months.
For this reason the crucial south stand, future home to most vocal fans, won't be available for the friendship game with Hallescher FC today. Organisers are now expecting around 8,000 people to be present at the game, because only two stands are fully prepared.
The delay won't cause games to be played away from home, but it's reported that 14 events planned in the east stand's conference and banqueting center had to be relocated to other venues.
Reconstruction of Steigerwaldstadion began early in 2015. One by one three new stands (in order of delivery: north, east and south) were built with the east one having a vast event pavilion built with it.