New stadiums: They won, they deserve it!
source: StadiumDB.com; author: michał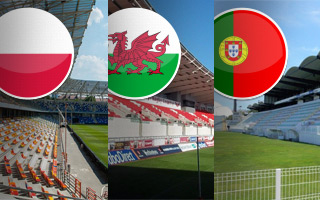 Wales, Poland and Portugal progressed to the quarterfinals of Euro 2016 yesterday. For them and every other winner until the final we're adding stadia to StadiumDB.com.
Thanks to our brilliant Contributors we have enough materials to add a stadium every time a team winds during Euro 2016 knock out stage! Last night, following the thriller between Portugal and Croatia, three stadia from Wales, Poland and Portugal joined StadiumDB.com. Another pack tonight and so on, until the continent's champion is decided on July 10. For now, please welcome these three stadia.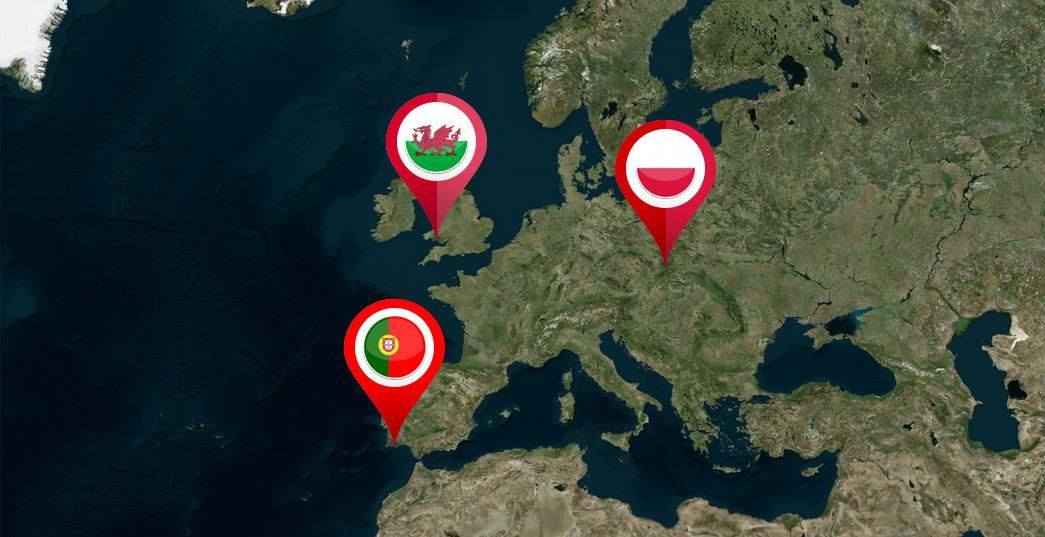 The concept of building a new stadium in Bielsko-Biała was born in late 2000s, after the first modern stadium in Poland was opened in Kielce. And it was the creators of Arena Kielc who won Bielsko-Biała's design competition in 2008 with a variation of their first work. Capacity of 15,000 was established based on the city's population and aspirations of Podbeskidzie, a rising Ekstraklasa contender hoping to be part of the league for good.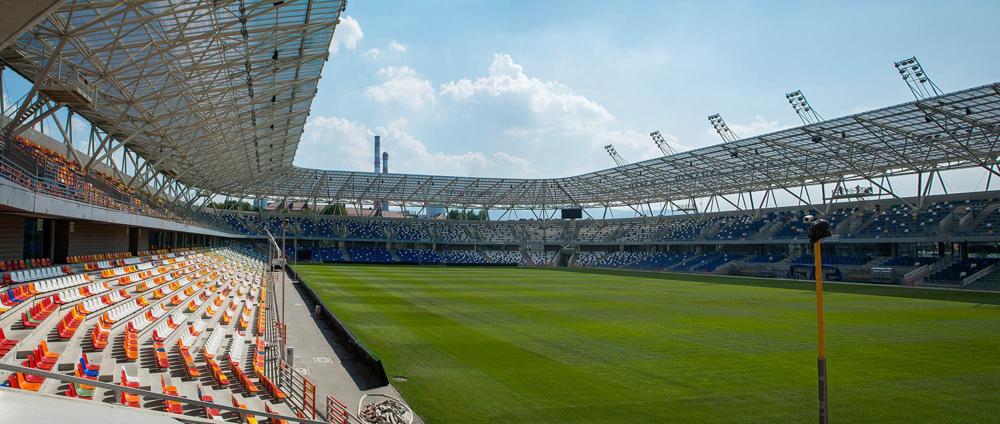 © Adam Szyszka, Stadiony.net
Construction was phased and began in 2012, with a 2.5-year deadline. First, the end terracing was demolished and construction of new north and south stands was launched. Then the east stand and finally, by late 2013, the old west grandstand was leveled, leaving a year for delivery. However, the contractor was given half a year more and then met the new deadline of June 30, 2015.
This is where the most absurd part comes: following handover majority of the stadium remained unopened for over a year because of the municipality's negligence in supervision and acquiring necessary equipment. As of today, the stadium is still not officially inaugurated in full.
Expected to cost 80 million zloty initially, the stadium was contracted for 94.2 million and by early 2016 consumed over 130 million, only to be relieved by return of the VAT, reducing total bill to 110 million. But the bill is still open to changes.
The double-tiered stands were covered with seats in rainbow colours, a choice very controversial for ideological reasons upon announcement. However, after delivery, the mosaic cherishing municipal and club colours (of both BKS and Podbeskidzie) no longer raised similar concerns, offering a very interesting impression for spectators arriving at the stadium.
Due to its location on the plot of much smaller previous stadium built by BKS, the stadium offers little room for proper crowd circulation, let alone parking places. For this reason, even before opening 50% of the capacity, traffic and noise raised significant concerns of nearby residents.
Lying just beside Swansea, Llanelli may be a small town in British scale, but the sporting traditions are far from small, especially in rugby. This is where Stradey Park stadium had been used for over 120 years before a new development in the east of Llanelli came to fruition in 2007-2008. Now history is being written at Parc y Scarlets, both by rugby and football players.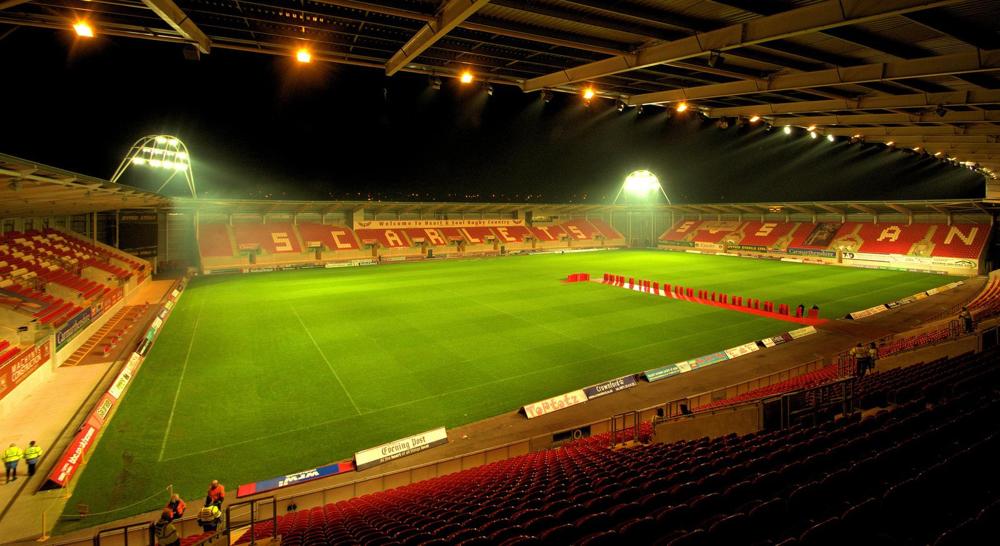 © Red Dragon Images
This project was carried out jointly by Carmarthenshire County Council and Llanelli Scarlets team, consuming some £23 million. Delivered ahead of schedule in late 2008, the stadium accommodates almost 15,000 people and has some room left for potential expansion despite enclosed form. The south stand is most important as it comprises all sporting and hospitality amenities.
As the name rightly suggests, Scarlets are the anchor tenant, but the stadium is also used by Llanelli RFC. Additionally, when playing for European glory, the football team Llanelli AFC play their games here. Further football use comes with the Welsh Cup final, national team friendlies and Swansea reserves' fixtures.
Located on the southern coast of Portugal, this stadium lies almost exactly at the heart of Portimão, just a minute walk from the old town. It was opened back in 1937 and until 2007 was almost fully enclosed, with stands encompassing the field strictly from all sides except the north-western corner. Here a diagonal street made construction unfeasible.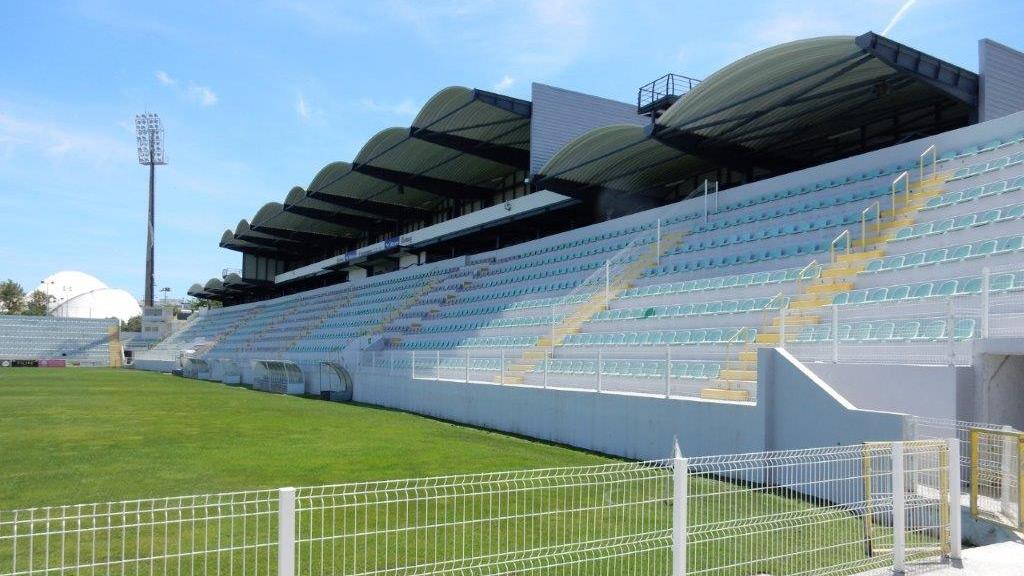 © Stephan Hoogerwaard
In this form the building remained until early 21st century, when local team Portominense managed to climb back to the higher leagues. Without funding for redevelopment, Portominense transferred the stadium to local authorities and the municipality carried out a series of improvements in the 2007-2010 period.
The west side had its roof demolished and new private boxes added on top, with a much smaller new cover topping the structure. South-east corner was demolished to make way for turnstiles, while the entire north terrace disappeared to be replaced with temporary tubular stands for traveling fans. All these changes, including conversion to all-seater, brought capacity down significantly, but the stadium is still yet to have its sell-out with over 6,000 people inside.