Minneapolis: Doors like a retractable roof
source: DailyNorseman.com; author: michał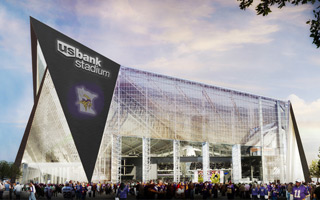 With their immense surface, the pivoting doors at US Bank Stadium will be treated like a retractable roof would. NFL requires them to be left open/closed 90 minutes before the game not to change weather during games!
Later this summer US Bank Stadium will begin its first ever NFL season. It's also the first case in history (or at least first we've been able to find) in which doors are subjected to procedures usually reserved for retractable roofs. Vikings will have to decide 90 minutes ahead of play whether the large doors will be opened or closed.
Reasoning behind such treatment is the sheer size of five pivoting doors. Covered in glass, each of the doors is 55 feet wide (17 meters) and 75-95 feet tall (23-29m). Together they open or close the surface of 2,200 square meters! This makes them the world's largest pivoting doors, which combined with entirely enclosed remainder of the stadium could influence playing conditions inside when moved during play.
US Bank Stadium is the most expensive stadium to be opened this year in the USA, with a budget of $1.1 billion. With Minnesota's harsh weather in autumn and winter, the stadium was designed with permanent roof and opaque facades.
To give it a more open-air feeling the building is largely clad with glass (over 40,000 m2!) and has the doors welcoming fans coming from the west (city center).