Manama: Bahrain joins the 'superstadium' race
source: ArabianBusiness.com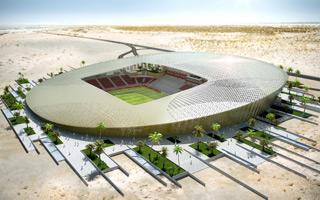 It's one of the last Persian Gulf countries yet to have an ultramodern stadium built. This will soon change and even the Qatar World Cup venues might seem modest compared to this plan…
Bahrain is one of the very last countries in the region without a large and modern stadium. In what has become almost literally a race for the best stadia, Qatar, Saudi Arabia and Kuwait are well ahead, United Arab Emirates even recently revealed a stunning vision of a stadium hanging above ground in Dubai. We can only speculate whether that presentation had anything to do with Bahrain's latest announcement…
Bahrain is planning to build its biggest integrated sports stadium, set to feature an international standard football pitch, an underground shopping complex and a cinema. The list doesn't stop here. Built within or around it will be a hypermarket, Olympic-sized swimming pool as well as halls dedicated to various sports such as basketball, handball, bowling, badminton and table tennis.
The stadium itself will be able to hold 50,000 people and will have a telescopic roof. Considered "visionary", it should be located in Sakhir, south of Manama, where the Formula 1 circuit is.
As of yet there are no renditions of what's planned, not even a master plan for the vast complex. For that reason we decided to illustrate this article with a different stunning rendition. This one was created for Bahrain in 2012 and depicts a stadium by VBNB Architects with actual palm trees growing under the roof, behind the main grandstand. In this layout it would have 25,000 seats at most, so the planned new one will be at least twice the size.